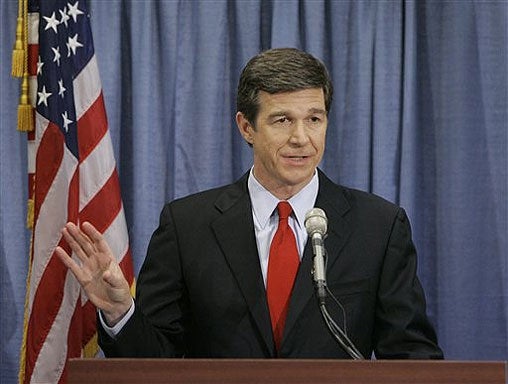 North Carolina AG: Anti-LGBT law a "national embarrassment"
RALEIGH, N.C. --North Carolina's new law limiting LGBT protections is a "national embarrassment," and the state's lawyers won't defend itagainst a federal challenge from gay rights advocates, Attorney General Roy Cooper announced Tuesday.
The law Republican Gov. Pat McCrory signed last week requires people to use multi-stall bathrooms that match their birth certificates at state agencies, schools and universities, even if that means forcing transgender people with heavy beards to use women's rooms and putting people with feminine appearances in men's rooms.
The law also makes clear local measures can't protect people on the basis of sexual orientation or gender identity, or require businesses to provide higher minimum wages or paid sick leave. And it blocks workers from suing in state courts over workplace discrimination based on race, religion, color, national origin, age, sex or handicap, directing complaints instead to a state commission.
"Not only is this new law a national embarrassment, it will set North Carolina's economy back if we don't repeal it," Cooper said. "We know that businesses here and all over the country have taken a strong stance in opposition to this law."
CBS affiliate WNCN reported McCrory released a lengthy statement in response, saying Cooper "can't select which laws he will defend and which laws are politically expedient to refuse to defend."
"When you are the state's lawyer, you are a lawyer first and a politician second," McCrory said. "Therefore, I encourage the Attorney General to reconsider his flawed logic. I am fulfilling my oath of office and we expect him to do the same."
Cooper's announcement raises the stakes as the Democrat tries to unseat McCrory this November. National Democrats consider it their best opportunity to move a Republican out of a governor's mansion. The campaigns of McCrory and Cooper already have raised more than $13 million combined, and the Republican Governors Association has reserved $4 million in ad time for the fall.
McCrory, a defendant in the federal lawsuit, has doubled down on justifying his signature. The governor didn't immediately respond to Cooper's decision, but a social conservative group said Tuesday that more than 300 business owners have signed on a letter thanking the governor and the legislature. On Monday, McCrory said he has "not had one corporation tell me that they're threatening to leave."
Senate leader Phil Berger said Tuesday that Cooper should resign as attorney general for failing to defend the law, and accused him of pandering to left-wing backers as he runs for governor.
"I'm doing my job and will continue to do my job," Cooper responded, noting that the new law conflicts with policies in his office and the state treasurer's office protecting employees from discrimination based on things such as sexual orientation and marital status.
"Employees who get the job done here should be welcome without fear of discrimination," he said. "Therefore our office will not represent the defendants in this lawsuit nor future lawsuits involving the constitutionality" of the law, he added.
The lawsuit comes just as Republican Gov. Nathan Deal announced his plan to veto a similar law in Georgia. That state had received heavy backlash from businesses large and small for its protection of discrimination.
The law in North Carolina has for some reason not received the same amount of public backlash as the Georgia law, nor a similar one passed in Indiana last year.
But it is part of a wave of state legislation nationwide aimed at limiting gay rights and regulating how transgender people use bathrooms.
The federal challenge names the attorney general as a defendant because Cooper is the state's top lawyer. But Cooper said he will seek to remove himself from the case, and assumes McCrory would bring in his own counsel to defend the law.
The Republican-led legislature and McCrory approved the law in a one-day special session to prevent a Charlotte ordinance from taking effect April 1 and protecting transgender people who use restrooms aligned with their gender identities. The GOP has focused on the idea - used to defeat Houston's LGBT ordinance in a referendum last year - that sexual predators could use such rules as a pretense to enter women's bathrooms and locker rooms. Gay rights advocates call the arguments bogus.
The North Carolina law also directs public schools, public universities and government agencies to designate bathrooms or locker rooms for use only by people based on their biological sex.
Cooper, the attorney general since 2001, commended Georgia's Gov. Deal for vetoing his state's "religious freedom" bill on Monday, saying he "stepped up" and recognized the negative economic impact it would have.
Thanks for reading CBS NEWS.
Create your free account or log in
for more features.