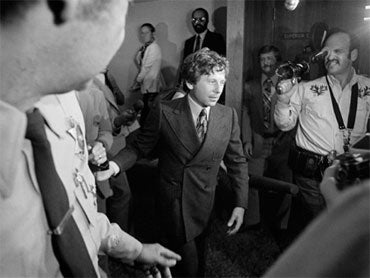 No Statute of Limitations for Polanski
There is no statute of limitations governing the case of Roman Polanski who was arrested by Swiss police on Saturday on a 31-year-old arrest warrant.
CBS News legal analyst Lisa Bloom said that is because the director, now 76, had already pleaded guilty in 1978 to having had unlawful sex with a 13-year-old girl. "He already has been convicted."
Polanski, who is being held in Zurich, has hired an attorney to fight his extradition, and .
When asked on CBS' "The Early Show" about the likelihood Polanski will be extradited to the U.S., Bloom said, "I think he will be. Under our treaty with Switzerland, somebody facing these kinds of charges should be extradited.
"The real question is what has taken so long. He had a home in Switzerland. He's been there many, many times over the years. Apparently he has escaped extradition all of those previous times. Mostly, though, he's been living in France and our treaty with France prevented him from being extradited, so he was safe there, but clearly safe no longer."
Although the film director has continued working in Europe and has been hiding in plain sight in France, there have been previous attempts to apprehend him as he traveled, according to the Los Angeles District Attorney's office.
"They say that they did, especially in the last few years," Bloom told anchor Harry Smith. "I mean, it's hard to understand exactly what went on behind the scenes. But the district attorney here is saying that at least a half a dozen times in previous years they tried to get Roman Polanski and they just were unable to do so. I don't know if he was tipped off, [or] if he was just lucky. We don't know what happened."
Polanski fled the U.S. as he awaiting sentencing, convinced the judge would renege on his plea bargain deal. A judicial review this year did find there was misconduct on the part of the judge (who is now dead), but the charges could not be set aside as long as Polanski was a fugitive.
Fearing renewed attention, Polanski's victim, who accepted a cash settlement from him, has said she does not want the case reopened.
"The publicity was so terrible and so immediate that it just overshadowed everything that happened that night," Samantha Geimer told CNN.
But the victim's wishes won't count for much here, said Bloom.
"This is a crime against the people of the State of California, as all crimes [there] are," she said. "And so a civil settlement does not end it. This is a man who fled on the eve of sentencing because he was concerned he was going to get a harsher sentence than he expected under the plea bargain. He's been a fugitive for 30 years. He still faces sentencing here in California. It's irrelevant legally that he has a civil settlement with the complaining witness."
And what are the chances that, if brought back to California, he would do serious jail time?
Bloom noted the while there is the issue of judicial misconduct pending, "he cannot argue that while he's a fugitive. He has to be brought back - then that argument can be raised. If he prevails, he might get no jail time."
Thanks for reading CBS NEWS.
Create your free account or log in
for more features.