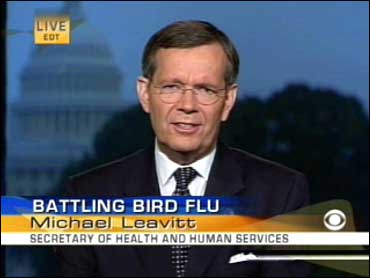 'No One' Ready For Bird Flu
The Bush administration's top health official told CBS News' The Early Show Thursday that "no one in the world is ready" for a potentially catastrophic outbreak of bird flu as President Bush summoned vaccine manufacturers to the White House to discuss the situation.
"We have to confront this," Health and Human Services Secretary Mike Leavitt
Leavitt also said that U.S. officials and their counterparts around the globe recognize the deadly possibilities of an avian flu outbreak and are working hard on ways to protect people from it.
"The good news is, we do have a vaccine," Leavitt said. But he cautioned that officials do not currently have an ability to mass produce it or get it to people quickly.
Also Thursday, United Nations Secretary-General Kofi Annan said Thursday that the U.N. will not let intellectual property rights stand in the way of access to flu treatments and vaccines in case of a pandemic.
"We should be clear in this situation: We will take the measures to make sure poor and rich have access to the medications and the vaccines required," Annan said, calling on rich nations and pharmaceutical companies to help impoverished countries prepare themselves.
Annan said he will be "encouraging pharmaceutical companies and others to be helpful and making sure we do not allow intellectual property rights to get in the way of access of the poor to medication."
Patents allow the developer of a drug an exclusive right to make and sell the drug for several years. But under some circumstances, countries are allowed to create generic versions of patented drugs with impunity if the medicine is considered essential, according to an agreement reached by the World Trade Organization.
Annan made the comments after meeting with the global body's top health officials to discuss the present situation of the bird flu virus, which has affected parts of Asia.
But while the concern is pressing, it is not immediate in the United States, Leavitt said.
"It has infected about 140 million birds around the world, but it's a very inefficient virus currently in terms of people," Leavitt said. "The problem is that sometimes (viruses) are constantly mutating and occasionally they'll mutate into a form that will be rapidly transferable between people."
More than 65 countries and international organizations are participating in talks today at the State Department about flu preparations.
Mr. Bush was meeting with top advisers Thursday on the matter and will meet on Friday with representatives from U.S. companies and some foreign vaccine manufacturers, said White House spokesman Scott McClellan.
"We want to press ahead to expand our manufacturing capacity to address this risk," McClellan said.
Outlining the pandemic plan in an interview Wednesday with the AP, Leavitt said U.S. health officials would rush overseas to wherever a bird flu outbreak occurred and work with local officials to try to contain it.
"If you can get there fast enough and apply good public health techniques of isolating and quarantining and medicating and vaccinating the people in that area, you can ... squelch it or you can delay it," Leavitt said.
Leavitt is traveling to Asia to shore up international cooperation should bird flu mutate to easily infect people.
To further that goal, more than 65 countries and international organizations were to participate in discussions Thursday at the State Department about preparations for the possibility of worsening bird flu.
Next week, Leavitt plans to meet with leaders of the Southeast Asia countries that are the epicenter of the virus.
There have been three flu pandemics in the last century; the worst, in 1918, killed as many as 50 million people worldwide.
Scientists say it is only a matter of time before the next worldwide influenza outbreak. Concern is rising that it could be triggered by the avian flu called H5N1.
That virus has killed or led to the slaughter of millions of birds, mostly in Asia, but also in parts of Europe.
It has killed about 60 people, mostly poultry workers, because so far the virus does not spread easily from person to person.
The fear is that it will mutate to spread easily, a catastrophe because H5N1 is so different from annual flu strains that people have no natural immunity.
"The probability that the H5N1 virus will create a pandemic is uncertain. The signs are worrisome," Leavitt said. He added that the updated pandemic plan, due this month, envisions other super-strains of flu, too.
Role-playing different outbreak possibilities over the past few months led federal health officials to broaden their focus on how to detect a bird-flu mutation in another country and quickly send overseas help.
If that fails, the pandemic plans' first draft last year called for closing schools, restricting travel and other old-fashioned quarantine steps, depending on how fast the super-strain was spreading and its virulence. Those steps are getting renewed attention after President Bush's comments Tuesday that troops might have to be dispatched to enforce a mass quarantine.
Typically, state and local authorities deal with quarantine decisions — isolating the sick and closing large gatherings where diseases might spread.
"They have to be prepared, and frankly they're not," Leavitt said.
The updated plan will outline when federal health officials will take over for the locals, something that will depend on how the flu is spreading, he said. For instance, mass quarantines were needed in 1918, but not during the pandemics of 1957 and 1968, he said.
As for treatment, HHS last month began spending $100 million for the first large-scale production of a bird flu vaccine. But the department has been criticized for only stockpiling enough of the anti-flu drug Tamiflu for several million people. The Senate last week passed legislation that would increase those purchases by $3 billion.
A bigger gap is how to create quickly a vaccine to match whatever pandemic flu strain erupts, Leavitt said. That currently takes months. The new plan will focus on rejuvenating vaccine production to speed the process, he said.
"I think what this illustrates is that we're not well prepared for that type of problem and we need to improve," Leavitt said.
Thanks for reading CBS NEWS.
Create your free account or log in
for more features.