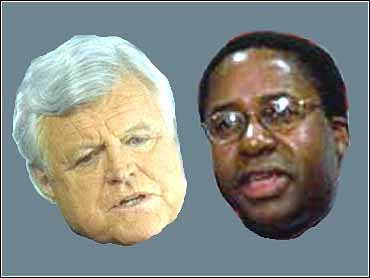 No, <i>You're</i> Invalid!
Jack E. Robinson is going on the offense.
The GOP would-be Senate challenger in Massachusetts filed a motion Wednesday with the Secretary of State's Office, asking that the Democratic Party's challenge to his nominating signatures be dropped because it failed to provide him with an exact copy.
"For the same frivolous reasons that they are trying to invalidate our signatures, we're objecting to their motion," said Robinson's spokesman, Ian Bayne.
So, will Jack E. run? Whatever the outcome, it's clear that Robinson's quixotic candidacy, plagued by the candidate's personal troubles - not to mention his scant hope of winning - is this week showing a bit of spark.
Massachusetts Democrats filed challenges Wednesday to 719 of 10,139 certified signatures Robinson's campaign collected to put his name on the ballot. Democrats are hoping to knock Robinson below the required 10,000 signature mark and force him off the Republican primary ballot in September.
The party wants to spare U.S. Sen. Edward Kennedy a Republican challenger as he seeks re-election to the office he has held since 1962. Kennedy has never stood for re-election without a Republican opponent.
The Libertarian Party, which is running a candidate, also submitted a challenge to Robinson's signatures on Wednesday.
Democrats are challenging the signatures for a number of reasons. Some of the signatures were not signed by the voter listed, they say. Some of the signatures were from registered Democrats and Libertarians who cannot participate in a Republican primary, they say.
Robinson, whose campaign lost the support of state GOP leaders after he revealed embarrassing details from his past, said the challenge is invalid because Democratic Party Executive Director Mark White did not sign the copy the party sent to Robinson but did sign the copy filed with the secretary of state.
"The law is very clear in stating that an exact copy must be sent as filed," Bayne said.
White said he is confident the challenge will be successful. He said the fact he did not sign the copy sent to Robinson is meaningless.
"It's not a technical mistake or an oversight or part of a strategy," White said.
The state's Ballot Law Commission will take up the matter as early as Friday, officials said.
CBS Worldwide Inc. All Rights Reserved. This material may not be published, broadcast, rewritten, or redistributed. The Associated Press contributed to this report
Thanks for reading CBS NEWS.
Create your free account or log in
for more features.