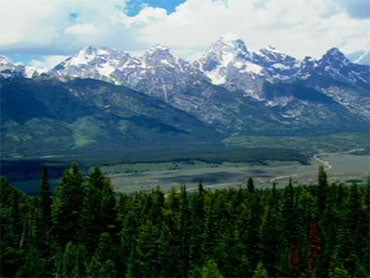 Are your children suffering from "Nature-Deficit Disorder"?
Today, kids are spending more and more time engaged in sedentary, indoor activities, which is contributing to an obesity epidemic. But that doesn't have to be.
Backpacker magazine Editor in Chief Jonathan Dorn shared on "The Early Show" Thursday his team's top five picks from its 25 best cities in America for raising an outdoorsy kid. From Boulder, Colo. to Burlington, Vt., the magazin up with the best places to beat so-called "Nature-Deficit Disorder."
What is "Nature-Deficit Disorder"?
The term is non-medical and was made popular by Richard Louv, author of "Last Child in the Woods."
He used it to describe a condition that Dorn said has become increasingly apparent in the last quarter century among children, in which a disconnect from nature and outdoor play has contributed to increased obesity, childhood diabetes, sedentary activity and Attention Deficit Disorder.
So, to point out the best places for children to get back to nature, Backpacker magazine, Dorn explained, ranked cities based on a number of factors for outdoorsy living, among them the cities' proximity to wilderness, outdoor recreation, miles of hiking and biking trails in the city limits, and rates of participation in outdoor activities.
Boulder is the magazine's first choice, Dorn said, because it combines backdoor access to world-class wilderness, including skiing, hiking and biking with hundreds of miles of networked bike and running trails, more than 250 days a year of sun, and an unmatched culture of outdoor fitness.
Dorn, who grew up in Boulder, said he enjoys that the city plows its bike paths before plowing roads when it snows.
He added Boulder also has efforts such as the Open Space Junior Ranger program. Kids also can benefit from Boulder being a smart city, he said, as Boulder was named the smartest city in America in 2008.
"There are a lot of towns with mountains next door," Dorn said, "but few offer the blend of the great outdoors and great education."
Jackson, Wyo. is number No. 2 on the list. Sitting between Yellowstone and Grand Teton National Parks, Jackson has world-class skiing, rafting, fishing and wildlife watching, Dorn said, adding, "If the kids like the zoo, this is like living in a zoo."
Like Boulder, he said, Jackson sees more than 200 days of sun, gets 400 inches of snow in the mountains and ranks among the top Western mid-size towns for SAT/ACT and other educational scores.
Durango, Colo. took third place on the list. Kids there can learn how to fly-fish for free, and programs exist, he said, for hiking, naturalist studies and rock climbing. The city also features the Civic Exercise Center, a 70,000 square-foot facility with a 30-foot climbing wall. He said the town also has a unique location, surrounded by 14,000-foot peaks, with the canyons of Utah just a few hours' drive away.
Flagstaff, Ariz., came in at No. 4. The town, a gateway to the Grand Canyon, Dorn said, is outdoor-obsessed, which is reflected in the number of outdoor-related companies and government agencies with offices there. Other features of Flagstaff include a world-class outdoor recreation curriculum at Northern Arizona University. The school also has one of the biggest and most active college outing clubs in the country. Summer outdoor activities abound there, Dorn said, with programs like the Grand Canyon Junior Naturalist program.
Rounding out the top five is Juneau, Alaska, with 40 million acres of pristine wilderness surrounding it. Another attractive aspect of Juneau, Dorn said, is its participation among residents. The city, Dorn said, has the highest rate of Boy Scout membership in the West. Juneau, as the state's capital, he added, has a good education system. Alaska's low taxes and high oil-fund distribution rate to families make the city attractive financially for families, he said.
Dorn said all five cities performed well with health statistics, such as low obesity levels and high life spans, and all were low on the pollution indexes.
However, the benefits of living in these cities isn't just for the kids, according to Dorn.
"I suspect that the bonding experience that you have with your kids while (you're out there) participating with them (is) one of the most memorable experiences of your life."
But what can you do if you can't move to one of those cities?
Dorn recommends getting your children involved in an existing youth-oriented outdoor program, such as those hosted by your town or church, or with groups like the Sierra Club and Boy and Girl Scouts.
You can also tap into courses, Dorn said, offered by local retailers or outdoor groups that offer clinics on everything from fly-fishing to mountain biking and nature studies.
---

If you would like more information on finding clubs for outdoor activities, check out the American Hiking Society.
Thanks for reading CBS NEWS.
Create your free account or log in
for more features.