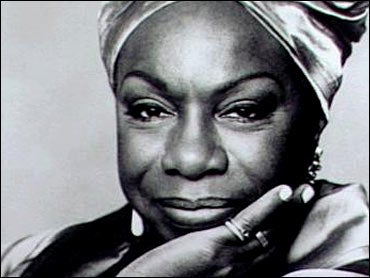 Nina Simone, whose deep, raspy, forceful voice made her a unique figure in jazz and later helped chronicle the civil rights movement, died Monday at her home in France, according to her personal manager. She was 70.
Clifton Henderson, who was at Simone's bedside at her death, said she died of "natural causes" in her sleep after a long illness. He refused to provide the name of the town where she lived.
"She inspired other singers to do what they believed in," Henderson said, saying the musician would also be remembered for her activism. "She'll definitely be looked at as a civil rights movement leader."
Norah Jones, India.Arie, Peter Gabriel, Sade and Aretha Franklin, who rerecorded one of Simone's most famous songs, the anthem "To Be Young, Gifted and Black," were among the artists who cited her as an influence.
"She was ahead of her time as a concert-level piano player who sang, wrote and spoke her mind," India.Arie wrote in an email to The Associated Press. "I aspire to be more like her."
Born Eunice Kathleen Waymon in 1933 in North Carolina, Simone was the sixth of seven children in a poor family. She began playing the piano at age 4 and was classically trained, attending the Juilliard School in New York for one year. She had hoped to attend the prestigious Curtis Institute of Music in Philadelphia, but was rejected — one of many disappointments she would attribute to racism.
She turned to singing jazz and popular music as a way to make money, performing in nightclubs in Philadelphia and Atlantic City, N.J. In the late 1950s Simone recorded her first tracks, including "Plain Gold Ring" and "Don't Smoke in Bed." But she gained fame in 1959 with her recording of "I Loves You Porgy," from the opera "Porgy & Bess."
Simone later wove the turbulent times of the 1960s into her music. In 1963, after the church bombing that killed four young black girls in Birmingham, Ala., and the slaying of Medgar Evers, she wrote "Mississippi Goddam," whose searing lyrics included the lines: "Oh but this whole country is full of lies, You're all gonna die and die like flies."
After the killing of The Rev. Martin Luther King Jr., she recorded "Why? The King of Love Is Dead."
"That's what separated Nina from the other singers," friend and jazz concert promoter George Wein told the AP on Monday. "Nina took civil rights and the movement, the fight to another level, and made it part of her persona."
In a 1998 interview, Simone blamed racism in the United States for her decision to live abroad, saying that as a black person, she had "paid a heavy price for fighting the establishment."
She left the United States in 1973 and lived in the Caribbean and Africa before settling in Europe. She didn't return to the United States until 1985 for a series of concerts.
Wein said she was extremely bitter.
"She was a black woman who never could relate to the position of what it was to be black in America. She couldn't understand it," he said. "She was an unhappy person."
Simone enjoyed perhaps her greatest success in the 1960s and '70s, with songs such as "I Want a Little Sugar in My Bowl" and "Four Women," a song about four black woman with varying skin colors and lifestyles. One of the verses reads, "My skin is brown-And my manner is tough-I'll kill the first mother I see ... What do they call me? My name is PEACHES."
Though she was a gifted songwriter, Simone also recorded songs from artists as diverse as Leonard Cohen and the Bee Gees and made them her own. Perhaps one of her more popular covers was her version of "House of the Rising Sun."
While she had a regal presence onstage, she could often be temperamental; she had a reputation for chewing out audience members who interrupted her performances with conversation or loud drinking or talking.
"As an entertainer, she had the world in her hands, but she never knew how to grab it," said Wein.
Sometimes called "High Priestess of Soul," she remained a top concert draw in her later years.
However, she was quite frail. At a 2001 concert at Carnegie Hall, she had to be helped to the stage, and was later seen sitting backstage in a wheelchair.
Yet Wein called the performance, which ran a little over an hour, one of her greatest. Fans wildly applauded every song, and demanded an encore after she left the stage — to which Simone responded by returning and shouting, "Go home!"
"This was one of the most amazing evenings I had ever seen in my years," he said.
Simone, who was divorced twice, is survived by a daughter, Lisa -- a singer who goes by Simone. She's starring in Broadway's "Aida" and has recorded with the group Liquid Soul.

Thanks for reading CBS NEWS.
Create your free account or log in
for more features.