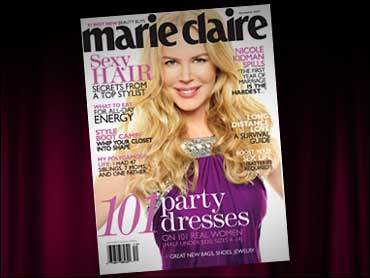 Nicole Kidman Puts Keith Urban First
Nicole Kidman was all smiles when she married country star Keith Urban in June 2006, but her newlywed bliss was cut short when Urban entered the Betty Ford Clinic several months later.
Urban did a 90-day stint in the clinic, and now they really cherish their time together, Kidman said in the December issue of Marie Claire.
"They say the first year of marriage is the hardest. Please God," she said. "He's the most important person in my life and he says I am for him, and that's where we're at. We won't go more than 12 days apart, ever. The time he went away to rehab was the longest time."
---

Photos: Nicole Kidman Attends "Margot At The Wedding" Premiere

---
Kidman is apart most of the year from the son and daughter she adopted with her ex-husband Tom Cruise. Connor and Isabella spend the school year with their dad in Los Angeles.

"When children are teenagers, they have a say in where they want to be," Kidman said. "L.A. is a big draw, and I'm looking to get a place there so we can share more."

When asked, Kidman confirmed that the children are being raised in their father's religion, Scientology, but did not want to comment further. "I don't want to go there," she said.

In the interview, on newsstands now, Kidman also addresses rumors that she owes her super-smooth complexion to Botox injections. The 40-year-old actress said she doesn't touch the stuff.

"To be honest, I am completely natural. I have nothing in my face or anything. I wear sunscreen, and I don't smoke. I take care of myself. And I'm very proud to say that," she said. "I can't go in the sun, I'm fair skinned. That was a nightmare when I was a kid, but it has some benefits now. It's that simple."
Thanks for reading CBS NEWS.
Create your free account or log in
for more features.