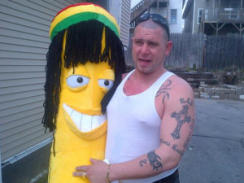 N.H. man who lost $2,600 to "rigged" carnival game gets money back
(CBS) BOSTON - Henry Gribbohm, a New Hampshire man who filed a complaint with police after losing $2,600 on a carnival game that he believed to be rigged, has gotten his money back, CBS Boston reports.
Gribbohm, 30, of Epsom, N.H., told the station he lost his life savings on a game called Tubs of Fun at a Manchester carnival run by New Hampshire-based Fiesta Shows. Gribbohm said he wanted to win an Xbox Kinect but ultimately only walked away with a stuffed banana and empty pockets.
The story went viral and editors at CollegeHumor.com, a popular satire website, said they would buy the dreadlocked banana for $2,600 if the post on their website reached 26,000 "likes" on Facebook.
If the post got more than 30,000 "likes," the website said it would also buy Gribbohm an Xbox Kinect.
Over the weekend, CollegeHumor.com staff drove to a meeting spot in Connecticut to see Gribbohm in person and make good on their promise.
While Gribbom is now banana-less, he is the owner of an Xbox Kinect and got his $2,600 back.
Gribbohm said he plans to set up a college fund for his kids and make a donation to The One Fund Boston, a charity set up for those most affected by the marathon bombings.
Thanks for reading CBS NEWS.
Create your free account or log in
for more features.