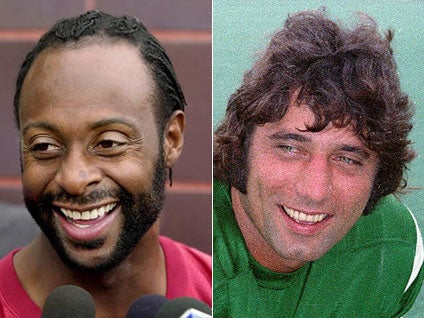 NFL's Top 100 Players of All-Time: Debate
Apparently, when it comes to the greatest NFL players of all time, the only thing people agree on is that Jerry Rice heads the list. After that, the debate goes on.
The NFL Network just concluded its weekly series The Top 100: NFL's Greatest Players and has now unveiled the top 10 - one list compiled by an NFL "blue-ribbon panel" and one list generated by fans' votes.
Who got it right?
According to the NFL, the Top 10 goes like this:
1. Jerry Rice 2. Jim Brown 3. Lawrence Taylor 4. Joe Montana 5. Walter Payton 6. Johnny Unitas 7. Reggie White 8. Peyton Manning 9. Don Hutson 10. Dick Butkus.
With the exception of Jerry Rice (who was inducted into the Hall of Fame three months ago), the fans saw it differently. Their list:
1. Jerry Rice 2. Joe Montana 3. Walter Payton 4. Barry Sanders 5. Peyton Manning 6. Brett Favre 7. Dan Marino 8. John Elway 9. Jim Brown 10. Emmitt Smith.
Perhaps not surprisingly, the fans were keen on big-name passers, placing five quarterbacks in the top 10. In fact, Steve Young was ranked the 13th greatest player of all time by the fans; the NFL has him 81st. While Joe Namath was deemed the 42nd greatest player by the fans, the NFL put him at the bottom: #100.
The NFL list gives more props to defense, putting Lawrence Taylor at #3 and Dick Butkus at #10 (Not one defender made the fans' top 10).
The fans also apparently did not appreciate history as much as the NFL. Thirty-three of the NFL's top 100 players were nowhere to be found on the fans' list: None of them debuted after the 1970s.
Other interesting tidbits about the top 100:
= Peyton Manning was the only active player to crack the top 10 in both lists.
= Bengals' great Anthony Munoz was the highest ranked offensive lineman, coming in at #12 in the NFL list; the fans put him at #80
= Packers wide receiver Don Hutson, whose 99 career TD catches stood 44 years as a league record, was the ninth greatest player of all time according to the NFL. The player who starred in the 30s and 40s did not make the fans' list.
= Quarterbacks led position players with 19 making both lists; no punters or kickers made the cut.
= The Bears and Cowboys each had 8 players make the lists; the Saints, Texans, Seahawks, Panthers, Jaguars had no representatives.
Thanks for reading CBS NEWS.
Create your free account or log in
for more features.