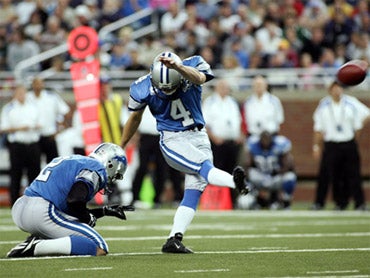 NFL Kickers Dramatically Improved Over the Years
When Jason Hanson entered the NFL nearly two decades ago, he got hugs and high-fives for nailing a long field goal.
Now, he's lucky to get a handshake.
"It used to be 45 and over was, 'Great kick! You made it!"' the Detroit Lions kicker recounted. "Now, it's like, you miss under 50 and people are kind of like, 'What's the matter?"'
Football players have gotten bigger, faster and stronger over the years - it's why the league is cracking down on illegal hits - but it's true on both sides of the ball, so the yards per carry or catch stay largely the same from one era to the next.
Not so the numbers in the kicking game.
The goal posts have been 18½ feet wide, the same width as the NFL hash marks, since 1972, and they've been at the back of the end zone since 1974.
The kickers aren't the same at all.
They're in the weight room more, employ specialized training and superior techniques, kick on more favorable surfaces, generally are better coached and are used more effectively and efficiently on game day.
They benefit from better athleticism than their predecessors, come almost exclusively from soccer backgrounds, are aided by an increased emphasis on special teams and rule changes, and even by playing some of their games indoors.
It all adds up to greater accuracy, especially from long distances.
The success rate has risen steadily from all distances, short and long, during the Super Bowl era, according to STATS LCC.
In 1967, for instance, barely 51 percent of all field goal attempts were good. Today, that figure is 81 percent.
The rise in precision from 50 yards and greater has been especially dramatic:
1960s: 13.1 percent
1970s: 21.6 percent
1980s: 35.6 percent
1990s: 47.8 percent
2000s: 53.0 percent
And this year, it's better still: 55.9 percent.
With 68 field goals attempted - and 38 made - from 50-plus yards so far, the NFL is on pace for a record 132 long-distance attempts this season, which would better the mark of 104 in 2008 and '09.
"Just like running backs are getting bigger, faster, stronger, kickers are getting bigger and stronger and can kick farther and are more accurate and consistent," said Denver's Matt Prater, who is 9 of 11 from 50 yards and out, the best percentage in league history with a minimum of 10 attempts.
"The technique, basically if you look at every single kicker when they make contact with the ball, they're all in the same position. They start differently but when they make contact, they're always in the same exact kicking position."
That's because every kicker in the league played soccer as a kid and all employ the soccer-style kick that has improved place-kickers' accuracy over the decades.
Hall of Fame kicker Lou "The Toe" Groza made 54.9 percent of his field goal attempts, a percentage that would get him run off the roster today, not enshrined in Canton, Ohio.
"The pressure now to be 85 percent or better on your field goals might be more relevant now than it was in the '80s or '70s," Dolphins kicker Dan Carpenter said. "Back then if your field goal percentage was 80 percent, you were doing really well. Now it's like you're on the verge of struggling."
"If you can't make 80 to 85 percent, you're probably not going to be a kicker in the NFL," Falcons coach Mike Smith said. "Or you'll be a guy who's getting an opportunity to kick somewhere else."
Titans kicker Rob Bironas, who has made the most field goals in the league since 2005 and has an 85.3 percent career accuracy rate, started playing soccer when he was 4 and kept it up until college.
"The muscle memory you build over those years played is key. Once you get down good mechanics, your body remembers how to do it," he said.
The first soccer-style kicker in pro football was Pete Gogolak, who played for Buffalo in 1964-65 and for the New York Giants from 1966-74.
Back in the '70s, many kickers were foreigners, and they helped usher out the old style straight-on kicking style with the square-toed shoes that didn't provide as much oomph as the modern technique where the kicker approaches the ball from an angle and makes contact with the instep of his foot.
Now, nobody kicks straight on anymore.
And NFL teams don't have to go overseas to find their kickers, either.
There's plenty playing college football who grew up on soccer pitches all across the country honing their kicking skills and learning the torque, twist and technique necessary to make balls go far whether they're round or oblong.
"A lot of people kind of frowned on soccer growing up. Now, every kid plays soccer," said Prater, who played on a select soccer team as a kid in Florida and was invited to participate in the Olympic Development Program before turning his attention to football in high school.
Kickers are better athletes nowadays, too.
"I think before, a lot of times a guy who maybe played some soccer when he was young would be the team's kicker, but now you have a guy that is a pretty good athlete compared to a guy that could kick on a soccer field, and someone saw him kick," Bills kicker Rian Lindell said. "They start young now, go to the camps, and fine-tune what they do."
Other factors include long-snappers who do nothing else and the proliferation of FieldTurf that's better than grass or the old Astroturf.
"Now, there's a lot of turf fields and even the grass fields are in great condition," Broncos special teams coach Mike Priefer said. "And back in the '60s, '70s and '80s a lot of those fields were mud and the old grass that's hard to keep up and there were very few turf fields, maybe the old cement turf fields. But even those were a little harder to kick on than today's FieldTurf stuff. That's a great kicking surface."
Tom Dempsey, who set the NFL record with a 63-yard field goal for New Orleans four decades ago - a record matched by Denver's Jason Elam in 1998 - said kickers are better off today because teams pay more attention to them.
"Kickers nowadays have a better situation, because we didn't have too many coaches who knew anything about kicking," Dempsey said. "I always used to tell people when I was going well, all the coaches were standing back and telling the press, 'I've been helping this guy. He's doing well.' And they never talked to me. If it was going bad, there were no coaches out there to help you. You were on your own."
Some still are.
"I think there are a few ... pretty knowledgeable coaches around, but they're few and far between," Colts kicker Adam Vinatieri suggested. "I think most of us are kind of self-taught and we self-learned."
The weight room is no longer off-limits to kickers, either.
"Maybe some of the older guys said, 'Hey, I'm a kicker, so I'm not going to do some of that stuff.' Now, I train just as hard as all of these guys in here," Jets kicker Nick Folk said. "I might not be able to push as much weight around, but I definitely train as hard as them. So, I think that has a lot to do with it."
Others, not so much.
"It doesn't have anything to do with strength," Falcons kicker Matt Bryant insisted. "I just think it's like everything else - it evolves with the game. Take a defensive lineman from however many years ago. He probably weighed 240 or 250. Now, they're 300 pounds. I just think everything seems to improve with time."
Folk said specializing has also helped.
"I think every team's got just about as pure of a long snapper as you can have. Back in the day, it was the third tight end or a backup lineman," Folk said.
Vikings kicker Ryan Longwell said the soccer style is the biggest key to improved accuracy but there's also a strategic element that can't be overlooked.
Since 1994, opponents take possession at the spot of the missed kick rather than the line of scrimmage for failed attempts beyond 20 yards. Closer than that and they get the ball at the 20.
"You see much more thoughtful decisions made whether you attempt a field goal because the penalty for a miss is so strong," Longwell said. "You're not just going to go out there and just wing it. It's got to be favorable conditions, favorable circumstances in the game to try it. So I think the percentages have gone up because of that."
Even psychology plays a part.
The Arena Football League's demise left a smattering of players good enough for the NFL - and one quiet legacy that plays itself out every week in stadiums across the country. More than a third of NFL kickers use the narrower goal posts like those from the old indoor league to practice their craft during the week so that when game day comes, the uprights seem so much wider.
Even from far, far away.
Thanks for reading CBS NEWS.
Create your free account or log in
for more features.