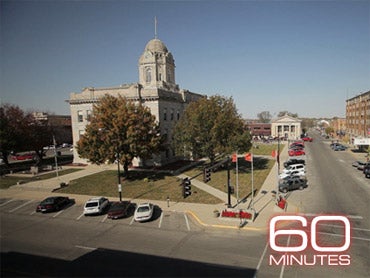 Newton, Iowa: Anger in the Heartland
Two years ago, most Americans voted for change, and if the polls are to be believed, they're about to do it again.
In the latest CBS News/New York Times Poll, 80 percent said they want most incumbents out of Congress regardless of whether that incumbent is a Democrat or Republican.
There's a grim mood among people who were counting on a recovery that has now fallen flat. The economists who decide such things say that the Great Recession ended in June 2009. But since then, we've lost another half million jobs - which helps explain why there is so much anger in the land.
We saw a lot of it right in the middle of the country, among the people who've endured the recession longer than anyone.

Watch: Full Report
Extra: The Democratic Incumbent
Extra: The GOP Challenger

"What's surprised you the most about this recession?" correspondent Scott Pelley asked business owner David McNeer.
"I think the depth of it, and the length of it. I think what surprised me the most about this one is it doesn't wanna end," he replied.
"You know, the economists say that the recession's over," Pelley pointed out.
"Really? They should come to Newton, Iowa," McNeer replied.
McNeer's advertising company is like a lot of small businesses: it's getting smaller. Maxim Advertising in Newton, Iowa puts its customer's logos on nearly anything and business had only grown for 22 years, until 2007.
"And what was all of this?" Pelley asked, looking at a large section of empty shelving in McNeer's storeroom.
"This was filled, Maytag, Maytag, Maytag, Maytag," McNeer explained.
Maytag invented its washing machine in Newton 103 years ago. Five thousand people worked for Maytag there. But Newton lost all of those jobs.
Maytag was bought out, and by 2007 the factory closed; many of the jobs went to Mexico. No one knew it then, but these were the opening days of the Great Recession.
Now, layoffs that started with corporations are cascading into mom and pop shops.
When his business was at its top, McNeer told Pelley he had 22 employees; today he has ten.
"Do you remember the first person you had to lay off?" Pelley asked.
"One of the very hardest days of my life. My wife and I stayed up all night long. We talked. We prayed. We struggled. And you know what? Man, that's a gut-wrenching feeling. You hate it. I hate it. And I never wanted to have to do it again," McNeer said.
"I wonder, when you look forward now, what you think about rehiring people?" Pelley asked.
"When we hire somebody, we're definitely gonna need 'em. I mean we're not going to hire one person until we need two or three and we're probably not going to hire two until we need four for five," he replied.
And that's why the recovery is lifeless: big and small, businesses have settled into doing more with fewer people. "And you ask people to step it up and work harder, work longer, make less," McNeer said.
Asked if this is sort of a new "normal," McNeer told Pelley, "I think for now it is, yeah."
Take a quick look around Newton: Gary Forbes laid off half of his 60 employees, closed two locations, and switched from selling top quality furniture to scratched and dented.
Web site designer Cindy Brunner laid off six of her 14 employees.
Some of the car dealerships in town and the tractor supply company are either out of business or going out of business.
Since the recession, we've seen a lot of troubled towns in the country but nothing that looks quite as broken as Newton. Even the local chapter of the Optimists Club has closed.
"I wanna tell everybody that we're a company town where the company left, but we're gonna thrive," Chaz Allen told Pelley.
Allen is the mayor of this town of 15,000 people; it's a part time job that pays about $4,000 a year. Allen walked "60 Minutes" and Pelley through an abandoned Maytag plant that, at its peak, held 2,500 factory workers building washers and dryers.
If anyone out there is interested, the mayor has more than 1.7 million square feet to rent. "It is available, it is available, we'll make you a good deal," he told Pelley.
The mayor has been trying to pull new jobs into town. He made a run at green energy, and got a company that makes wind turbine blades. But every time he gets a few hundred jobs, he seems to lose a few hundred.
This fall, a telecom company called Windstream had two layoffs.
"It was 60, and then it was 146 the next time," Mayor Allen explained.
Asked how that affected people around Newton, Allen said, "You know it's a rollercoaster. I was affected in the first layoff. I was one of the ones at Windstream that was affected in the first round."
The laid-off mayor told Pelley he still doesn't have a new job.
His town is shrinking: this year they closed an elementary school and they're slashing the city budget. Allen told Pelley that due to budget cuts, the city has lost policemen, firemen and that the hospital is being reduced in size.
And that is the backdrop for Tuesday's election. In our national poll, we asked folks what the most important issue is in America: fifty four percent said jobs; health care came in second at seven percent. Only one percent said the war.
Newton's congressional district is bipartisan country. It voted for George Bush in 2004 and then for President Obama. But now Democratic Congressman Leonard Boswell is fighting for his job. He has been reelected six times, but this week his race against Republican Brad Zaun is too close to call.
"My wife and I watched the news last night and I think every ad was a political ad," McNeer said.
"Well how much relevance does all of that have to you?" Pelley asked, referring to the ads, including one about the debate on the Islamic cultural center near New York's Ground Zero.
"Nothing, nothing. Doesn't have a bit of relevance to me," McNeer said.
We invited some of the folks in town to the Legion Hall. About 40 gathered on a Thursday evening.
"How many of you would say that you're angry about politics?" Pelley asked.
Virtually the entire room replied with a "yes."
"I'm sick and tired of people going to congress in Washington D.C. and making a living out of it while we starve to death," one man told Pelley.
"Does it matter much to anyone in here whether the Republicans or the Democrats control the House, for example?" Pelley asked.
Again, virtually the entire group said "no."
"If a Republican says it, the Democrats don't listen. If the Democrats say it, the Republicans don't care what they're sayin'," one woman said.
"What gets done in Washington? What gets done at the Iowa State House? Very little gets done. I mean everything comes down to either abortion issues, gay marriage issues. It needs to go above and beyond that," another woman said.
"I don't have a job. That's all I care about. I don't care about the Republicans or the Democrats, I care about Newton, Iowa, the job situation, the financial situation," one woman said.
"Help us, do something about the economy. It's really hard out here," another pleaded.
"The economy is not spurring jobs," Todd Meyer, who was laid off from the same telecom company that laid off the mayor, told Pelley.
He told Pelley he served in the Navy aboard the U.S.S. George Washington during the Gulf War. Now he is unemployed.
Meyer and his wife Teresa are raising three kids. Their daughter Caitlin is the first in the family to go to college.
"I get emotional about it because it's just you know we never expected to be in this position. But you know I look at my daughter and I just think, 'How do I keep her in college?'" Teresa Meyer said.
"It's every parent's dream to send their child to college especially if that parent didn't have the same opportunity," Pelley remarked.
"I've had this dream since I was really little and my parents have done everything they can. And it's just starting to get hard. And I'm gonna try and help out. But it's hard to see that dream slip away," Caitlin Meyer added.
Only one hand - with hesitation - went up in the room when Pelley asked the following question: "How many of you think that your children will enjoy the same standard of living that you did?"
This worry, pessimism really, weighs on families who had seen a different future.
Scott Creech bought his own pizza franchise in Newton 21 years ago. At its peak, he employed 22 people; now, he is down to seven.
He told Pelley he works over 80 hours per week.
"How long can you do that?" Pelley asked.
"Until I die," Creech replied.
Sales have slipped to a place that's sometimes dangerous for his family. "Once you get down around this area, I may be able to file for food stamps," he told Pelley.
His wife Julie is working at a school to take some of the pressure off. "He's 52 years old now and I worry about him every day. His brother died of a heart attack when he was in his 40s and I worry about that all the time," she told Pelley.
His son Parker is ten. Creech comes home to put Parker in bed, but then he heads back to the shop. He washes up and closes up about 1 a.m.
"I wonder what the stress has been like for you," Pelley asked.
"I've been blessed…..You know you have guilt," Creech said.
When asked guilt about what, Creech said, "You'd like to have that eight to five job, holidays off, but…"
"You can't do that now," Pelley said.
"No," he replied.
Nationwide, the number of small businesses going bankrupt each year has tripled since the recession. There were 60,000 bankruptcies last year alone.
When you're looking for the path out of this flat recovery, there are a couple of things that strike you: one, small businesses create most of the new jobs in this country - 65 percent of all new jobs.
But lending to small businesses is actually declining. In the second quarter of this year, lending to small businesses and farms dropped by $13 billion, nearly two percent.
So three years after the beginning of the Great Recession, with interest rates the lowest have ever been in history, banks are lending less money to the engines that create jobs.
David McNeer told Pelley he had gone to the bank. "That's amazing 'cause you know you hear stories about how lending is gonna be more friendly and you know, and even the president himself is gonna tell banks that they need to understand what businesses are going through. There's no banks, banks don't understand anything. They won't loan me a dime."
"You went to the bank and they said what?" Pelley asked.
"Come back when you have a couple of good years behind you. Really? 'Cause I won't need you then," McNeer said.
"You know they'll offer money to you when you don't need it. But when you need it, you can't get it," Newton business owner Alan Yegge told Pelley.
Yeagy has been losing money at his jewelry store on the court house square. He makes a lot of his own jewelry. And to try to match his customer's falling income, he switched from gold to silver and diamonds to beads. His employees, Darlene Swank and Tina Kono, even volunteered to cut their hours.
"You're gonna have to let Tina and Darlene go," Pelley remarked. "Do you remember when you had to sit down and explain it to 'em?"
"Yeah, I talked to Darlene first. I didn't have to say anything, she knew. You know, she does her books, and she knew," Yegge recalled.
"And what did the books tell you?" Pelley asked. "Help me understand."
"You just can't keep doing what you're doing. You know, as hard it as it is, we tried," Yegge said.
His store closed this weekend. More layoffs reduce demand, which create more layoffs.
Change may be coming again to Washington, but in Newton, many believe the struggle will stay the same as family businesses work to steal another day from the Great Recession.
Thanks for reading CBS NEWS.
Create your free account or log in
for more features.