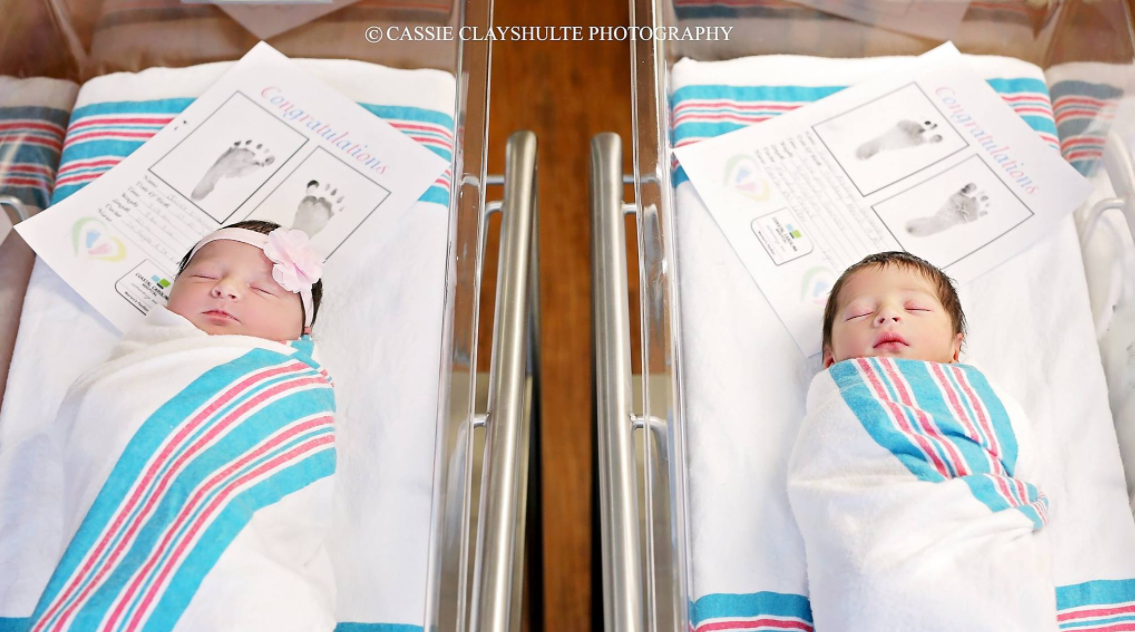 "Star crossed babies": Newborns named Romeo and Juliet born hours apart
Two newborn babies delivered just hours apart at a South Carolina hospital may have romance, or at least a good story to tell, in their futures. The baby boy is named Romeo and the little girl is — you guessed it — Juliet.
The two sets of parents found out about the striking coincidence thanks to a tip from Coastal Carolina Hospital's resident photographer, Cassie Clayshulte. The babies were born on Sunday and Monday in neighboring rooms at the hospital in Hardeeville, South Carolina.
"It was just a coincidence. They were both actually scheduled to be induced on March 26, but they both came early which is so neat," Clayshulte told CBS News. "It just shows even more that it's fate — they just happened to be in the room next to each other."
On Sunday afternoon, Morgan and Edwin Hernandez welcomed their son Romeo into the world. Eighteen hours later, Christiana and Allan Shifflett welcomed their baby girl named Juliet.
"Both parents had picked the names out early on in their pregnancies, and neither couple knew each other until they met that day," Clayshulte said.
Clayshulte said she was talking to Romeo's parents about doing a possible photoshoot when something clicked. Quickly, the photographer excused herself from the room and ran to the nurses' station to double check another patient's name, and realized it was true: a baby girl who was born earlier that day was named Juliet.
So Clayshulte returned to the Hernandez's room to share the news, and see if they would consider allowing Romeo to be photographed with the infant girl, as long as Juliet's parents agreed, of course.
Juliet's mom, Christiana, just had a C-section so she wasn't able to leave the room, but said her mother would be happy to wheel Juliet into the strangers' room for a picture.
As soon as Clayshulte entered Romeo's room with Juliet, the jokes began to flow.
"We've already made jokes they need an arranged marriage," Clayshulte said. "I had told them that if they want to book me now as their wedding photographer they could do that."
Clayshulte snapped a few photos and returned later to the parents' room to show them her work.
"They both cried," Clayshulte said."They just loved them."
The internet loved them, too.
Clayshulte posted the photos of the "star crossed babies" on her Facebook page and they quickly received thousands of likes.
"It was meant to be," one Facebook user wrote.
Clayshulte said she hopes to reunite the babies in the near future.
"It's just so neat, I might try to plan a shoot for these babies together again," she said.
Thanks for reading CBS NEWS.
Create your free account or log in
for more features.