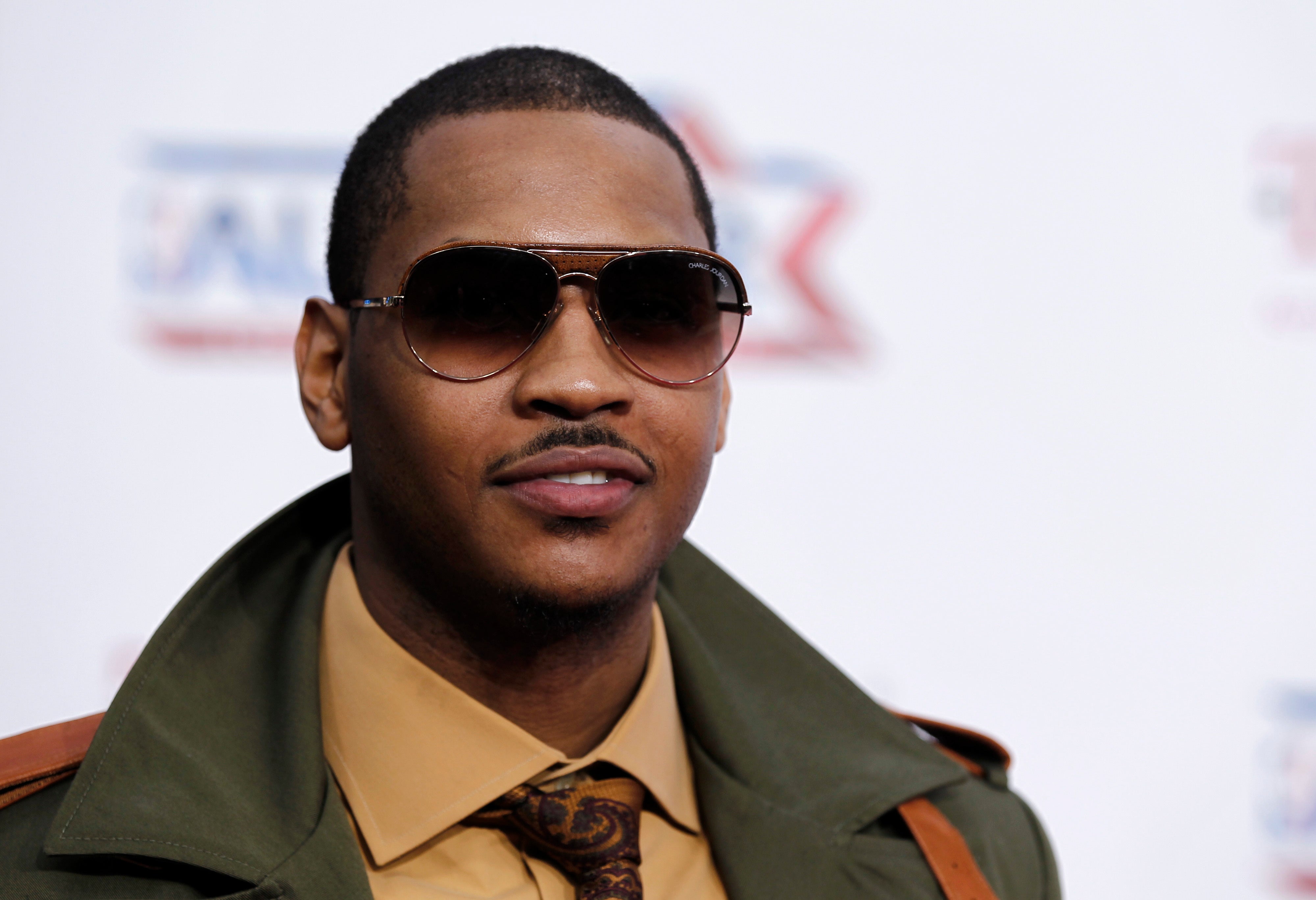 New York Knicks now contenders with Carmelo?
This post was written by CBSSports.com's Royce Young
---
It happened.
Carmelo Anthony has been traded to the New York Knicks. Finally.
This trade finally happening is kind of like Chinese Democracy. We knew at some point it was coming but now that it is, it's kind of a letdown. Carmelo was going to be a Knickerbocker, it was just a question of what it would take to get him there.
Photos: Carmelo Anthony
Despite the New Jersey Nets best efforts, Melo was never going anywhere other than Manhattan. Through all the posturing, all the leveraging, all the nonsense, we finally have the resolution we knew was coming when Ken Berger reported that Melo wanted to be a Knick way back in September.
The cost of getting Melo might be that the Knicks front office has been doused in gasoline and one little spark will blow the whole thing up. The Knicks tried to say they were unified in the plan to acquire the superstar swingman, but by all accounts, James Dolan may have stepped on Donnie Walsh's face in bringing in Isiah Thomas to backdoor the deal. In fact, the deal has Isiah's stamp all over it -- overpaying as a result of knee-jerk reaction.
However, this is a deal the Knicks had to make. Whiffing on Melo simply wasn't an option. Maybe they gave up a bit much, but the Knicks are better today than they were yesterday and that's the whole point.
Whatever the case is, Carmelo will be donning the orange and blue in Madison Square Garden. Here's the framework of the deal, according to Ken Berger:
- Denver gets Wilson Chandler, Danilo Gallinari, Raymond Felton, Timofey Mozgov and New York's 2014 first-round pick, plus 2012 and 2013 second round picks (Warrior picks from the Anthony Randolph trade). Plus $3 million from the Knicks.
- The Knicks get Anthony, Chauncey Billups, Shelden Williams, Renaldo Balkman and Anthony Carter.
- The Wolves will be sending Corey Brewer to the Knicks, while receiving Eddy Curry, Anthony Randolph and $3 million from New York.
The question left begging of course now is, was it worth it for New York to pounce sooner than later? The Knicks have Anthony to go with Amar'e Stoudemire, but with what they had to sacrifice to get the duo, can you really see the additions of Billups and Melo putting New York into the Eastern contender conversation? I mean, a starting five of Billups, Landry Fields, Melo, Stoudemire and (probably) Ronny Turiaf isn't all that bad, is it? Two superstars, a solid veteran point guard, a promising rookie role player and a dirty work center in Turiaf.
But remember: Carmelo Anthony isn't LeBron James. He isn't the kind of player that's automatically going to elevate the player of everyone around him. He's no doubt one of the most gifted scorers in the league and maybe the toughest player to defend in the world. In Mike D'Antoni's system, Anthony will fit better than most think, plus playing alongside Stoudemire gives the Knicks one of the absolute finest inside-out, one-two punches in the league. Still, I can't get on the contender bandwagon. Yet, that is.

We all tooted the same horn when the SuperHeat were formed. Yeah they have LeBron, Wade and Bosh. But if you're going to win, you've got to have the role players. You've got to have the depth. And that's what Pat Riley desperately built in grabbing Mike Miller, Eddie House, Erick Dampier and James Jones. It's a good-enough second unit to supplement the Heat's super trio.

The Knicks on the other hand are dropping four players, two of them young, promising talents in Chandler and Gallinari. Now the depth chart has Shelden Williams seeing big minutes with Toney Douglas, Brewer, Andy Rautins, Balkman and Shawne Williams. Not exactly a championship unit there. I guess on the positive side of things, they finally have that backup point guard they've been looking for. Too bad it's Anthony Carter though.

(An aside: I think Brewer could be an underrated steal for the Knicks. He's a good player that was just never in the right role in Minnesota. He was always pressured to be a scorer rather than playing a specific role tailored to his talents. Now in coming off the bench to spell Anthony and Fields, Brewer can try and assert himself as an athletic defensive stopper, while also finding a bunch of open outside looks in D'Antoni's system.)

I don't think there's any doubt that the Knicks have improved here. At 28-26, they're in the middle of the East. With Anthony and Billups joining Stoudemire, this team is going to battle the Magic for the four-seed the rest of the way. With 28 games remaining, it's not hard to see New York going something like 18-10 and finishing with something like 46 wins, while at the same time being a scary team to play in the postseason.

But a contender? Not yet. That was the issue at hand all along for Walsh. Giving up too much for Melo just didn't make a lot of sense when you were essentially bidding against yourself. The cost might be some tension in the front office, plus a hefty price tag of young talent shipped out to the Rockies.

With a lot of the financial flexibility Walsh fought tooth and nail over the past few years now jeopadized because of the imminent $65 million extension for Melo, how do the Knicks fill out this roster? If the plan is to wait until 2012 to add Deron Williams or Chris Paul, did they really do themselves any favors by making this move now, instead of just remaining patient and making the play for Anthony over the summer?

The Knicks didn't want to take any chances and let their opportunity to land Melo slip through the cracks the way LeBron did. They wanted to pounce now, no matter what the cost was. Yes, they're better. Yes, they're dangerous. I know I'd be nervous if my favorite team were playing them in a seven-game series. Having two top 10 offensive players makes anyone good.

But are they actually a legitimate threat to unseat the Celtics or challenge the Bulls or Heat? Hardly. Just like they were yesterday before this deal was made, they're still a year or two away.

-- For more CBSSports.com coverage of the Carmelo Anthony trade to New York, check out: Ken Berger's report on the breaking deal . Matt Moore examines the danger of giving all that power to one player. Ben Golliver hands out trade grades and winners & losers .
Thanks for reading CBS NEWS.
Create your free account or log in
for more features.