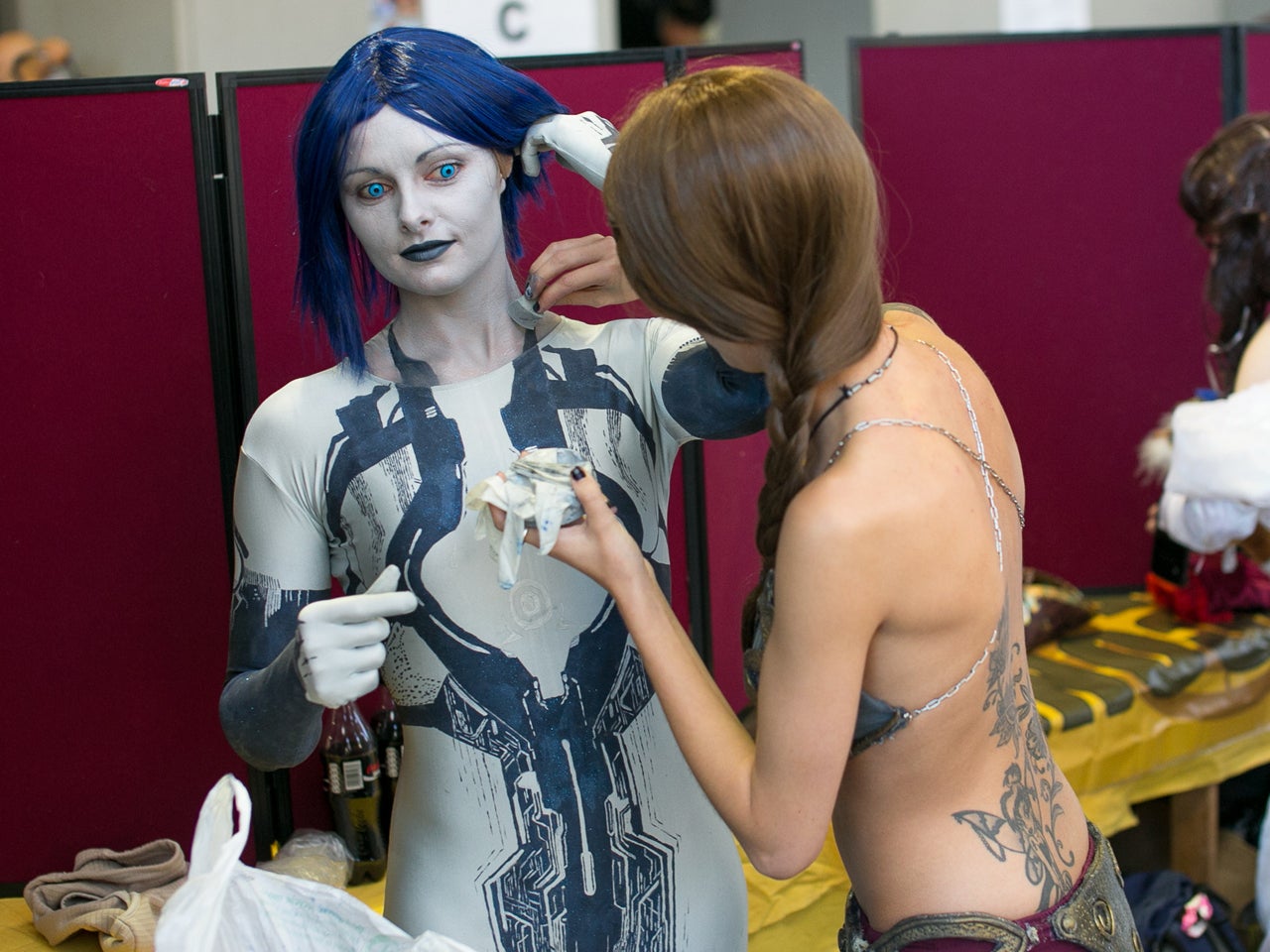 New York Comic Con 2013: The stars, comics and costumes
As New York Comic Con kicked into high gear on Friday, there was no shortage of crazy character costumes, comic books and cult video games (one hall was filled to the brim with a crowd watching two expert gamers battle it out).
For some attendees, anticipation for the event has been building for months -- with costumes taking up to six months to make. Some even have a new costume featuring a different character for each day of the convention. There were zombies, plenty of Catwomen and "Ghostbusters" characters galore. Pretty much anything goes at Comic Con. The more elaborate the better, as people stopped to pose with one another, making friends along the way. Some have been going for years. For others, the 2013 New York Comic Con was a first. Parents brought their kids, and students played hooky from school.
An estimated 130,000 people are expected to walk through the Jacob Javits Convention Center in New York City throughout the weekend. That's a jump from last year's 116,000 convention-goers. People traveled as far as Hawaii to take it all in.
Many celebrities will be sitting on panels and meeting with devoted fans, including William Shatner, Patrick Stewart, Seth Green, Sylvester Stallone, David Duchovny, Gillian Anderson, Sigourney Weaver, actors from "Game of Thrones" and the cast of TV's "The Walking Dead." Approximately 700 exhibitors from the publishing, TV, film and comic worlds are on site to get the word out about their projects.
Though not as big as San Diego's Comic Con, the New York convention is definitely growing. Stallone was out and about signing autographs. Saturday will see "The Walking Dead" panel, which will screen new footage from the upcoming season. Also on Saturday, Marvel TV head Jeph Loeb will fill fans in on "Agents of S.H.I.E.L.D," ABC's "Avengers" spin-off. "X Files" fans will await to hear what news -- if any -- Duchovny and Anderson will share, and the cast FX's "Archer" will take the stage for a panel. The first full-length trailer for "Hercules: The Legend Begins" will also premiere this weekend, with actorKellan Lutz doing an introduction.
On Friday, Green hosted a panel for his Adult Swim series, "Robot Chicken." He told CBSNews.com that he's witnessed NYCC grow quite a bit through the years and noted how it hasn't been Hollywood-ized like the San Diego's version.
It wasn't just costumes and celebrities making headlines on Friday from the Jacob Javits Center. Social media found its way in the news, too, after convention organizers tweeted unauthorized promotional tweets from attendees' accounts. When participants signed up to attend, they had the option to link their RFID badges to their Twitter and Facebook accounts. Much to their surprise, some attendees found a few tweets on their personal Twitter pages that they hadn't posted. Examples included: "Best four days of my life!" or "Getting my daily dose of #NYCC!"
Comic Con organizers have since discontinued the opt-in feature and explained the issue in a statement: "As you may have seen yesterday, there were some posts to Twitter and Facebook issued by New York Comic Con on behalf of attendees after RFID badges were registered. This was an opt-in function after signing in, but we were probably too enthusiastic in our messaging and eagerness to spread the good word about NYCC. We have since shut down this service completely and apologize for any perceived overstep."
Comic Con runs through Sunday.
Thanks for reading CBS NEWS.
Create your free account or log in
for more features.