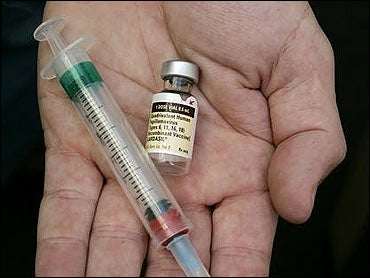 New Worries About Gardasil Safety
There are new concerns about Gardasil, the vaccine that prevents a virus that caused cervical cancer. It's approved for girls as young as nine. And five million have received it since it was approved two years ago. The FDA and its maker insist it's safe. But CBS News investigative correspondent Sharyl Attkisson has exclusive information on some very serious side effects.

---

Gabby Swank was a straight-A student and cheerleader.

But that was before she became very ill following the standard dose of three Gardasil vaccinations, Attkisson reports.

You know the commercial. It showed teenage girls saying "I want to be one less" who gets the HPV virus, which is linked to cervical cancer.

"It was like a big hype among my friends, because we're like, 'we're gonna get it' because we felt almost pressured by the commercials," Gabby said.

Gabby got sicker after each shot, progressing to seizures, strokes and heart problems. It was her neurologist who suspected Gardasil was to blame.

"I think there are too many people having serious long-term side-effects," said neurologist Dr. Dwight Lindholm.

Last fall, the government and vaccine maker Merck concluded there's no link between Gardasil and serious adverse events like Gabby's. But a new analysis calls that finding into question.

The National Vaccine Information Center, a private vaccine-safety group, compared Gardasil adverse events to another vaccine, one also given to young people, but for meningitis. Gardasil had three times the number of Emergency Room visits - more than 5,000. Reports of side effects were up to 30 times higher with Gardasil.
---

Read the analysis by the National Vaccine Information Center.

---
"If I'd have known, we never would have gotten the shot," said Emily Tarsell, whose daughter, Chris, died three weeks after her third Gardasil shot. She was one of the 29 fatalities reported in two years. "And she'd be here to hug."

Barbara Loe Fisher, co-founder of the NVIC, said: "Now we know from this report that there are more reactions and deaths associated with Gardasil than with another vaccine given in the same age group. It's irresponsible not to take action."

Merck, the FDA and CDC question the value of the new analysis, say they continue to review the data, Gardasil remains safe and effective, and its benefits outweigh the risks.

Those who believe the vaccine hurt them aren't convinced. Gabby isn't cheering anymore and is too sick to even attend school.

"I struggle with guilt a lot, because I made the choice to get the shot for her," said Gabby's mom, Shannon Swank.

Meantime, Merck has asked the FDA to approve it for boys, who can pass on the cancer causing virus to girls, meaning the number of people getting Gardasil may double
---
What follows is a statement from Merck:
It's important to remember that the proven benefit of GARDASIL is that it helps prevent cervical cancer caused by the two virus types responsible for most cases of cervical cancer. Nothing is more important to Merck than the safety of our products and we carefully monitor the safety of GARDASIL on a routine basis. Experts at the FDA and CDC also continue to review data and, as recently as four months ago, said "GARDASIL continues to be safe and effective, and its benefits continue to outweigh its risks."
NVIC is not a medical organization and has a long history of raising concerns about vaccines that are in direct conflict with the opinion of leading medical experts. We encourage consumers to get reliable information about the safety of vaccines from www.cdc.gov.
Thanks for reading CBS NEWS.
Create your free account or log in
for more features.