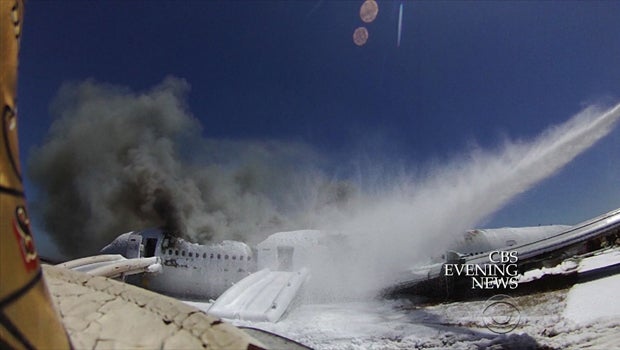 New video shows chaos, miscues before injured passenger was run over - twice
CBS News has obtained video never seen publicly before that shows the chaotic scene of the Asiana Airlines crash landing in San Francisco last summer, where a 16-year-old who survived was later killed by a fire truck.
The video is important because it may answer a key question: How was Ye Meng Yuan later run over by the truck?
The teenager was one of three people from the plane to die; 304 others survived.


Her parents are suing the city of San Francisco, claiming that the rescuers were reckless and poorly trained.

Video from a camera mounted on a firefighter's helmet was provided to CBS News by a source close to the family of Ye Meng Yuan. Other video comes from the fire truck.


"They say everybody is off," says a firefighter. "Just don't go in there. Anybody's in there right now, they're dead."

At first officials said the girl was accidentally run over because she may have been hidden in foam sprayed next to the plane. But 50 minutes of helmet footage, and video from the fire truck, reveal a number of emergency workers warning others that a victim was on the ground near the jet.
"Whoa, whoa, whoa, whoa, stop, stop, stop," a firefighter says to the driver of a fire truck. "There's a body right there, right in front of you."
Earlier a camera aboard "Rescue Truck 10" shows a firefighter directing the truck around a victim on the ground. Investigators agree that was 16-year-old Ye. A coroner ruled at that point she was alive.
One lieutenant told crash investigators she "made a "three-second" visual assessment and thought, "That's our first casualty" -- but did not check the girl's vital signs.
Ye did become partially covered by the foam sprayed toward the plane.

Some 15 minutes after the driver was first alerted about the victim on the ground, he ran Ye over.

The helmet camera shows another truck also drove over Ye's body minutes later.

Justin Green is one of the attorneys representing her family.

"What the family wants is accountability," he said. "They want to know why weren't the firefighters trained, why weren't the supervisors certified and why hasn't the fire department come clean about what happened?"

The San Francisco Fire Department told us they can't comment on pending litigation. Last month Chief Joanne Hayes-White told our San Francisco station KPIX this:

"Our members that day had difficult decisions to make. One was visualizing someone that appeared to be dead versus going onto the burning plane with reports of people that still needed to be rescued."

The firefighter wearing the helmet-cam told National Transportation Safety Board investigators he was wearing it because at a previous fire where two firefighters were killed, a lot of questions went unanswered. He told the investigators that from that experience he learned the value of the cameras.

And the investigation is pointing toward pilot error as the cause of the crash.

Thanks for reading CBS NEWS.
Create your free account or log in
for more features.