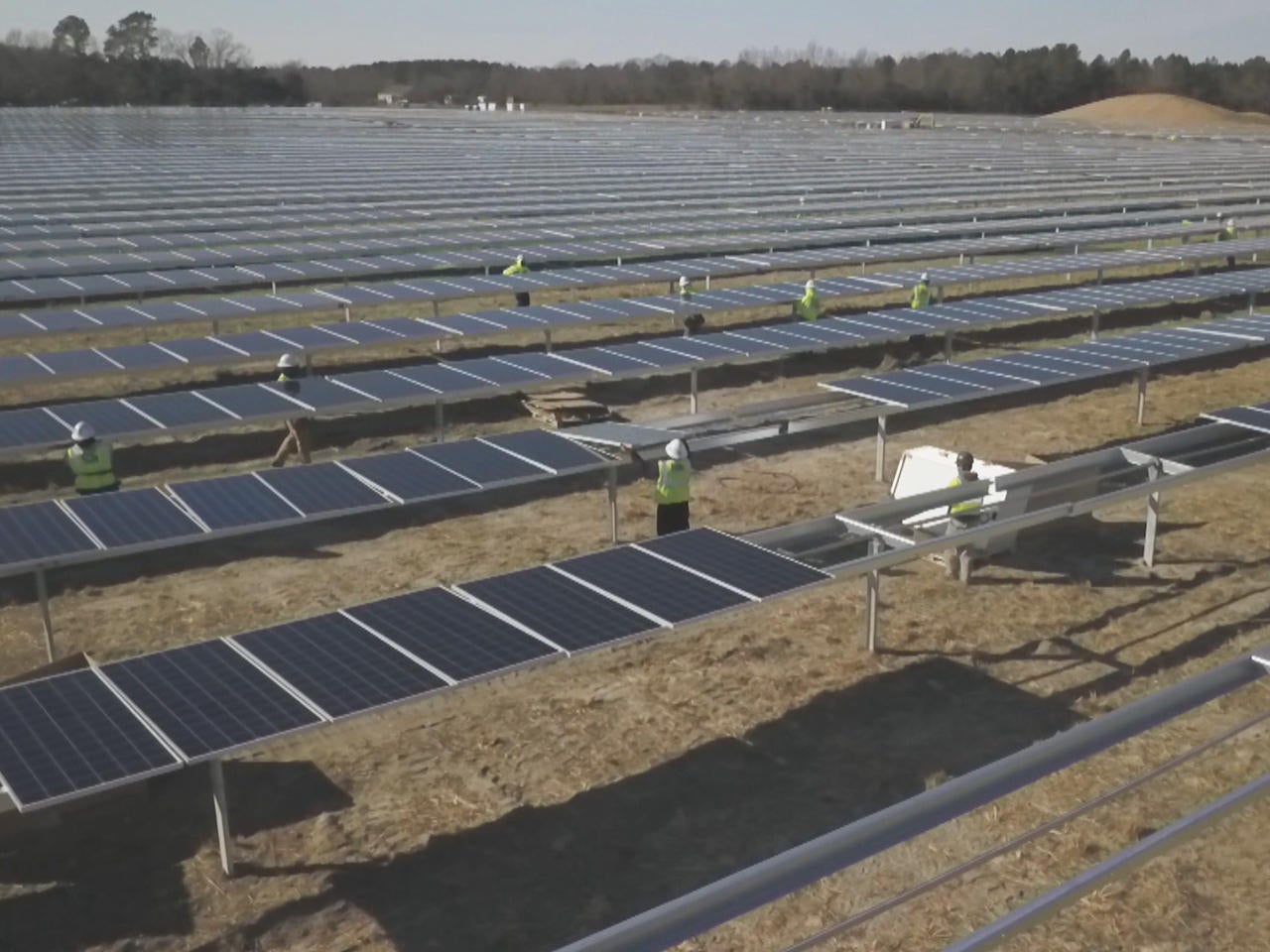 New tariff on solar product imports may hurt U.S. consumers, critics say
Seemingly endless rows of solar panels make up a 100-acre solar farm near Columbia, South Carolina. "What you see here is going to power about one-thousand homes," said Jaime Carlson, executive vice president of operations at Cypress Creek Renewables, the company backing the solar farm.
The United States installed about 12 billion watts of solar last year. Compare that to China, which installed more than 50 billion watts of solar.
President Donald Trump hopes the new tariff will bring more manufacturing to the U.S. and create jobs in the solar industry. But not everybody agrees with the president's plan.
CBS News correspondent Don Dahler asked Carlson, "Do you understand the concerns that the governments that subsidize these solar panels to send them to the U.S., that it's unfair competition, and they're trying to level the playing field?"
"But I think that's exactly what we need to be considering -- how do we incentivize manufacturing here in the U.S., [and] not just focus on penalizing others," she replied.
Mr. Trump signed a tariff into law last month, placing a 30-percent tariff on imported solar products, and making this promise: "We're going to benefit our consumers and we're gonna create a lot of jobs."
SolarWorld, an Oregon-based solar panel manufacturer, helped petition the White House to implement the tariff. "We have to level the playing field," said CEO Jürgen Stein.
The company told CBS News it laid off more than 300 of their 800 employees last year. Stein believes the tariff will bring jobs back to their factory.
"It's about how do we react to China who is trying to create a monopoly," Stein said.
But Solar Energy Industries Association CEO and President Abigail Ross Hopper disagrees with the administration's approach to creating solar jobs.
"If you add a tariff, if you add cost to something, there are going to be fewer people that are going to be able to buy it," she said.
If importers pass on the price increase to consumers, Hopper worries demand will drop, negatively impacting industry jobs.
According to the association, there were about 260,000 Americans working in the solar industry at the end of 2016. They estimate the tariff will cause a 23,000-job loss this year.
"It's going to be all different kinds of people -- electricians, construction workers, engineers, developers," Hopper said.
Tom Kosto's construction company is installing the panels on the South Carolina farm. The steel racks used to install solar panels are made in America.
Dahler asked Kosto, "Do you think there's a chance that the tariffs might stop you from getting some new projects?"
"There is that risk," he replied. "There is absolutely that risk."
According to the Wood Mackenzie energy research firm, the tariffs are expected to decrease solar installations by 11 percent over a five-year period.
Hopper believes the industry will continue to grow, but at a slower pace. "I do not think [the tariff] levels the playing field; I think this puts an unnecessary barrier in solar's way," she said.
The Solar Energy Industries Association told CBS News about 90 percent of the solar panels used in the U.S. are imported, but only ten percent of those came from China.
Thanks for reading CBS NEWS.
Create your free account or log in
for more features.