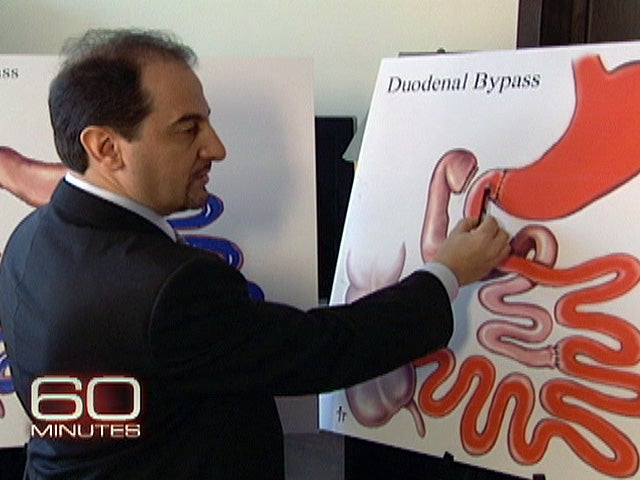 New study: Weight-loss surgery may cure diabetes
Could weight-loss surgery be a cure for type 2 diabetes? That's exactly what a new study, published today by the New England Journal of Medicine, suggests.
The study showed that weight-loss surgery is dramatically more effective in the treatment of type 2 diabetes than a conventional treatment of diet changes and medication. Patients in the study suffered from severe type 2 diabetes, and most went into remission after undergoing one of two bariatric surgeries.
"It's an unprecedented effect that we've never seen in diabetes before," says surgeon Dr. Francesco Rubino, senior author of the NEJM study and director of The Diabetes Surgery Center at New York-Presbyterian Hospital/Weill Cornell Medical Center. "Remission hasn't even been a word in the textbooks about diabetes."
Doctors have been performing bariatric (or weight-loss) surgeries since the 1950s. Until now, the procedures have been considered just a treatment for morbid obesity.
"The name 'bariatric' comes from a Greek term 'baros,' which means weight," explained Dr. Rubino. "In the 1950s, there were anecdotal reports that diabetes disappeared after these surgeries, but it was considered a side-effect of weight loss."
Four years ago, Dr. Rubino was interviewed by Lesley Stahl for a 60 Minutes report on gastric bypass surgery as a potential cure for diabetes. "At the time it was little more than an exciting pie-in-the-sky theory," says 60 Minutes producer Shachar Bar-On, who worked with Stahl on story. Back then, Dr. Rubino had been performing the surgeries on diabetic rats, effectively reversing the animals' diabetes with his scalpel.
Now, the results of Rubino's randomized, controlled trial on humans are in. The two-year study compared bariatric surgery to traditional therapy for diabetics. It was conducted by a team of researchers from the Catholic University/Policlinico Gemelli in Rome, Italy, and New York-Presbyterian/Weill Cornell Medical Center.
Patients between the ages of 30 and 60 with severe type 2 diabetes were randomly assigned to three treatment groups: one group received gastric bypass surgery; a second group had bilopancreatic diversion surgery (BPD), in which part of the stomach is removed; and the third group received conventional treatment of medication and rigorously monitored changes to diet and lifestyle.
None of the patients in the last group went into remission, but patients who went under the knife saw dramatic improvement. For 95 percent of the group who underwent BPD surgery, their diabetes went into full remission. They were able to discontinue all diabetes medications and maintain remission of their diabetes for the two-year study period. Seventy five percent of the group that underwent gastric bypass surgery went into remission.
How does it work? Dr. Rubino says that researchers don't fully understand the process at work, but he says the diabetics' remission is independent of the weight loss from their surgeries.
"We found that the change in the anatomy of the stomach and intestines can improve diabetes directly," says Rubino. "The stomach and intestine are not just there for absorption of nutrience. They also serve as an endocrine organ and make dozens of hormones. Those hormones are directly relevant to the regulation of the body's insulin."
Does this mean that even fit, non-obese diabetics should consider bariatric surgery?
"I would not recommend the surgery for diabetic patients who are non-obese yet, but that's the goal of the next few years," says Rubino. For now, the study authors recommend that physicians begin to consider weight-loss surgery as a treatment for diabetes in obese patients.
Type 2 is the most common form of diabetes, and it's rapidly increasing around the world. "This is great news for all diabetics in the world," says Dr. Rubino. "People think diabetes is chronic, irreversible disease. There is evidence now that diabetes is not always irreversible. In other words, it is not invincible."
Thanks for reading CBS NEWS.
Create your free account or log in
for more features.