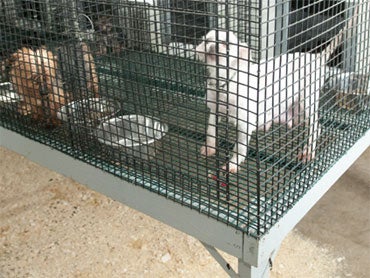 New Pa. Law Putting Puppy Mills out of Business
Daniel Peachey's breeding dogs used to stand on wire flooring all day, cooped up in cages that provided no regular access to the outdoors.
No more. Peachey recently spent more than $20,000 on upgrades at his Stone Mountain Kennel, outside of State College, to meet stringent new health and safety standards that state officials say have gone a long way toward ending Pennsylvania's reputation as the puppy mill capital of the East.
While breeders like Peachey have found themselves shelling out tens of thousands of dollars to comply with the strictest kennel law in the nation, scores of substandard commercial kennels have opted to close instead - freeing a minimum of 14,000 dogs from bleak surroundings where they typically received little attention or care.
The state Bureau of Dog Law Enforcement is wagging its tail about the results, declaring Friday in its annual report to the Legislature that Pennsylvania has become a "model state" for its oversight of commercial breeders.
"I think if people care about their dogs and want to remain in business, they are doing what's needed to comply with the law," Jessie Smith, the state's top dog-law enforcer, told The Associated Press this week during a tour of Peachey's kennel.
Pennsylvania had long been known as a breeding ground for puppy mills when Gov. Ed Rendell signed off on an overhaul of the dog law in 2008. The legislation was a response to appalling conditions in many large commercial breeding kennels, where dogs spent most of their working lives inside cramped wire cages, stacked one atop the other, and got little grooming, veterinary care or exercise.
Key provisions that went into effect in October required large-scale breeders to double cage sizes, eliminate wire flooring, and provide unfettered access to the outdoors. The new law also banned cage stacking, instituted twice-a-year vet checks, and mandated new ventilation and cleanliness standards.
Many breeders have closed voluntarily rather than comply. The number of commercial kennels in Pennsylvania plummeted from 303 at the beginning of 2009 to 111 today - a reduction of almost two-thirds - although a few of them are expected to reopen after making renovations, while other kennels got rid of enough dogs so that they are no longer classified as commercial operations.
Thousands of former breeding dogs have been relinquished to shelters and placed in homes as pets. Dogs have also been sold or transferred to other kennel owners in and out of state.
"It's much more difficult now to run a puppy mill in Pennsylvania," said Sarah Speed, Pennsylvania state director of The Humane Society of the United States. "I think the puppy mill business in Pennsylvania is absolutely on its way out."
Peachey, 43, an Amishman who lives with his wife and seven children on a three-acre spread in Belleville, said he thought long and hard about whether he wanted to remain in the business of breeding and selling Yorkshire and Boston terriers, Maltese, and "morkies" (a trendy Yorkie-Maltese mix).
He had always run a clean kennel, meeting and sometimes exceeding existing standards and taking good care of his dogs, according to state dog warden Melissa Bair, who has inspected the facility for years.
But even Peachey's operation required substantial upgrades to comply with the new regulations, including outdoor runs and new indoor enclosures.
In the end, it was a matter of economics.
Peachey, who had paid more than $50,000 for a new kennel building in 2003, thought it made more sense to spend another $20,000 to bring the kennel up to code than to abandon it and lose his original investment.
"I really didn't think I had a choice," he said.
Thanks for reading CBS NEWS.
Create your free account or log in
for more features.