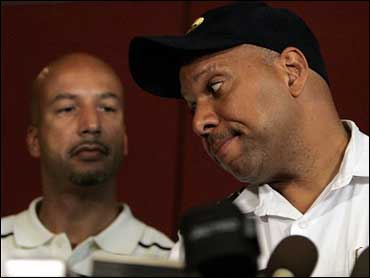 New Orleans Police Chief Quits
Police Superintendent Eddie Compass resigned Tuesday after four turbulent weeks in which the police force was wracked by desertions and disorganization in Hurricane Katrina's aftermath.

"I served this department for 26 years and have taken it through some of the toughest times of its history. Every man in a leadership position must know when it's time to hand over the reins," Compass said at a news conference. "I'll be going on in another direction that God has for me."

As the city slipped into anarchy during the first few days after Katrina, the 1,700-member police department itself suffered a crisis. Many officers deserted their posts, and some were accused of joining in the looting that broke out. Two officers Compass described as friends committed suicide.

Neither Compass nor Mayor Ray Nagin would say whether Compass was pressured to resign.

"It's a sad day in the city of New Orleans when a hero makes a decision like this," Nagin said. "He leaves the department in pretty good shape and with a significant amount of leadership."

Lt. David Benelli, president of the union for rank-and-file New Orleans officers, said he was shocked by the resignation.

"We've been through a horrendous time," Benelli said. "We've watched the city we love be destroyed. That is pressure you can't believe."

Benelli would not criticize Compass.

"You can talk about lack of organization, but we have been through two hurricanes, there was no communications, problems everywhere," he said. "I think the fact that we did not lose control of the city is a testament to his leadership."

Earlier in the day, the department said that about 250 police officers, roughly 15 percent of the force, could face discipline for leaving their posts without permission during Katrina and its aftermath.

Each case will be investigated to determine whether the officer was truly a deserter or had legitimate reasons to be absent, Deputy Chief Warren Riley said.

"Everything will be done on a case-by-case basis. The worst thing we could do is take disciplinary action against someone who was stranded in the storm or whose child is missing," Riley said.

Sally Forman, a spokeswoman for the mayor, said it is not clear whether the deserters can be fired. She said the city is still looking into the civil service regulations.

Benelli said true deserters should be fired.

"For those who left because of cowardice, they don't need to be here," Benelli told the paper. "If you're a deserter and you deserted your post for no other reason than you were scared, then you left the department and I don't see any need for you to come back."

But Benelli said he believes only a small fraction of the officers will wind up being deserters.

"We know there were people who flat-out deserted," he said. "But we also know there were officers who had to make critical decisions about what to do with their families."

Riley said some officers lost their homes and some are looking for their families. "Some simply left because they said they could not deal with the catastrophe," Riley said.

Also on Tuesday, the state Health Department said Katrina's death toll in Louisiana stood at 885, up from 841 as of Friday.

Tuesday marked the second day of the official reopening of New Orleans, which had been pushed back last week when Hurricane Rita threatened. Nagin welcomed residents back to the Algiers neighborhood on Monday but imposed a curfew and warned of limited services.

The hassle of coming home was replaced by the heartache of

CBS News correspondent Sharyn Alfonsi reports.

Nagin also invited business owners in the central business district, the French Quarter and the Uptown section to inspect their property and clean up. But he gave no timetable for reopening those parts of the city to residents.

Alfonsi adds that several bars on Bourbon Street are set to re-open now that electricity is gradually being restored to the French Quarter. Until now, some bars had plenty of beer, just no ice or power to keep it cold.

Power has been restored to portions of New Orleans, including Algiers, the French Quarter and the Central Business District, said Entergy Corp. spokesman Chanel Lagarde. The utility planned to restore power to parts of Uptown Tuesday.
Thanks for reading CBS NEWS.
Create your free account or log in
for more features.