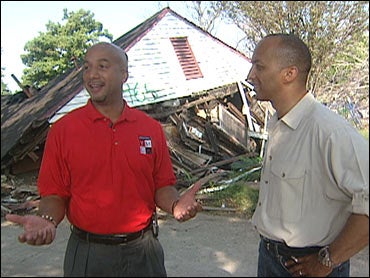 New Orleans Mayor Takes Swipe At NYC
Confronted by accusations that he's taking too long to clean up his city after Hurricane Katrina, New Orleans Mayor Ray Nagin defended himself by remarking on New York City's failure to rebuild Ground Zero.
Nagin made the remarks in an interview conducted by CBS News National Correspondent Byron Pitts which will be broadcast on 60 Minutes, Sunday, Aug. 27, at 7 p.m. EDT.
On a tour of the decimated Ninth Ward, Nagin tells Pitts the city has removed most of the debris from public property and it's mainly private land that's still affected – areas that can't be cleaned without the owners' permission. But when Pitts points to flood-damaged cars in the street and a house washed partially into the street, the mayor shoots back. "That's alright. You guys in New York can't get a hole in the ground fixed and it's five years later. So let's be fair."
Nagin is confident New Orleans will be whole again and will even be able to withstand another hurricane of Katrina strength, pointing out that taller and stronger levees are being built. It will take time.
"We're into a five-to-seven-year build cycle … . At the end of the day, I see the city being totally rebuilt. I see us eliminating blight, still being culturally unique," Nagin says.
One example of new development Nagin points to is a 68-story Trump Towers condominium complex, a project that makes some critics wary that New Orleans will lose the heritage that made it unique.
"I think you are looking at basically a town that will be a playground for the rich for the next 40 years," Leonard Moore, a professor of African-American history at Louisiana State University, tells Pitts. "I look at the post-Katrina piece as a game of musical chairs….Once the music gets turned off, the white folks have a place to sit down, a place to sleep, a place for their children to go to school. We're going back to a trailer."
Nagin says he is looking out for the poor, mostly black, residents who are dispersed all over the country, some of whom are waiting to return to the city.
"What I do have a problem with is some entrenched interests that are looking and salivating over certain sections of the city," Nagin says.
The mayor says these interests want him to keep those poor people from coming back so they can get rich developing the land.
"I don't think that's right," Nagin says.
But before any rebuilding can take place, the clean-up and restoration of the city's infrastructure must be complete and it will be Mayor Nagin, recently re-elected, who leads the efforts.
"Should things have happened quicker? Yes. But everyone has their own style of leadership, and right now our political leader, our political father is Ray Nagin," says Oliver Thomas, New Orleans City Council president.
"So for the next four years, we're going to sink or swim with him," Thomas tells Pitts.

Thanks for reading CBS NEWS.
Create your free account or log in
for more features.