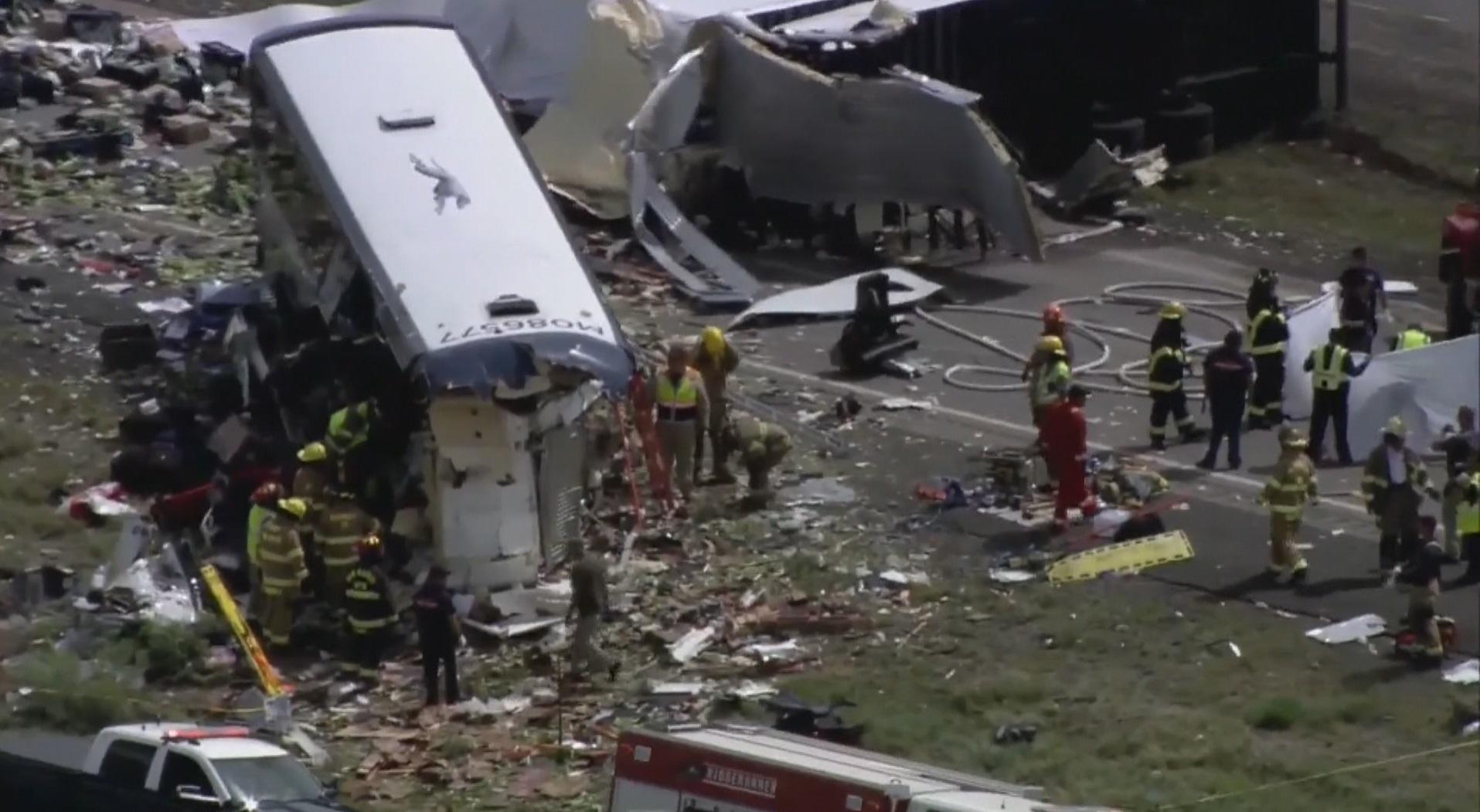 "Ripped open sardine can": Survivor describes horror in deadly Greyhound-semi-truck crash
At least seven people were killed and more than 40 injured after a semi-truck and Greyhound bus collided on a busy New Mexico highway Thursday. One survivor, Rachel Cunningham, who said she was asleep on the Greyhound when the crash happened, woke up to a gaping hole in the bus' passenger side.
"It was horrifying. Like, I've never actually seen in my life a bus look like a ripped open sardine can," Cunningham said.
Forty-nine people were on board when the crash happened near Thoreau, New Mexico.
"I was literally carrying these people with the paramedics into ambulances," Cunningham added. "My experience of what I've seen today, I mean, some stuff that I've only thought I'd end up seeing on TV."
Debris from the wreckage littered the stretch of Interstate 40, with the semi-trailer spilt open, the truck's cab upside down, and in the middle, the front end of the shredded shell of the Greyhound bus completely ripped off, reports CBS News correspondent Don Dahler.
"There was one person hanging out the window. Oh god," one witness said.
The bus, headed from St. Louis to Los Angeles, left Albuquerque Thursday and was on the road for about two hours when, police say, the semi-truck blew one of its tires and swerved across the median – right into oncoming traffic.
Survivors and bystanders turned into first responders, climbing ladders with emergency crews to reach passengers still trapped inside.
"It was nonstop," said Chris Jones, who stopped to help with the rescue. "There weren't enough ambulances there to get everybody out. … There's people that were stuck in the bus trying to get out, screams from inside there."
This is the second deadly crash involving a bus and a semi-truck in New Mexico this summer. In July, three people were killed when a passenger bus rolled into oncoming traffic. Thursday's incident shut down part of Interstate 40 for nearly eight hours, as crews worked into the night to clear the wreck.

"As you can imagine, the scene down there is chaos, so it's going to take investigators quite a while to go through and actually identify who was sitting where and who were the drivers and who were the passengers," said Officer Ray Wilson, a spokesperson for New Mexico State Police.
Officials said the truck driver from Thursday's collision is expected to recover.
A team of National Transportation Safety Board investigators was to arrive Friday.
Thanks for reading CBS NEWS.
Create your free account or log in
for more features.