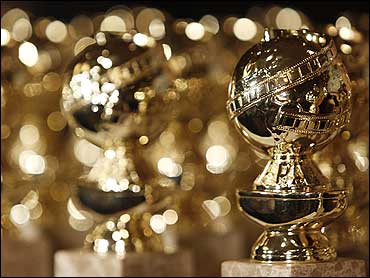 New Look For Golden Globe Statuette
The Hollywood Foreign Press Association has given its Golden Globe Award statuettes a facelift.
"The Hollywood Foreign Press Association is delighted to present our new statuettes to the public and entertainment industry," said HFPA President Jorge Camara in making the announcement at a Jan. 6, 2009, press conference. "We have spent the last two years working closely with Society Awards to finalize the design and production of the awards. Improvements in the statuettes include the detail and symmetry of the metal portion, inherent quality of the casting method, and accuracy of the globe. The construction of the Golden Globes has been improved so they will be more durable in transit. The Association selected a unique and uncommon marble to serve as the statuette's new base."
Camara also noted that the custom cases housing the statuettes were also improved. "Golden Globe recipients will appreciate our new leather bound custom cases that are much better suited to an award destined to be a prized possession. Winners will be delighted by the case's interior red velvet lining as well as the exterior of the box that is imprinted with the Golden Globe Awards logo in gold."
"When the Hollywood Foreign Press Association selected our company to produce its famous Golden Globe statuettes for the world's most prestigious awards show, it immediately became the center piece of our accounts," said David W. Moritz, CEO of Society Awards, the New York-based company that began the lengthy process to make the Golden Globe sturdier and more visually appealing in January 2007.
The origin of the Golden Globe dates back to 1945 when members of the Hollywood Foreign Press Association held a contest to find a design for a statuette that would best represent the overall aims of the organization. Marina Cisternas, who was President of the association, presented the idea for a golden globe encircled with a strip of motion picture film, and mounted on a pedestal.
The 66th Annual Golden Globe Awards will take place Sunday, January 11, 2009 at The Beverly Hilton with a live telecast airing on NBC beginning at 8 p.m., ET.
Statuette Stats
Weight: 5.5 lbs
Height: 10.75"
Width of base: 3.5"
Features: 24 karat gold plated zinc die cast top - Globe with symbolic filmstrip wrapped around. HFPA letters on base, atop golden cup. Exotic marble base, tapered sub base atop rectangular pillar. Each Golden Globe Award is individually hand-finished and presented in red velvet lined, leather bound chest with HFPA logo stamped in gold.

Thanks for reading CBS NEWS.
Create your free account or log in
for more features.