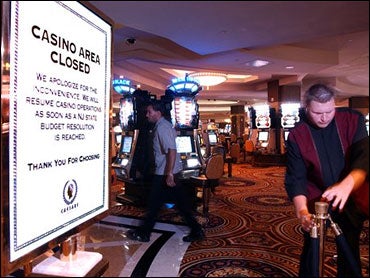 Atlantic City's casinos have crapped out. They're closed, not because of hurricanes and blizzards, labor strikes or a parking garage collapse, but by a state budget impasse.
By 8 a.m. EDT, New Jersey's 12 casinos had shut down, although their hotels remained open.
Add the 15,000 casino employees to the 45,000 state workers already on unpaid furloughs.
Drivers' licenses can't be renewed, road construction projects have stopped and state courts have closed down, reports CBS News correspondent Sharyn Alfonsi.
The closures will cost them upwards of $16 million a day. The state loses more than $1 million in lost revenues. And more than 60,000 people are out of work until legislators can agree on a budget, Alfonsi adds.
The state also will lose another $2 million a day by closing the lottery system.
It was the first shutdown in the 28-year history of Atlantic City's legalized gambling trade.
"It's like last call at a bar. It's a little bit eerie," said Michael Trager, 36, of Cincinnati, who was playing a video poker machine at 10 minutes to 8 a.m. when an attendant told him to conclude his bets. "They said, 'That's it, you gotta cash out. We're closing.'"
The Taj Mahal's casino actually stopped operations half an hour earlier than the deadline, reports WCBS-TV's Magee Hickey, leading to some really angry gamblers.
"They thought they had another half an hour. A few of them said they were on a lucky roll and they wanted to go with Lady Luck, but they weren't allowed to," Hickey said. There was some back-and-forth about when the gamblers could cash in their chips, but eventually were taken into a back room to do so.
"Everyone's really angry, the gamblers and the employees," she says.
A spokeswoman for the Borgata Hotel Casino and Spa told CBSNews.com that a $200 million expansion, including Atlantic City's biggest poker room, that had opened on Friday, had to be closed. Plus, she said, the budget crisis "has affected business volumes."
"It is deplorable that the people of this state are left in such a painful position," Gov. Jon S. Corzine said in his second speech to the full legislature in as many days. "The people of New Jersey have every right to be angry."
The impasse was sparked by the state's failure to adopt a new budget by Friday's midnight constitutional deadline, leaving it with no money to spend and prompting the shutdown.
Corzine ordered all non-essential state government operations halted, including the New Jersey Lottery. State offices have been closed since Saturday, keeping 45,000 state workers at home and without pay.
Workers in the child welfare, state police, mental hospitals and other vital jobs — about 36,000 — remained on the job, but they were working without pay.
Next week, prescription drug assistance for senior citizens, new home warranty certifications and summer camps for blind and disabled children could be threatened.
Camp Marcella, the state's summer camp for blind children, is already reaching out to parents who are planning to bring their children on Sunday for a weeklong session of outdoor activities, special Braille instruction and mentoring.
"We're already planning for a contingency of having to shut down," the New Jersey Department of Human Services' Mary Helen Cervantes tells CBSNews.com. It all depends on "whether or not the budget will be passed."
If the budget is not in place, Camp Marcella will turn away about 20 blind and developmentally disabled kids whose parents will have to make other arrangements for them.
The dispute between the governor and his fellow Democrats who control the Legislature centers on his plan to increase the state sales tax from 6 percent to 7 percent to help overcome a $4.5 billion budget deficit for his $31 billion spending plan. The proposal would cost the average New Jersey family $275 per year, according to experts.
Assembly Democrats opposed to Corzine's proposal said they could be ready to introduce an alternate budget plan, even though it could be filled with proposals Corzine opposes.
According to the vendors, the boardwalk Wednesday was half as crowded as it usually is, and the police chief said he is worried about trouble in the streets and labor unrest if the casino shutdown goes on for more than one day, reports Hickey.
The 15,000 casino employees thrown out of work by the closings could double if the casinos remain closed through the weekend, according to Robert McDevitt, president of Local 54 of UNITE HERE, a labor union that represents rank-and-file casino hotel workers.
"They're going to lose a lot of money," said Jerome Harper, 42, of Philadelphia, who was playing a Triple Cash slot machine at Resorts Atlantic City on Tuesday. "It's bad. Why close it down when you could just do your job and put the budget together? That's what they're paid for."
Among the state employees furloughed are the casino inspectors who keep tabs on the collection, counting and certification of the money won by the gambling halls. Without them, the casinos can't operate because the state would have no way to ensure that it receives its 8 percent share of the casino revenue.
"This is what brings the money in," said Bertha Arrington, 57, of Baldwin, N.Y., who was playing the slots.
"This is a state-created disaster," Atlantic City Police Chief John Mooney said.

Thanks for reading CBS NEWS.
Create your free account or log in
for more features.