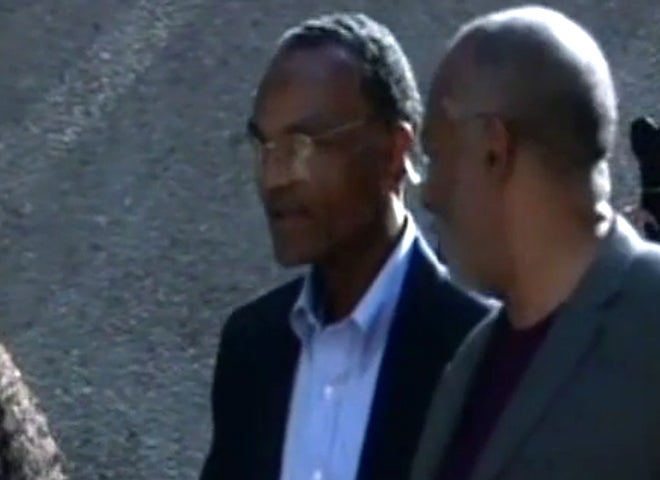 New evidence frees murder convict after 17 years
(CBS/AP) GREENSBORO, N.C. - A North Carolina man who spent nearly 17 years in prison for a murder case in which law officers and prosecutors hid key details is going free.
Superior Court Judge Joe Turner on Friday ordered the release of 62-year-old LaMonte Armstrong.
Turner said it was a day when he truly knows that justice is being served, reports CBS Affiliate WFMY.
Armstrong was convicted of the 1988 killing of Ernestine Compton, one of his former professors at North Carolina A&T State University, and sentenced to life in prison.
He has always claimed he was innocent.
Key to the case was testimony from a convicted felon who now says police pressured him to accuse Armstrong.
Police Chief Ken Miller said investigators have matched a palm print found at the crime scene to another suspect who was later convicted of killing his father, and who died in a 2010 traffic accident.
Duke University's Wrongful Convictions Clinic and Innocence Project has worked with Armstrong to get his case heard in court. Duke Law professors Theresa Newman and James Coleman have worked on the case along with students and alumni from the school; five students continued to work on the case, pro bono, after they graduated.
According to Greensboro Police, a partial palm print, along with other latent prints collected at the scene, was sent to the State Crime Laboratory for identification in the early 1990s, but no match was made.
Advances in technology since Armstrong's trial have now helped police identify the palm print as belonging to Christopher Bernard Caviness, a person of interest in this crime.
Greensboro Police said the original partial palm print was run through its SPEX fingerprint database, which produced a hit. The match was then independently confirmed by a second print examiner and by the State Crime Laboratory.
Caviness was convicted of the murder of his father in 1989. After his release from prison, Caviness was killed in a traffic accident in Winston-Salem in 2010.
Armstrong could be re-tried in the case, but the District Attorney said that is not likely.
WFMY correspondent Mark Geary reports Armstrong thanked his lawyers and supporters, calling them his "A-Team."
When asked if he was angry over his conviction and incarceration, Armstrong replied, "Yes, I'm somewhat angry, yeah. You can't help that, I'm human. I'm glad to see Guilford County finally rectified itself, and God's justice allowed and bestowed upon them probably where they had no control."
Chief Ken Miller said Greensboro Police will continue to work with the Wrongful Convictions Clinic and the D.A.'s Office as the case is re-opened as an active investigation.
"While these types of cases are very rare, we will always strive to conduct our investigations with integrity to ensure justice is done," said Miller. "We owe that to Mr. Armstrong and to the family of Professor Compton, and it is the right thing to do."
Thanks for reading CBS NEWS.
Create your free account or log in
for more features.