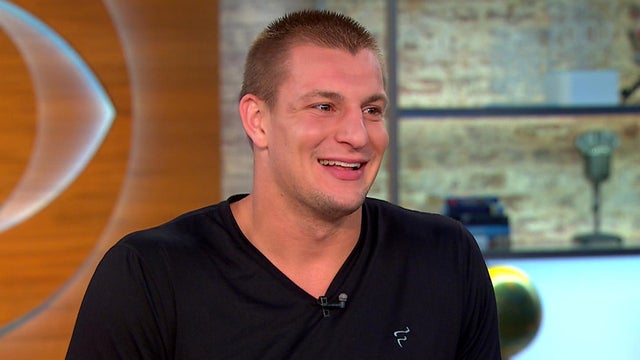 Gronk: Partying makes me a better player
New England Patriots' Rob Gronkowski is a powerhouse in the game, but his practice on the field isn't the only thing that makes Gronk so good. Partying, he says, has made him a better player.
"It makes you get that itch to go back out. You go out and get refreshed, and it just makes you want to go back out on that practice field and keep going hard," Gronkowski said Friday on "CBS This Morning."
In his new book "It's Good to be Gronk," Gronkowski reflects on his love of football, extreme dancing and "party rocking."
"When you get that itch, when you're working for like 20 days in a row, you're out on the practice field just grinding, you want to go out once and a while," he said.
But it's not all fun and games for his others on his team. Quarterback Tom Brady is still battling last year's "deflate-gate" scandal. Union sources representing NFL players recently told CBS News they may go to federal court over Brady's four-game suspension.
Gronkowski shared his own thoughts on how NFL commissioner Roger Goodell should handle the issue.
"I think he should just get the four games wiped out, baby. 'Roger, just wipe out those four games. Make it easy,'" he said. "'Put this in the past. It's pretty annoying that you keep holding it up.'"
Now, Gronkowski is celebrating after his ESPY win for best comeback athlete. The NFL's top tight end roared back last year from serious injuries and six operations.
"You build up, you gain all your muscles, you're in shape and then all the sudden, boom, you have to start from stage one," Gronkowski said. "You've got to rebuild up all the muscles. It's like you're a kid again. You're lifting three pounds on the first week after surgery and stuff."
The 6-foot-6-inch superstar recovered and helped carry the Patriots to win Super Bowl XLIX. He made headlines after catching a record-breaking throw that put Brady in the books for the most Super Bowl touchdown passes.
"Throughout the years and throughout the practices, definitely he knows where I'm going to be," Gronkowski said. "And when I turn around, have a look at the last second, sometimes I know the ball is going to be right there."
Gronkowski said the two share a passion for football and have great chemistry -- though it wasn't always that way.
"That was just a little tough for me my rookie year, for sure, but throughout the process, now going into my second year, I definitely saw why he was tough on me, definitely saw my eyes open and everything," Gronkowski said.
In a statement to "CBS This Morning," Brady said: "Gronk is a one of a kind person, player and friend. He is one of the most positive people I have ever been around and he loves to have fun. What you see is what you get and whether he is dancing, singing, laughing, or spiking, he is true to himself."
For more ofGronkowski's interview, watch the video above.
Thanks for reading CBS NEWS.
Create your free account or log in
for more features.