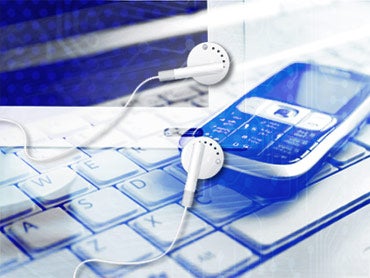 New Discipline: Take Away Kids' Tech
These days when kids get grounded -- they're not simply told they have to stay home -- but instead are being "digitally grounded." Parents are taking away their kids' cell phones, Facebook rights and everything else digital -- cutting them off from their friends. And with 93 percent of kids using these technologies, according to the Pew Research Center's Internet and American Life Project, kids are really feeling the sting of this discipline.
See how one mother used "digital grounding" on her teenage daughter.
But how can you ground your child from technology?
On "The Early Show" Tuesday, Dr. Jennifer Hartstein, an "Early Show" contributor and child and adolescent psychologist, explained the punishment has to fit the crime.
"You want to think about what it is that they did and what it is they're getting punished or disciplined for," she said. "So you want to make it appropriate."
But what stops families from following through with this type of punishment?
Regina Lewis, AOL consumer advisor, said the inconvenience of not being in touch with your child often hampers parents from this type of punishment.
She said, "What if there's an emergency? How will I know when soccer practice is over? It's an inconvenience to you."
However, she recommends customizing your cell phone plan.
"Every major carrier allows for this," she said. "Think of it as the inverse of blocking. Instead of trying to block or blacklist the bad guys, you white list the good guys, you, the other spouse, an emergency contact. Those are the only calls they'll be able to make calls to and take calls to. You can turn off text messaging which is the biggie. Ironically there's a cost for that because the cell phone companies, of course, want you to text message. So expect to pay about $5 a month to turn it off."
Another way to discipline your child is to limit social networking use for a period.
"This is where I think parents tend to overshoot," Lewis said. "If you tell your kids you're going to take down or get rid of their Facebook, that is the virtual equivalent of telling them the world is ending. What you want to do is go on with them and say, 'Hey, we're going to change the password and for a week you're not going to have access to it. And on an ongoing basis I suggest being their friend. Friending them. About 70 percent of parents do that."
So when can you start "digitally grounding" your child?
Hartstein said, "What are your kids doing? It can start young. Kids are using Xbox, iTouch to play games. They're involved in digital media much earlier. So it can start at 7, 8 or 9…it's very meaningful to take those things away because they are their lifeline."
"Early Show" co-anchor Erica Hill pointed out just as kids can have their keys taken away, they can get a ride from someone else, so too, goes with technology.
She said, "You may take away their cell phone, but they can obviously go to someone else's house. How do you stay on top of it to make sure they're not using their friend's iPhone?"
Hartstein said, "It's really hard to do when they're not in your house. But if they are grounded they may not be going to their friend's house, so you have more control. Some of it you're in my house, these are the rules, and what we're going to follow and when you're out of our house there is a little bit of a lax thing, but you want to hope they're going to follow it."
Go to Page 2 for more monitoring and limiting controls.

Internet Timers
Online Timers lets you determine the number of hours your child can stay online. You can choose the time range, and give customized access everyday, which allows you to select a different time limit for each day of the week. For more information, check out: Online Timers.
Facebook and Social Networking Monitoring
This brand new service SafeSocial.com gives parents a 360 degree view of their child's social networking behavior, complete with an analysis of their "friends" and a synposis of their activity -- everything from status updates to pictures posted. Loaded language (e.g., references to sex, drugs, alcohol, suicide & more) is flagged and you can be immediately alerted via email, which could prove priceless in helping safeguard your child's reputation. You'll also get a weekly email summarizing recent activity.
Customizing Cellphones
Here are summaries by wireless carrier:
AT&T Smart Limits for Wireless - Wireless from AT&T - $4.99/month per line
With AT&T Smart Limits for Wireless, you start with an easy online setup that allows you to determine specifically how and when your child can use the phone. You can set limits for:
• Number of text and instant messages
• Dollar amount of downloadable purchases (ringtones, games and more)
• Amount of Web browsing/data usage allowed per billing cycle
• Times of day the phone can be used for messaging, browsing, and outbound calling.
• Who the phone can call or text (incoming and outgoing) by blocking or allowing certain numbers
• The access of content inappropriate for children
Note: While AT&T offers basic Parental Controls for their wireless customers for free, it does not come with the ability to limit or restrict text messaging.
Verizon "Usage Controls" - $4.99/month per controlled line
Usage Controls is an easy- to-use service that puts you in control of your cell phone bill. For only $4.99 per month, Usage Controls enables you to:
• Set allowances for voice and messaging usage. The controlled line will receive a free text alert when they are nearing the allowance and you will receive a free text when the allowance has been met.
• Restrict voice, messaging, and data services during designated times of day or days of week.
• Block calls and messages with up to 20 numbers you choose.
• Block calls to 411 Directory Assistance.
• Block incoming calls from numbers listed as private, restricted, or unavailable.
• Create a list of trusted numbers (wireless or landline) that can always communicate with the controlled line regardless of other set restrictions.
• Customize the settings online for each controlled line on your account.
Usage Controls provides you with peace of mind that your controlled line is responsibly using his/her cell phone and reduces the risk of unexpected charges on your wireless account. Please see additional information on various types of blocks available.
Family Allowances
Family Allowances is a service easily managed from My T-Mobile that lets you assign allowances for minutes, messages, and downloads to all the lines on your account.
In addition to setting allowances, you can set Always Allowed SM numbers to enable unlimited calling or texting and Never Allowed SM numbers to restrict calling or texting.
Family Allowances will also enable you to block usage during certain times of day (conditions and restrictions apply). Family Allowances is managed from My T-Mobile.
Family Allowances is not intended to prevent overages, but to provide you flexibility in account management. Always Allowed numbers still allow managed lines to send and receive calls and messages, even after the allowances are reached. Therefore, it is possible to incur an overage even after the allowances are reached.
Thanks for reading CBS NEWS.
Create your free account or log in
for more features.