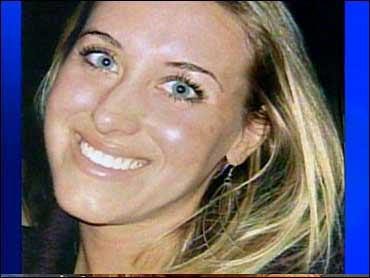 New Clue In Search For Missing Woman
The disappearance of a young Florida woman had police scratching their heads, until a surveillance video tape surfaced that may shed some light on the case.
Jennifer Kesse, 24, has been missing for more than two weeks.
Police say Jennifer vanished shortly after returning from a trip to the Caribbean island of St. Croix with her boyfriend. She was last seen Jan. 24, 2006.
Investigators found her black Chevrolet Malibu at a condominium complex just a mile from her home. That in turn led to what investigators hope may be a big break in the case: surveillance photos of an unidentified person that was seen near Jennifer's abandoned car.
Police are asking the public to help them identify this "person of interest" in the case.
"We are hoping that there will be some there to recognize the clothing or something about it or maybe the time frame where we believe the picture was captured," says Sgt. Barbara Jones of the Orlando Police Department.
More than 1,100 volunteers have been handing out fliers and taking part in the search for Jennifer and, thanks to an anonymous donor, there is a $115,000 reward for any information leading to her return.
Speaking to The Early Show co-anchor Harry Smith Wednesday, Jennifer's father, Drew Kesse, described his daughter as a young, "bright, beautiful, intelligent, really driven, focused young lady that we love."
Jennifer had recently moved into a new apartment and had gotten a promotion at her job.
Asked if Jennifer could have had an enemy, her mother Joyce said: "You know, honestly, no. As a matter of fact, so many of us have been trying to find a picture of Jennifer not smiling to put on a poster because, obviously, she would not be smiling right now, and no one — family, friends, her sorority sisters — there are none. That shows you what kind of person she is. You meet her and, really, you want to be her friend."
Jennifer's boyfriend, who had just returned with her from vacation, is not considered a person of interest in the investigation.
"To my knowledge, yes," says Drew Kesse. "I don't think any of us are marked out. But to my knowledge, I believe, yes, he's out of the picture on that."
Jennifer's brother, Logan, hopes someone will recognize something or spot a clue in the surveillance photo.
"To recognize, maybe, the person, the hair, their outfit — if they can make out what the outfit was; it some sort of uniform — or anything like that," he says. "Just to pick out any little thing from the photo, whether it be the hair, the shoes, or male, female, anything, and just, when they are out and about, just look for that little thing they can pick up."
"You know, sometimes you see something and at the time you might dismiss it," says Joyce Kesse. "And we're just really appealing to the public that anybody who has been in the Orlando area Jan. 24, the car was found on Thursday the 26th. Just try to rack your brain and, again, note — nothing is too insignificant. There are so many people that, 'Oh, I don't think it's of importance.' "
---
If you have information about Jennifer's disappearance, please call 1-800-423-TIPS. Click here for more information about Jennifer Kesse.
Thanks for reading CBS NEWS.
Create your free account or log in
for more features.