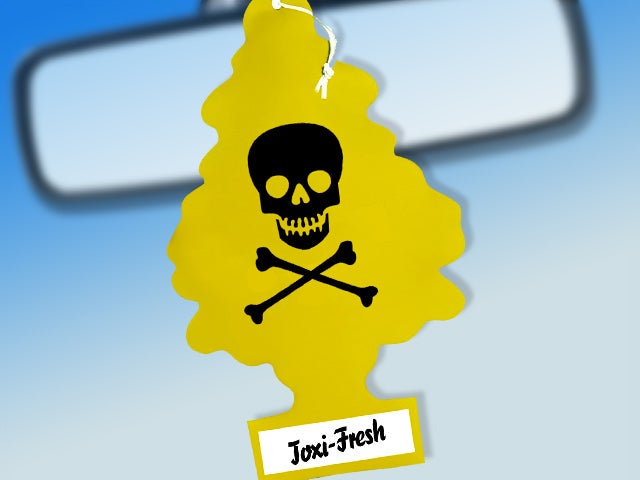 New car smell is toxic, study says: Which cars are worst?
(CBS) Who doesn't love that factory fresh "new car smell"? It's so well-liked that air fresheners and sprays have been produced in attempts to reclaim the odor.
PICTURES: Toxic new car smell? Top 10 "worst" cars for chemicals
But according to a new study from the nonprofit Ecology Center and HealthyStuff.org, what you might actually be sniffing are toxic fumes from chemicals used to create the car interior.
"Research shows that vehicle interiors contain a unique cocktail of hundreds of toxic chemicals that off-gas in small, confined spaces," Jeff Gearhart, research director at the Ecology Center, said in a written statement. "Since these chemicals are not regulated, consumers have no way of knowing the dangers they face. Our testing is intended to expose those dangers and encourage manufacturers to use safer alternatives."
For the study, researchers at the Ecology Center tested more than 200 of the most popular 2011-2012 automobiles for chemicals that "off-gas" from interior car parts such as the steering wheel, dashboard, armrests, and seats. They assigned a "vehicle rating" based on the amount of chemicals they found.

The researchers found more than 275 different chemicals in the interiors of cars. Some chemicals of concern include bromine from brominated flame retardants (BFRs) which are added to plastics to make them less flammable, chlorine used for polyvinyl chloride (PVC) used for plastics and windshields, lead, and heavy metals.
The researchers said BFR exposure has been tied to thyroid problems, learning and memory impairment, decreased fertility, and behavioral changes while PVCs which contain chemicals called phthalates are linked to decreased fertility, and problems with the liver, testes, thyroid, ovaries, kidneys, and blood.
Which car did the Ecology Center deem healthiest?
At the top of the list for the most healthy car interior is the 2012 Honda Civic. Researchers gave it a score of 0.46, saying it did not have any bromine-based flame retardants, and used PVC-free fabrics on the interior.
"We're pleased to be recognized by HealthyStuff.org for our efforts," Marcos Frommer, manager of corporate affairs & communications at American Honda, said in the statement. "Over the past decade, Honda has taken a number of steps to reduce or remove chemicals of concern from our vehicles."

The industry trade group Global Automakers and car company Kia Motors America had no comment when reached by HealthPop, and the Auto Alliance, Chrysler Motors, Mitsubishi Motors did not respond for requests for comment at press time.

Not all is bleak about the state of new car smells. The researchers said overall, cars have improved from when they first began testing.

"Since we first started testing in 2006, we've seen an improvement on average in the vehicles that are in the market," Gearhart told CBS Detroit. "So, we know there is a trend toward healthier interiors, but what we really want to see is to see that accelerated."
Today, 17 percent of new vehicles have PVC-free interiors and 60 percent are produced without BFRs, the Ecology Center said. Before 2006, 0 percent of cars had PVC-free interiors.
Some cars scored worse than others. Keep clicking to see the 10 biggest offenders...
Thanks for reading CBS NEWS.
Create your free account or log in
for more features.