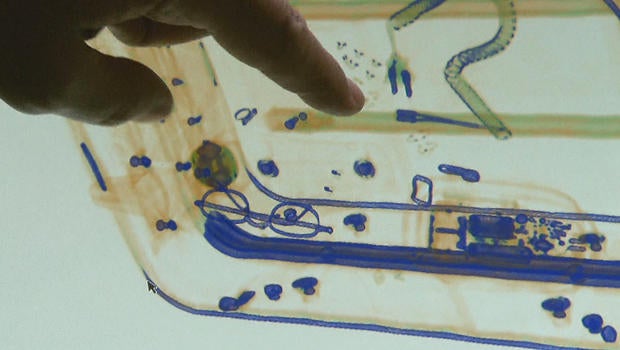 New 3-D scanners spot explosives older machines could miss, TSA says
The Transportation Security Administration is launching new technology that could change the way bags are scanned at airports across the country. The goal is to replace aging X-ray scanners with new 3-D carry-on bag scanners that use the same technology as CT scans. The TSA believes they will spot explosives older machines could miss.
The brand-new Analogic 3-D CT scanner can see through just about anything in a carry-on bag to spot a potential threat. The TSA is rolling it out at a checkpoint at the American Airlines terminal at John F. Kennedy International Airport in New York City.
Concerns about certain explosives getting by some older X-ray machines prompted TSA to ask travelers to take devices larger than a phone out of their bags, and remove food, liquids, and most recently powders. This new technology may bring all that to an end.
The Analogic scanner works like a CT machine in a hospital, seeing through even a cluttered bag and giving screeners the ability to zoom in and rotate the bag for a 360-degree view.
American Airlines donated eight of the roughly $300,000 scanners to TSA, including the one at JFK.
"We think in perhaps five years or so, the passengers won't have to take anything out of their carry-on bags," said TSA Administrator David Pekoske, who described the technology as revolutionary.
"What it's capable of doing is detecting a wider range of explosives, which is very important, [as well as] a much lower weight of explosives," Pekoske told correspondent Kris Van Cleave. "They're just much better at detection, so you really get better security faster, essentially."
The TSA plans to have 15 scanners deployed to airports by the end of the year, and are authorized to buy up to 240 in 2019. They'll need about 2,000 to cover every airport checkpoint in the country.
Jose Freig, American Airlines' head of security, told Van Cleave what travelers could come to expect: "Just getting to that point when, in a non-precheck lane, you're able to keep your liquids, gels, aerosols, and laptops and electronics in your bags. It's a new era, if you will, and we're really excited about it."
The TSA tested the scanners in Phoenix and Boston, and have found them to speed up the screening process by reducing the need for secondary bag checks.
Congress is pushing the TSA to get these out there as quickly as possible, but it'll take years to replace the old X-ray machines at every airport.
Thanks for reading CBS NEWS.
Create your free account or log in
for more features.