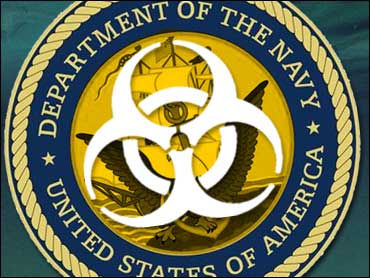 Nerve Gas Used On Sailors In '60s Tests
The Pentagon has admitted for the first time that chemical and biological weapons were tested on Navy ships in the 1960s, and said anyone who was harmed could be eligible for health benefits.
As first reported by CBS News Correspondent Vince Gonzales in 2000, the Pentagon conducted more than 100 of the secret biological warfare tests.
In two of those tests, code-named "Autumn Gold" and "Copper Head," more than a thousand U.S. sailors were sprayed with materials once thought to be harmless.
Two kinds of nerve gas and a biological toxin were sprayed on the ships, military officials said Thursday. Four tests in the Pacific from 1964 to 1968 used either the deadly nerve agent sarin, the nerve gas known as VX, or a biological toxin that causes flu-like symptoms, Defense Department statements said.
Sketchy records of the tests and ships' logs do not indicate any of those involved in the tests suffered serious health problems at the time, said Dr. Michael E. Kilpatrick, a Defense Department health official.
"We believe if anything catastrophic happened or if there were large numbers of ill people, it would be in the log," said Kilpatrick, who was involved in reviewing the records. "There's no indication on any of these tests that that had occurred."
Yet many of those sailors — some of whom claim they were subjected to the test without their consent and were never told what it involved — feel their health has been damaged.
The Department of Veterans Affairs has mailed letters to about 600 veterans who may have taken part in the tests, VA Secretary Anthony Principi said Thursday.
"There's always been a question whether veterans and active-duty service members became ill as a result of that testing," Principi said in an interview with The Associated Press. "It's been controversial, so we were sending out letters to veterans to ask them to take a physical and to see if they are entitled to any benefits."
The Pentagon released details about six tests from a 1960s program to evaluate chemical and biological weapons and defenses against them. The Defense Department agreed two years ago to begin releasing details about the tests and contacting participants after pressure from Rep. Mike Thompson, D-Calif., and veterans involved in the tests.
"I'm somewhat alarmed by it," Thompson said. "It seems to me enough time has passed that someone over there should have known who was involved and what was going on."
The tests also used chemicals and bacteria meant to simulate weapons, as well as fluorescent or radioactive chemicals used as tracers, the Defense Department said. One type of bacteria used to simulate germ weapons was later found to cause infections, and a separate test where that germ was sprayed on San Francisco is believed to have caused an infection that killed a man.
The tests were among 113 conducted as part of a project called SHAD, or Shipboard Hazard and Defense. The Pentagon has acknowledged using chemical and biological simulants before, but has not admitted using the actual weapons agents themselves.
Sarin, the deadly nerve gas used by a cult to kill a dozen people in a Tokyo subway in 1995, was used in a 1964 test off the Hawaiian coast. Both sarin and a chemical simulant were also sprayed onto the USS George Eastman and injected into the ship's ventilation system, the Pentagon statement said.
Crew members wore gas masks during the tests, and those who worked most directly with the sarin wore chemical protection suits, the statement said.
Monkeys were used as test subjects during the exercises using nerve gas and were later "sacrificed" to determine whether they were exposed to the weapons, Kilpatrick said. Although records do not say how potent the sarin was, the fact that participants used protective gear indicates it was in a harmful or deadly form, Kilpatrick said.
Tests in 1964 and 1965 used VX, another deadly nerve gas. During tests in 1965, George Eastman was sprayed with VX and a simulant to test decontamination procedures. VX gas tagged with radioactive phosphorus was also sprayed on a barge to test decontamination procedures.
That second test used a compound that was 90 percent VX — "the most lethal nerve agent" and one that can linger for weeks, Kilpatrick said. But there is no evidence any people were on the barge sprayed with VX, which was towed nearly a half-mile behind a tugboat, he said.
A 1968 test used staphylococcal enterotoxin Type B — a poison produced by bacteria that causes flu-like symptoms such as fever, muscle aches, cough, vomiting and diarrhea.
During that test, the toxin was sprayed over five tugboats, the USS Granville S. Hall and parts of a Pacific atoll to evaluate how it could be spread from the air.

Thanks for reading CBS NEWS.
Create your free account or log in
for more features.