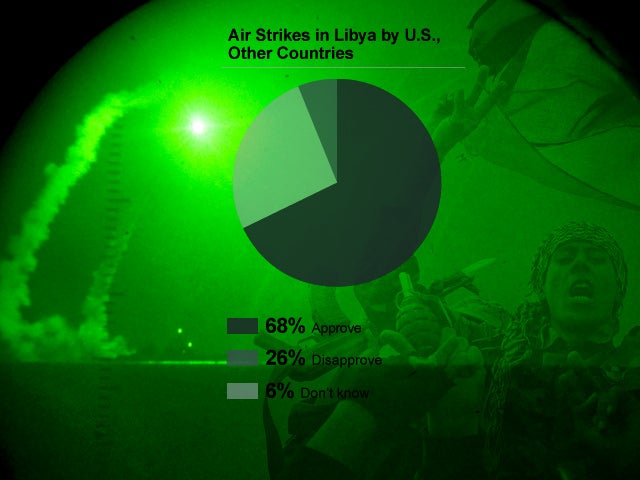 Nearly 7 in 10 support air strikes in Libya, CBS News poll finds
CBS News Poll analysis by the CBS News Polling Unit: Sarah Dutton, Jennifer De Pinto, Fred Backus and Anthony Salvanto.
Nearly seven in ten Americans support the use of military air strikes in Libya in order to protect civilians from attacks by Libyan leader Muammar Qaddafi, a new CBS News poll finds.
In a survey taken on Sunday and Monday, following Saturday's first round of U.N.-sanctioned missile and air strikes aimed at Libya, 68 percent of Americans said they approved of the military action. Just 26 percent said they disapproved.
Eight in 10 Americans want budget compromise
Support for new nuclear plants drops
Fifty percent of Americans said they approved of how President Obama was handling the situation in Libya, and the president earned more support from Republicans on the issue than he did on domestic issues like the economy and the deficit. Forty-three percent of Republicans said they approved of Mr. Obama's handling of the Libya situation, according to the poll, and 41 percent disapproved. Sixty-six percent of Democrats approved, as did 43 percent of Independents.
Nearly three in four Americans also said they expected the air strikes to be effective on some level, although respondents' confidence levels dipped in regard to the extent of the strikes' predicted success: Just 20 percent of respondents said they thought the strikes would be "very effective" in protecting Libyan citizens, while 54 percent said they thought the actions would be "somewhat effective." Eighteen percent said they thought the recent military actions in Libya would be not very - or not at all - effective.
More than four in five Americans say that what happens in Libya is important to the U.S., according to the survey, including 38 percent who said they considered it "very important." Last month, 46 percent felt what was happening in Egypt was "very important" to the U.S.
Americans have supported this type of military action before. According to a CBS News Poll conducted in September 1995, 59 percent of Americans approved of air strikes in Bosnia during the war there. In March 1999, 51 percent favored US and NATO air strikes in Yugoslavia during the Kosovo War.
Obama's disaster management gets solid marks
Few Americans more fearful of nuclear power
Read the full CBS News poll
Thanks for reading CBS NEWS.
Create your free account or log in
for more features.