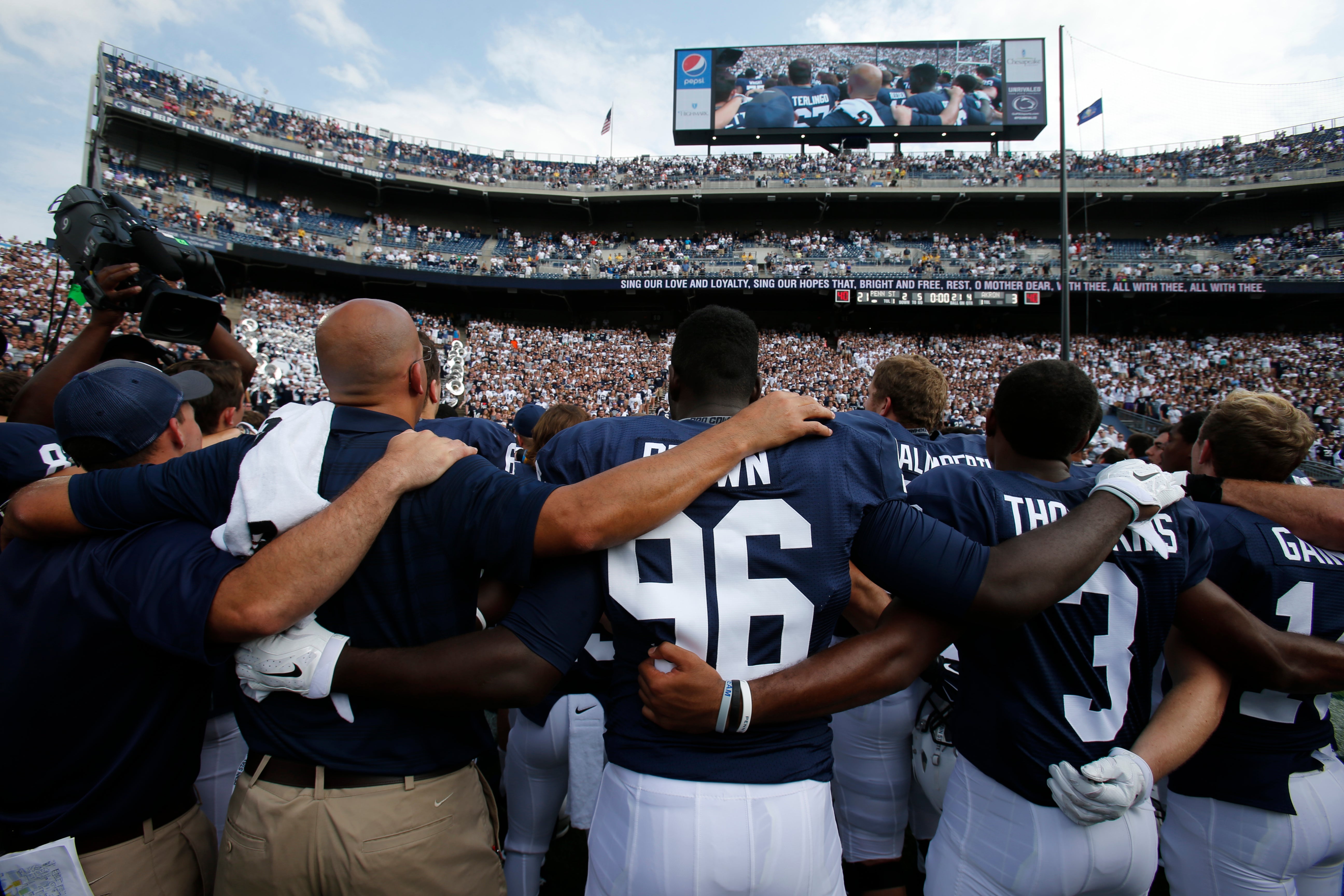 NCAA lifts Penn State's bowl ban, restoring scholarships in 2015
The NCAA on Monday lifted the on-the-field sanctions placed on the Penn State football team for the Jerry Sandusky scandal, including immediately eliminating the postseason ban and restoring scholarships.
Penn State was halfway through a four-year postseason ban handed down during the summer of 2012. The NCAA rescinded some of the scholarship sanctions last year.
In a news release Monday, the NCAA said that in addition to the postseason ban being lifted, Penn State will be allowed to have the full complement of football scholarships in 2015.
The school still must pay a $60 million fine, 112 wins under Joe Paterno remain forfeited and the school will remain under monitoring.
The decision by the NCAA's Executive Committee followed a recommendation by former U.S. Sen. George Mitchell, whose second annual report as Penn State's athletics integrity monitor concluded the university was in compliance with a 2012 agreement and consent decree.
Mitchell said the school had made progress toward implementing a new human resources system, "fostering an ethical culture" and improving security at its sports facilities.
"While each of these projects will require sustained effort, the work remains on track, and Penn State's commitment to completing these projects is apparent," wrote Mitchell. He said his own five-year oversight role, scheduled to continue to 2017, may end earlier as a result of the progress that has been made.
Mitchell said his recommendation was focused on aspects of the penalties that affect student-athletes, many of whom stayed at Penn State despite the ability to transfer without penalty.
"Many Penn State football players demonstrated loyalty by remaining at their university for two years without the prospect of playing in a postseason game," Mitchell wrote. "In light of Penn State's responsiveness to its obligations and the many improvements it has instituted, I believe these student-athletes should have the opportunity to play in the post-season should they earn it on the field this year."
His 58-page report said incidents involving the football team this year included two student-athletes who allegedly refused to leave a fraternity party when asked, alleged harassment of a parking officer who ticketed illegally parked mopeds, and the son of a team official practicing at a school facility in violation of university rules.
"Penn State's commitment to the integrity of its athletics department and its progress toward meeting the requirements of the Consent Decree are clear," said Northern Arizona President Rita Hartung Cheng, who chaired Monday's Executive Committee meeting. "We thank Senator Mitchell for his meticulous and exhaustive work over the past two years."
Penn State went 15-9 during the first two seasons of the sanctions under coach Bill O'Brien, who was hired to replace the late Paterno, who was fired not long after Sandusky, his former defensive coordinator, was charged with multiple counts of child sexual abuse. Paterno died in 2012.
O'Brien left for the Houston Texans of the NFL after last season and James Franklin was hired away from Vanderbilt to take his place.
Penn State is 2-0 this season. If the Nittany Lions win the East division, they will be eligible to play in the Big Ten championship game.
"Following our briefing with Senator Mitchell, the COPC [Council of Presidents and Chancellors] reached consensus agreement to support his latest recommendation and also agreed to restore the school's eligibility for the Big Ten Football Championship Game, which ran concurrently with the NCAA postseason bowl ban," Iowa President Sally Mason, COPC chair, said Monday. "We support the NCAA announcement acting on that recommendation, thank Senator Mitchell for his dedicated service and appreciate Penn State's ongoing commitment to improvement."
Thanks for reading CBS NEWS.
Create your free account or log in
for more features.