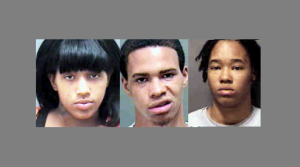 N.C. teens arrested for allegedly killing deaf man during robbery, police say
(CBS/AP) CHARLOTTE, N.C. - Three teenagers are under arrest after authorities say they fatally stabbed a deaf man during a robbery, then left him lying in the front yard of a Charlotte home.

Charlotte-Mecklenburg police say Michael Victor Shull, 21, of Conover, N.C., was killed Friday while he was on his way to pick up his girlfriend.

According to the Charlotte Observer, the victim's father was told by police that two of the suspects are related to the victim's girlfriend.
"People need to know it's not something that just happened. It was totally set up. They planned it, and they took advantage of his generosity and trust," Clif Shull told the Charlotte Observer.
The three suspects were arrested over the weekend and are identified as Aveance Bryant, 18, Davonta Turner, 18, and Ashley Owens, 19, police say. All three are charged with murder, robbery with a dangerous weapon and conspiracy to commit robbery.
The Charlotte Observer reports that Turner and Owens have criminal records. Turner was convicted on drug charges in 2012, and of breaking and entering a motor vehicle in 2011. Owens was convicted for solicitation of prostitution in 2012, and of breaking and entering in 2011, according to the paper.

Clif Shull told the paper that police assured him that his son's girlfriend had no involvement in the crime.

Michael Shull was a recent graduate of the North Carolina School for the Deaf in Morganton and he had been working at a tire shop prior to his death, according to family members.
Thanks for reading CBS NEWS.
Create your free account or log in
for more features.