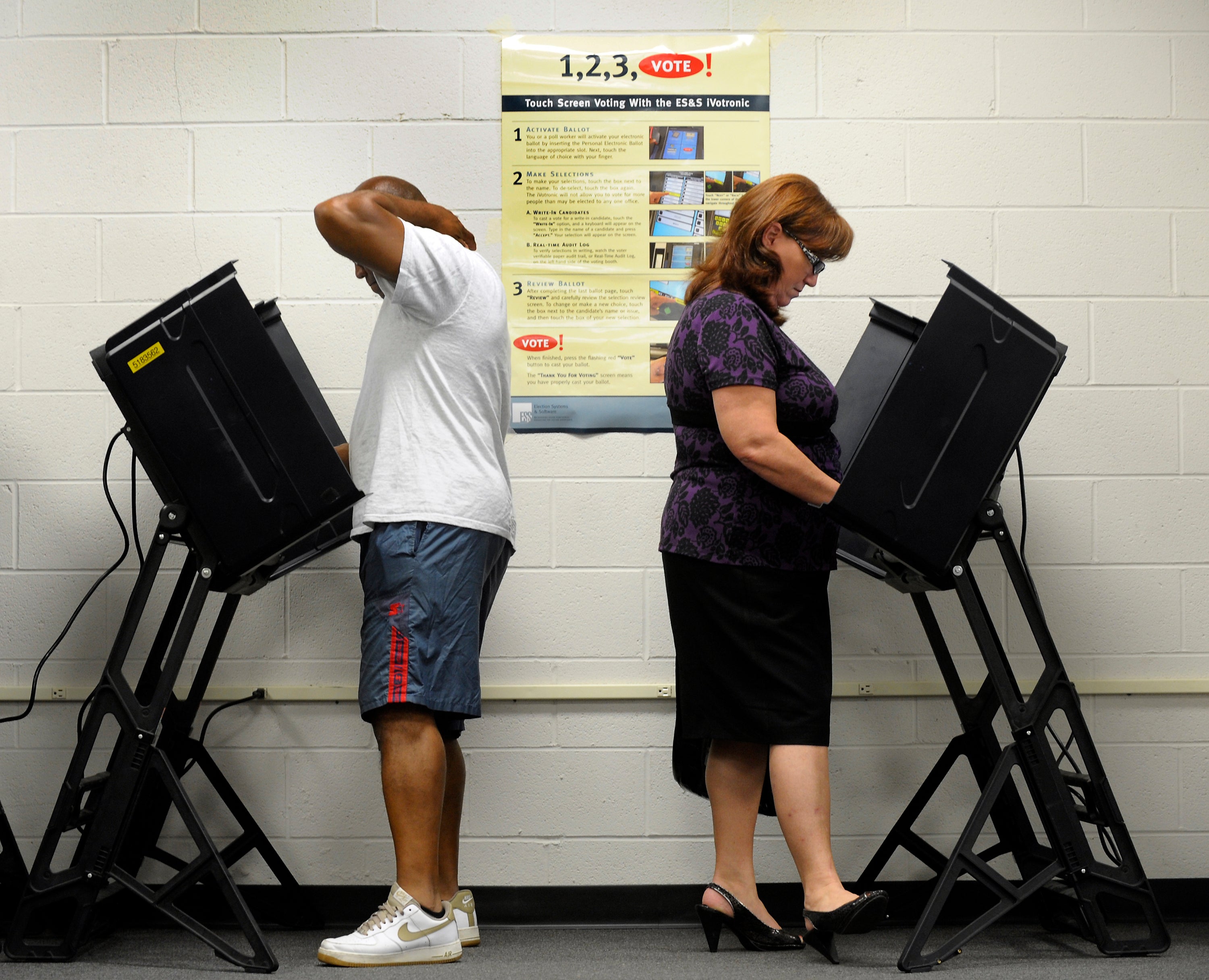 N.C. sued soon after voter ID bill signed into law
Updated 4:30 a.m. ET Aug. 13, 2013
NEW YORK North Carolina Gov. Patrick McCrory has signed a sweeping voting reform bill that imposes strict photo identification requirements on the state's 4.5 million voters, rolls back the early voting period and repeals one-stop registration during early voting.
Almost immediately following the signing, civil rights groups filed lawsuits in federal court challenging the law.
McCrory, a Republican elected last November, called the bill - passed by the legislature along party lines on July 25 - "a common sense law" that is supported by 70 percent of North Carolinians polled.
"Common practices like boarding an airplane and purchasing Sudafed require photo ID, and we should expect nothing less for the protection of our right to vote," McCrory said in a written statement. Defending the law in an on camera statement posted to YouTube, he criticized opponents' "from the extreme left" for using "scare tactics."
While McCrory referred to the law as a "safeguard" against voter fraud, there is scarce evidence of it in North Carolina. The state's Board of Elections has referred only two cases of alleged voter impersonation fraud since 2004 to prosecutors.
The governor, like the state legislature sponsors before him, noted that 34 states now require some form of ID to vote. North Carolina would be the 20th state to require a photo ID, while 14 states require or request voters to present some other form of identification.
North Carolina is one of 13 states to adopt photo voter ID since the 2010 elections, and all but one of them was controlled by a Republican governor and Republican legislature or a Republican legislature that overrode a Democratic governor's veto of the law.
Democrats have opposed the laws, which they describe as an attempt to suppress the votes of groups that lean Democratic and are the most likely not to possess adequate ID: Young voters, blacks and Hispanics.
North Carolina is the first state to make changes to its voting laws after June's Supreme Court ruling found the Voting Rights Act of 1965 outdated. The ruling limited the Justice Department's power to block those changes in states that had a history of discrimination.
Two other Southern states, Virginia and Arkansas, were the most recent to adopt photo voter ID laws, earlier this year. Four other southern states that were caught up in Justice Department review or litigation -- Alabama, Mississippi, Texas and South Carolina -- announced immediately following the Supreme Court decision that their voter photo ID laws would take effect immediately.
The North Carolina law, to take effect in 2016, would allow only an in-state state driver's license, a U.S. passport or military ID as acceptable identification. Residents who don't drive could obtain a state-issued ID from the Department of Motor Vehicles for free. Some residents say obtaining the documents required to get an ID, such as a birth certificate, is neither free nor easy.
Rosanell Eaton, a 92-year-old black woman from Louisburg, N.C., and registered to vote since the 1940s, is the lead plaintiff in a lawsuit filed Monday in the Middle District of North Carolina by the NAACP and the Advancement Project.
"Mrs. Eaton, who was born at home, has a current North Carolina driver's license, but the name on her certified birth certificate does not match the name on her driver's license or the name on her voter registration card," the lawsuit said. "Mrs. Eaton will incur substantial time and expense to correct her identification documents to match her voter registration record in order to meet the new requirements."
The lawsuit seeks relief under Section 2 of the Voting Rights Act, which bans voting procedures that discriminate on the basis of race, and under the 14th and 15th amendments of the Constitution. The recent Supreme Court ruling limited reviews under formulas in Sections 4 and 5 of the VRA.
Beyond the ID requirements, the new North Carolina law reduces the number of days for early voting from 17 to 10, even though 61 percent of state voters cast ballots early in 2012. McCrory said the law calls for the total early voting hours to remain the same by asking county board of elections to increase the number of early voting sites and hours open each day.
In 2012 in North Carolina, Democrats cast 47 percent of the early votes and Republicans cast 32 percent, according to a CBS News analysis.
Calling the reforms discriminatory, the Advancement Project said 70 percent of black North Carolinians who voted did so during early voting in 2012.
While blacks comprise one fourth of the state population, a third of the state's voters who currently lack a state-issued ID are black, according to an analysis of voter rolls and the DMV database by the North Carolina Board of Elections.
About 100,000 North Carolinians registered to vote and voted during the early voting period in both 2008 and 2012. The new law would repeal that "same day registration" option, which is proven to increase voter turnout in the handful of states that have it, such as Wisconsin and Minnesota.
Penda Hair, co-director of the Advancement Project, said, "Governor McCrory has transformed North Carolina from a state with one of the nation's most progressive voting systems, where we saw some of the highest voter turnout rates of the last two presidential elections, into a state with the most draconian policies we've seen in decades, policies that harken back to the days of Jim Crow."
In a second lawsuit, also filed Monday in North Carolina federal court, in Greensboro, the ACLU and the Southern Coalition for Social Justice, with the League of Women Voters, the A. Philip Randolph Institute, Common Cause North Carolina, and the Unifour Onestop Collaborative, sued Governor McCrory and state officials over the reduction in early voting days and elimination of same day registration as having a disproportionate adverse impact on black voters.
The complaint, on behalf of three black voters and two white voters, also opposed the law's provision to void provisional ballots cast by voters in the incorrect precinct, even a voter's picks for governor and president. Around 7,500 North Carolina voters cast such "out of precinct" provisional ballots in 2012, which would not be counted under the new law.
"Eliminating a huge part of early voting will cut off voting opportunities for hundreds of thousands of citizens. It will turn Election Day into a mess, shoving more voters into even longer lines," said Dale Ho, director of the ACLU's Voting Rights Project. "Florida similarly eliminated a week of early voting before the 2012 election, and we all know how that turned out - voters standing in line for hours, some having to wait until after the President's acceptance speech to finally vote, and hundreds of thousands giving up in frustration. Those burdens fell disproportionately on African-American voters, and the same thing will happen in North Carolina. We should be making it easier for people to vote, not harder."
Thanks for reading CBS NEWS.
Create your free account or log in
for more features.