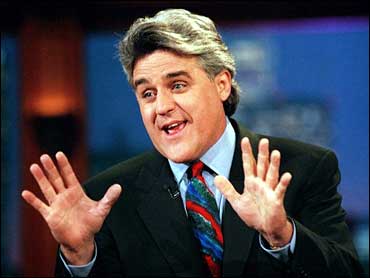 Days after toasting the ratings success of its Winter Olympics coverage, NBC sought Thursday to quiet a controversy sparked by comedian Jay Leno with a joke about South Korea's disqualified short-track skater.
The network issued a statement Thursday defending the "irreverent comedy" of its late-night TV host while insisting no offense was intended by Leno when he joked last week that skater Kim Dong-sung "was so mad he went home and kicked the dog, and then ate him."
Ridicule of the Korean practice of eating dog meat has long been a national sore point with citizens and politicians of the Asian nation.
Leno's remark, part of his opening monologue last Thursday, came a day after Kim crossed the finish line first in the 1,500-meter short track race in Salt Lake City but was disqualified for allegedly impeding U.S. rival Apolo Anton Ohno, who was then awarded the gold medal.
The judge's decision outraged the South Korean public, and Leno's joke, broadcast on South Korean television Saturday, added fuel to the fire, prompting harsh condemnations in the press from South Korean politicians.
Former Prime Minister Kim Jong-pil was quoted as calling Leno "ill-mannered" and said, "We should not let such a man, one without common sense, host a TV program." He vowed to send a letter of protest to NBC.
As of Thursday, NBC had received no such letter, a network spokeswoman said. But the network issued a brief statement "to assure the Korean community that it is not the intent of the show, Jay Leno or NBC to offend them."
The statement went on to defend the "The Tonight Show with Jay Leno" as "one of the most popular and irreverent comedy programs on television for 10 years."
"By its nature, comedy can be impolite, and the humor on 'The Tonight Show' is no exception," NBC said. "People have different opinions about where the lines should be drawn."
A spokeswoman for "The Tonight Show" said neither the network nor Leno would have any further comment.
Karen Narasaki, who chairs the Multi-Ethnic Media Coalition and the Asian Pacific American Media Coalition, said Korean Americans also took offense at Leno's remarks, and she found NBC's statement "very weak."
But she said Leno himself was "very gracious" during a 30-minute telephone conversation with her and the head of the Korean-American Coalition, Charles Kim. But she said the comedian at first professed surprise that his joke was so hurtful because "from his perspective it was based in fact."
Narasaki said she explained that context was everything and that such humor amounts to ethnic stereotyping.
"We said for example that while it's true that some African Americans eat fried chicken and watermelon, you wouldn't make a joke about it."
In the end, she said, Leno "...didn't say, 'I apologize.' But he said he didn't intend to offend anybody or hurt anybody, and if he had known then what we were telling him, he wouldn't have told the joke. And that's really what we were looking for."
Leno's joke flew in the face of South Korea's prevailing national sentiment that its short-track skating star was robbed of the gold medal due to American favoritism at the U.S.-hosted Olympics, even though an Australian was the chief referee for the event.
It was not the first time NBC has drawn South Korean ire over the Olympics. The network faced angry protests in 1988 during its coverage of the Summer Games in Seoul when it broadcast an ugly incident in which a Korean boxer staged a sit-in and coaches threw chairs at a referee over a disputed boxing call.
The controversy came days after NBC celebrated solid ratings for its coverage of the Salt Lake City Olympics exceeded the CBS telecast of the 1988 Winter Games in Nagano, Japan by 18 percent. NBC said it expected to reap a $75 million profit from its Olympics coverage, which was heavily promoted on "The Tonight Show."
By Steve Gorman
Thanks for reading CBS NEWS.
Create your free account or log in
for more features.