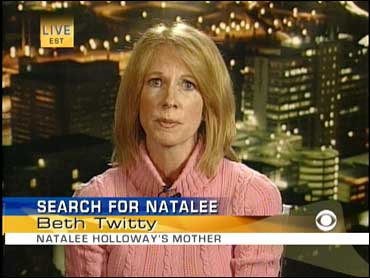 Authorities in Aruba have apparently made little progress in their search for American teen Natalee Holloway, who vanished from the island six months ago.

The upcoming issue of Vanity Fair magazine examines the high profile case, and is critical of nearly everyone involved, including investigators, the press and Holloway's own family.

Beth Holloway Twitty staunchly denies assertions in the piece that she and husband Jug Twitty were the obstacles to the probe.

She

The Early Show co-anchor Rene Syler she and Jug "absolutely" didn't hinder investigators.

The article quotes Gerold Dompig, the Aruban deputy police chief in charge of the case, as saying Beth and Jug "didn't understand the way things were done in our system. They didn't want to understand. That was harmful to our investigation."

"It's hard for me even to respond to such a statement as that," Twitty told Syler. "Everyone knows that we remained nothing but respectful of the Dutch law, and worked with them until it failed Natalee greatly. That's when the family became very concerned and began reaching out. We knew we needed additional help."

In the article, there are assertions that pressure from the family sidetracked the probe from the start, forcing premature arrests and not allowing Aruban authorities enough time to gather evidence.

Dompig is quoted as saying he expected the arrest of prime suspects Joran van der Sloot and two brothers, Deepak and Satish Kalpoe, would please the Twittys, but it didn't.

"It was like nothing could satisfy them — nothing," says Dompig. "Basically, Jug wanted us to come over and beat a confession out of these boys. We couldn't do that. These guys are hardheaded, especially Joran. We couldn't get a confession."

Asked by Syler if that's what Jug wanted, Twitty replied, "Absolutely not. We wanted answers. We wanted the officials to act in a competent and professional manner, and we wanted them to act with a sense of urgency in the investigation. Of course, we were frustrated. Any parent would have been frustrated in our shoes at that point."

Did Jug say or do something that would lead Dompig to conclude Jug wanted a confession beaten out of those boys?

"Absolutely not," said Twitty. "Nothing could be farther from the truth, nothing."

Dompig is also quoted as saying van der Sloot, the prime suspect, struck Aruban authorities and the FBI as the type of guy who was a "mother-in-law's God's gift."

"I don't know," Twitty said. "But I remember specifically in a meeting (with authorities that) they were saying this is the most unusual man they had ever dealt with. They had never seen anyone who has just refused to cooperate with the authorities. He really toyed with them during the interrogations, and quite often would place his fingers in his ears and just refuse to speak."

Twitty said she got that information from various officials and others close to the probe.

"I think," she said, "that they were all frustrated with Joran's behavior from early on."

Asked about the apparent deterioration of the family's relationships with many on Aruba, Twitty said, "It really just saddens us greatly if someone is suggesting that the family impeded the investigation or damaged the integrity of it. We all know that the officials that are involved … are the ones who are the professionals and should be making the correct judgments on whether to pursue or not to pursue suspects and not relying on pressure from the family, which they were not doing."
Thanks for reading CBS NEWS.
Create your free account or log in
for more features.