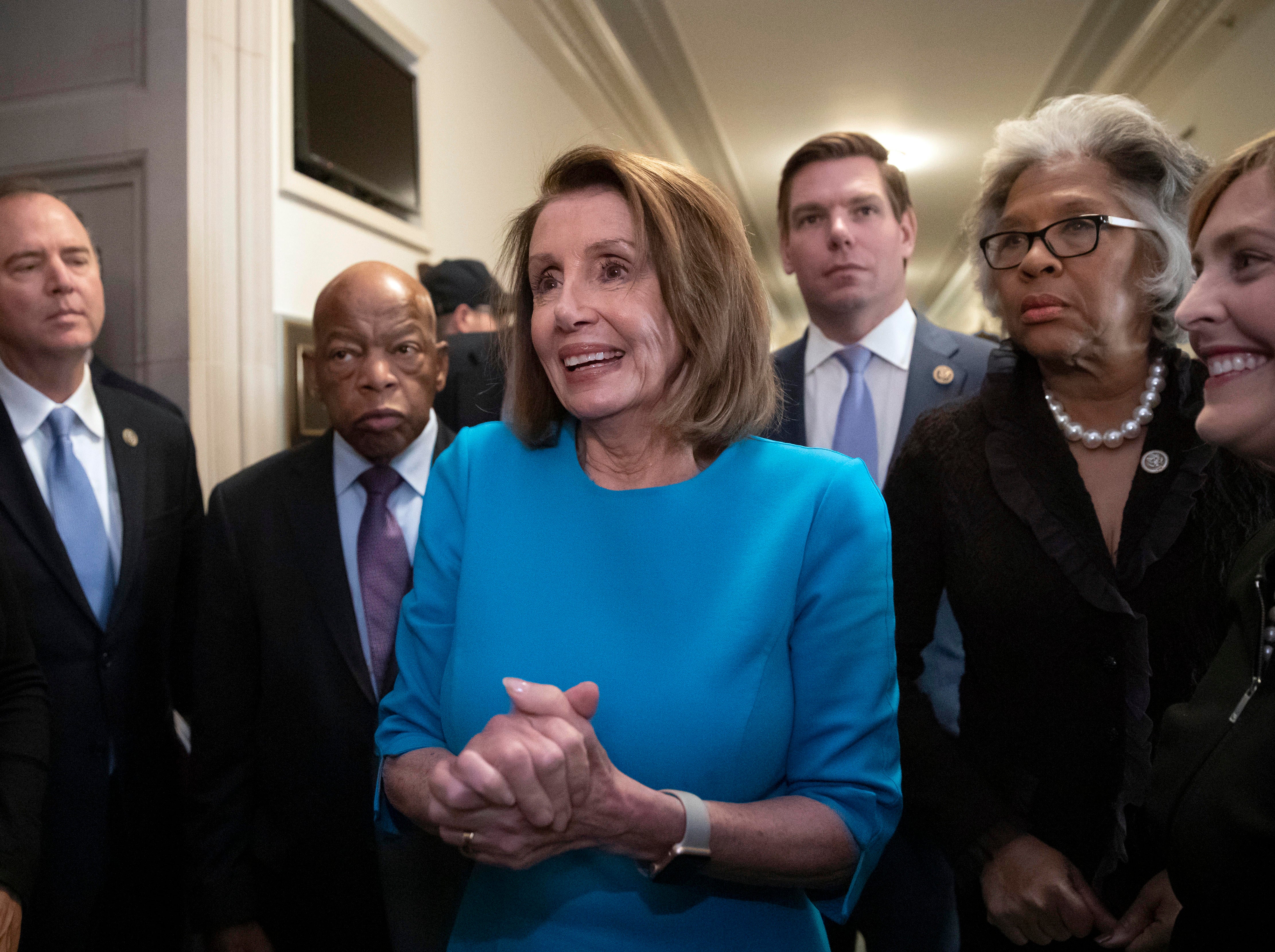 Nancy Pelosi wins support of fellow Democrats in bid for House speaker
With reporting by Rebecca Kaplan, Bo Erickson, Sarah Horbacewicz and Richard Escobedo
Nancy Pelosi secured the overwhelming support of her fellow House Democrats in her bid for speaker of the House, winning over key holdouts while looking ahead to a vote by the full House in January.
"We had the most unifying session," Pelosi said after the closed-door meeting of the House Democratic Caucus. "Our diversity is our strength, our unity is our power ... Let us just take a moment to drill home the fact that we are in the majority. Majority, majority, majority. Our ranking members in a matter of weeks will be madam and mister chair."
Out of 239 votes cast, 203 Democratic members voted to nominate Pelosi as speaker, with 32 voting against. Three votes were blank and one member was absent.
While Pelosi won the support of a majority of her Democratic colleagues, the bar will be higher in January when a new Congress convenes. In the upcoming vote, she must win the support of at least 218 members, a majority of all House lawmakers. Democrats will control 234 seats in the House, meaning she can lose just 16 Democratic votes. At least 20 Democrats have signaled they intend to support someone other than Pelosi for speaker in January.
A small group of Democrats had been intent on derailing Pelosi's bid for speaker. On Wednesday, nine Democrats from the so-called Problem Solvers Caucus reached an agreement with Pelosi on Rules reforms to advance bipartisan legislation. Those members will now support her.
A separate anti-Pelosi faction led by Reps. Seth Moulton of Massachusetts, Tim Ryan of Ohio and Kathleen Rice of New York met with Pelosi before the vote. In a statement, Rice said their concerns were "dismissed outright" and they will not support her.
Pelosi predicted their opposition will not stymie her speakership. "Are there dissenters? Yes. But I expect to have a powerful vote as we go forward," she said today. She also said her party will look ahead to winning the White House in 2020.
In other House leadership races, Rep. Hakeem Jeffries of New York defeated progressive icon Rep. Barbara Lee of California by a vote of 123-113, to become the next chairman of the House Democratic Caucus. Jeffries is widely perceived to be a young candidate who represents the changing face of the party. This is the fifth-highest-ranking leadership position in the caucus.
"It was a win-win for us as a party," said Rep. Lisa Blunt Rochester of Delaware, who nominated Lee. She said Lee addressed the caucus after the results and said she wants to see us as the "most unified caucus in the history."
Still, speaking to reporters after the vote, Lee, asked if sexism or racism played a role in this election, responded, "It's here. It's everywhere." She also said there were "institutional barriers" during the caucus race, though she did not specify what those barriers were.
In addition, Rep. Karen Bass of California, entering her fifth term, was officially elected chair of the Congressional Black Caucus.
Democrats are also voting for leadership positions of majority leader, majority whip and assistant Democratic leader. Each race has only one candidate.
Reps. Steny Hoyer and James Clyburn, the current No. 2 and No 3. House Democrats, are running to keep their positions. Hoyer, the current minority whip, is running to become majority leader in the new Congress. Clyburn, the current assistant Democratic leader, is running to become majority whip.
Rep. Ben Ray Luján, who currently serves as chair of the House Democratic campaign arm, is running for the position of assistant Democratic leader.
Thanks for reading CBS NEWS.
Create your free account or log in
for more features.