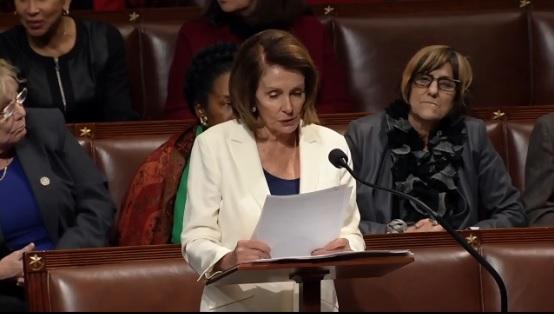 Nancy Pelosi sets record for longest House floor speech about Dreamers
House Minority Leader Nancy Pelosi set the record for the longest-continuous House floor speech on record Wednesday, speaking for 8 hours and 7 minutes -- in four-inch heels. Pelosi told the stories of people who came to the U.S. illegally as children, known as Dreamers, as Congress debates federal funding.
Leaders, when they are recognized on the House floor, are able to speak for as long as they please. The previous record for the longest continuous speech was held by then-Rep. Champ Clark, a Missouri congressman who spoke for five hours and 15 minutes in 1909, according to the House historian's office. Pelosi concluded her speech just after 6 p.m.
"I just got word that the historian confirms you have now set the record for the longest continuous speech in the House since at least 1909," Pelosi said on the floor. "I wonder what that was?"
The California Democrat announced on the floor earlier in the day that she will oppose a budget deal negotiated between her Democratic counterpart, Sen. Chuck Schumer, D-New York, and Senate Majority Leader Mitch McConnell, R-Kentucky, to lift spending ceilings over the next two years. That's her stance, she said, unless Speaker Paul Ryan, R-Wisconsin, commits to holding a floor vote on legislation that would protect Dreamers.
"Why should we in the House be treated in such a humiliating way when the Republican Senate leader has given that opportunity in a bipartisan way to his membership? What's wrong, there's something wrong with this picture and that is why this morning, when we took a measure of our caucus on support for the package -- well we have to see all the particulars of it yet but there are good things in it – that it does nothing to even advance, even with a commitment, without having passed the legislation first, to advance bipartisan legislation to protect Dreamers in this house," she said.
"Without that commitment from Speaker Ryan, comparable to the commitment from Leader McConnell, this package does not have my support, nor does it have the support of a large number of members of our caucus."
The budget deal could be the key to averting a government shutdown this week as Congress must pass a new spending bill by Thursday night. The House passed a GOP-sponsored short-term spending measure Tuesday night, which would fund most of the government through March 23 and provide new funding to the military through September.
The measure would not provide a fix for undocumented immigrants brought to the U.S. as children. Nor would it increase border security or provide funding for a southern border wall.
McConnell acknowledged Tuesday that there are "several different groups" in the immigration debate on Capitol Hill, some of which are bipartisan and others are Republicans-only. He said once Republicans establish that the government will remain open, the Senate will proceed to an immigration debate. "I'm going to structure it in such a way that's fair to everyone," he said."
House Democrats cheered Pelosi on through social media, using the hashtag #GoNancyGo and have been seen sitting behind her, observing her filibuster. Past the five-hour mark, observers noted she had been on her feet the entire time, without a break and without water (her staff, however, says she is hydrated).
Lawmakers are sending Pelosi stories of Dreamers to read aloud on the floor. The minority leader mentioned one DACA recipient named Javier, who didn't realize he was undocumented until he was applying for college. He's now a sophomore at Harvard majoring in computer science, Pelosi said, and he's paying for his education by working as a web developer.
The Dreamers, Pelosi told the House, "are all over our country, Mr. Speaker. They are a blessing."
She read the story of another, named Laura Alvarado, who was brought to the U.S. from Mexico when she was 8 years old. She went to school in the Chicago area and graduated from Northeastern in 2006, working two jobs to pay for her education. She wanted to be a lawyer but could not attend law school until 2012, after the DACA program went into effect. Alvarado recently finished law school and passed the Illinois bar. She hopes to practice public interest law. "'I would like to be of service to others,'" Alvarado said in her letter.
DACA, Alvarado said in her letter, opened the door for her. "I keep hearing that theme -- 'opened the door,''opened the door,'" Pelosi said, looking up from her letter-reading. "Please open that door so we can have that debate here."
Thanks for reading CBS NEWS.
Create your free account or log in
for more features.