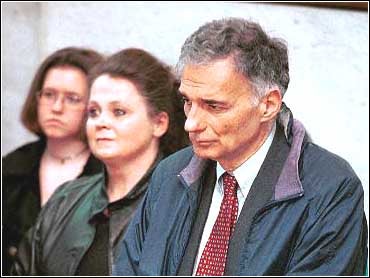 Nader Assails Major Parties
Consumer activist Ralph Nader scoffed Wednesday at suggestions that his presidential campaign merely drains liberal votes from Democrats, saying that shrinking either major party is "exactly what we want."
He pointed to studies of the 1996 election when he was on the ballot in California, and said he drew almost as many Republican voters as Democrats.
"Our two parties are basically one corporate party wearing two heads and different makeup," Nader said. "There is a difference between Tweedledum and Tweedledee, but not that much."
Nader was in Iowa to announce his presidential bid as a Green Party candidate. He made his name as a consumer advocate and his campaign is a hard-core liberal assault on monied interests and what he sees as corporate control of the political system.
Some Democrats worry that Nader will pull from liberal voters who otherwise could be counted on to vote Democratic. Though his appeal is small, draining a few votes in key competitive states could make the difference in the race between Vice President Al Gore and Texas Gov. George W. Bush.
Nader said there's balance in the campaign, with Reform Party candidate Pat Buchanan likely to drain votes from Republicans. In the last election, Nader said about 40 percent of the votes he received in California came from Republicans.
But in the end, he said, it really doesn't matter very much.
"They are look alike parties," Nader said. And if his campaign causes either party to shrink, "that's exactly what we want them to do."
Thanks for reading CBS NEWS.
Create your free account or log in
for more features.