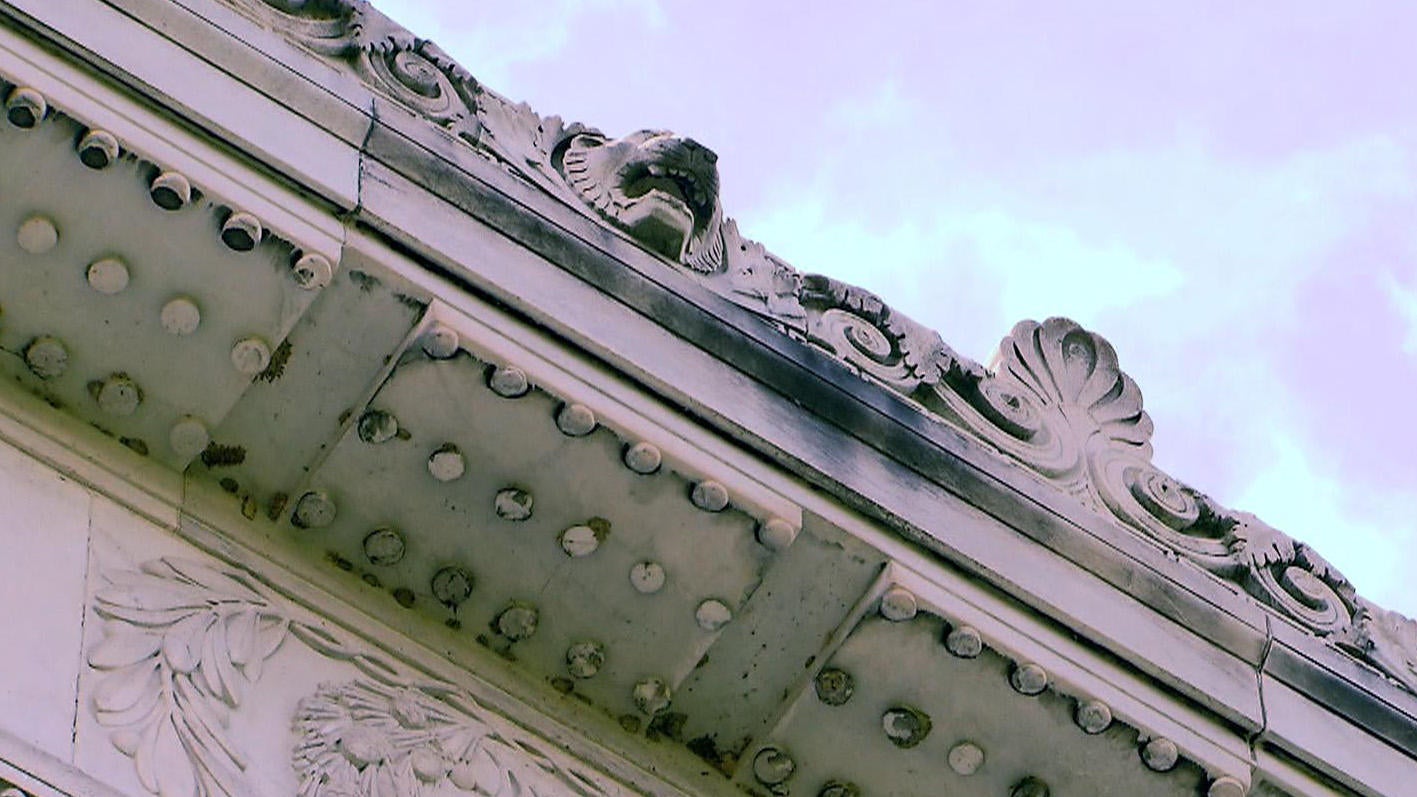 Mysterious black slime attacks iconic Washington memorials
Standing sentry along the National Mall are monuments and memorials to towering figures in American history. But generations after they cemented their legacies, something is tarnishing their image.
A black mass is spreading like a disease over the marble of Washington, D.C. Abraham Lincoln was the Great Emancipator, but so far, the National Park Service hasn't been able to free the 16th president's memorial from the slime.
"Between Tennessee and Ohio, right on the edge... you can see that real dark spot, and it's starting to creep down a little bit," Mike Litterst of the park service told CBS News' Mark Albert.
The substance is actually biofilm, made up of a thousand different bacteria, mold and other species that adhere themselves to stone surfaces.
"It's called slime, but when you touch it, it's dry; it doesn't come off on your fingers," Albert said.
"Correct. And again, the slime, the secretions, the sugar strands -- all microscopic, nothing that we're going to pick up with the naked eye or even be able to clean from the touch," Litterst said.
That makes it even more difficult to clean. Litterst said experts don't know where the biofilm came from or how to get rid of it.
It's also now in Arlington National Cemetery and on the Washington Monument. But it's by far the worst at the Jefferson Memorial, where the white dome is now covered in patches of black.
"We have absolutely no intention of allowing nature to take its course and cover a gloriously white marble rotunda with a blackened biofilm," Litterst said.
So the park service is going on the offensive, experimenting in test labs right on the side of the memorial. The park service went public with the slime mystery this month, after people kept confusing the blackness with dirt and complained that the agency wasn't keeping the memorials clean.
Seeing the black ooze was a shock to the Stiles family of New Hampshire.
"We were a little taken back by it because we expect them to be crystal clean," said Kristin Stiles. "And we loved visiting the memorials; we did think it was awesome, but we did notice it on a lot of them."
The park service has now posted signs letting people know about the battle and has received at least 100 cleaning tips from the public -- including Jane Weber of Florida, who suggests water.
"It needs to come off," Weber said. "It's kind of ugly. We've got to clean it."
Judy Jacob, a conservator at the park service in New York, has helped assemble a global team of scientists, microbiologists and architects who are trying to create a slime antidote.
"This is an enormous challenge," Jacob said. "We don't even know yet if the biofilm -- aside from an aesthetic problem -- is causing damage to the marble or if it's actually protecting the marble."
"It is very frustrating. And it's one of those things the more we look into it, the more questions we ask, the more we come up with all sorts of theories and ideas, but to date there is no known permanent solution to get rid of biofilm," Litterst said.
And it's growing faster each year. Thomas Jefferson may have helped repel the Redcoats, but so far, there's been no luck stopping the black coat now invading the nation's capital.
Thanks for reading CBS NEWS.
Create your free account or log in
for more features.