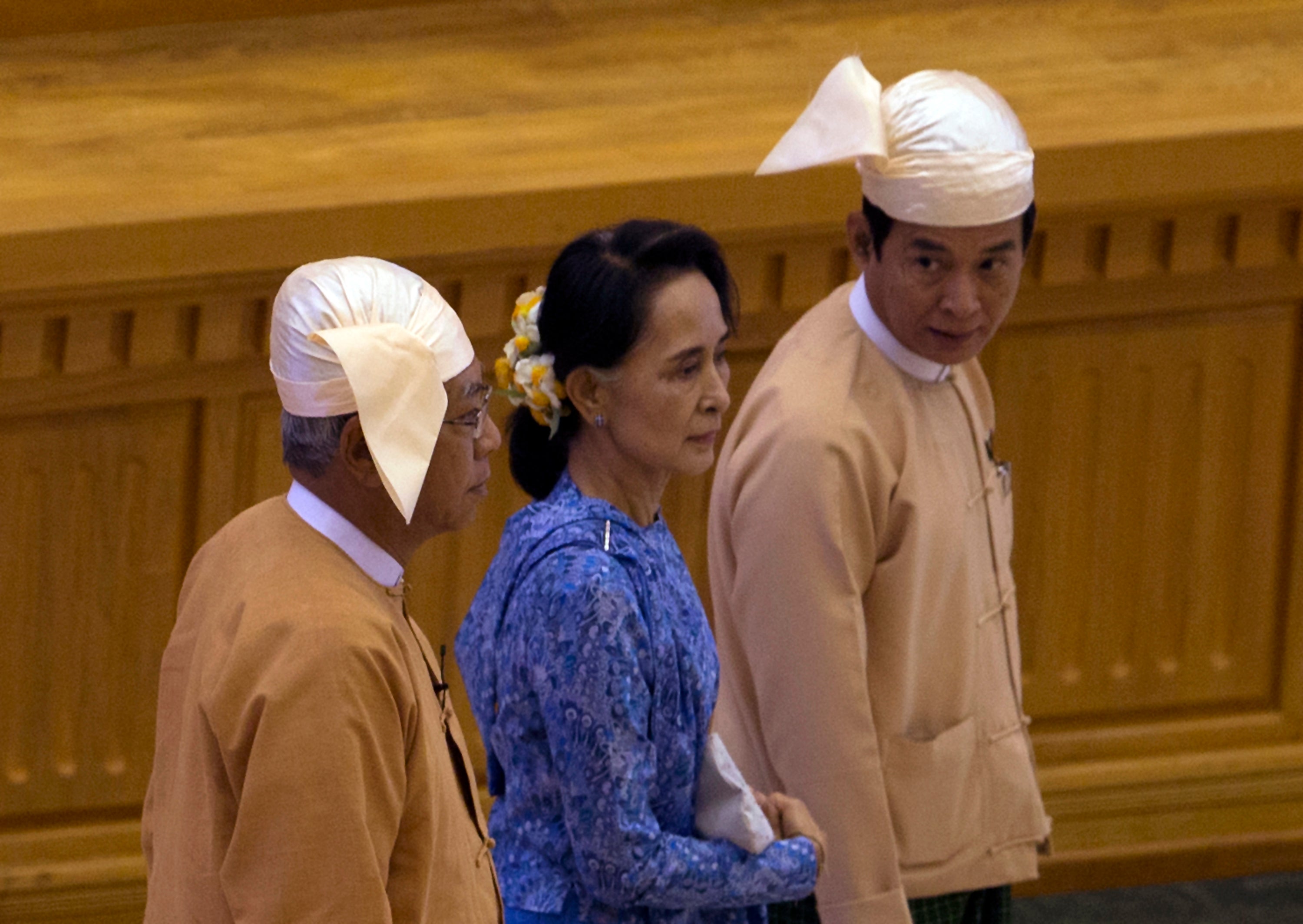 50 years of military rule over in Myanmar (or Burma)
NAYPYITAW, Myanmar-- Myanmar's slow transition to democracy took a momentous step Wednesday as a trusted aide to ruling-party leaderAung San Suu Kyi took over as the country's president, officially ending more than 50 years of the military's control over government.
In a day full of ceremony and symbolism, Htin Kyaw was sworn in along with his two vice presidents and 18 Cabinet ministers. Suu Kyi, the Nobel Peace laureate and face of Myanmar's pro-democracy movement, takes on a prominent role as the country's new foreign minister and the head of three other ministries - education, energy and the presidential office.
"The Union Parliament has elected me as president, which is a historic moment for this country," Htin Kyaw, 70, said in a speech after being sworn in. He pledged to work toward national reconciliation, strive for peace with warring ethnic rebels and improving the lives of Myanmar's 54 million people.
While it was a historic day for the impoverished Southeast Asian country, democracy remains incomplete. The military retains considerable power in the government and parliament, and the president himself will play second fiddle to Suu Kyi. She cannot be president because of a constitutional manipulation engineered by the military, and has repeatedly said she will run the country from behind the scenes.
"I am very happy that we have a president who represents people," said Mar Thin, a 50-year-old street cleaner. She said she used to own 70 acres (28 hectares) of land that she and her sister inherited from their father before the military kicked them out and appropriated the land for the defense ministry.
"I hope that the new government can solve the land confiscation problem and let us own our land as farmers. All we want is enough food, and to live without fear. I hope that President Htin Kyaw will do that for us because Daw Suu promised us a lot of things, and we love her too," Mar Thin said, using an affectionate term for Suu Kyi.
U.S. President Obama noted the continuing challenges for Myanmar, also known as Burma, in a statement in which he called Htin Kyaw's election "a historic milestone in the country's transition to a democratically elected, civilian-led government."
"Burma will face significant challenges going forward, including achieving broad-based economic development, advancing national reconciliation, and promoting the rights and freedoms of all its people," Mr. Obama said. "The United States looks forward to being a friend and partner of the new government and the people of Burma as they make progress toward building a more inclusive, peaceful, and prosperous future."
The U.S. Government has continued, under most circumstances, to refer to the country as Burma as it was the former military junta that unilaterally changed the name to Myanmar in 1989. The U.S. position is that the Burmese people should have been the ones to make the decision on a name change, not the regime. U.S. officials do, however, use the name Myanmar in international venues and in Myanmar itself.
The official U.S. stance on the name could change, the White House says, depending on which word the new government shows a preference for.
Htin Kyaw's swearing-in was held in an austere hall of parliament, with lawmakers dressed in traditional costume. A few hours later, outgoing President Thein Sein shook hands with his successor and handed him a letter and a golden sash, officially transferring power.
It was Suu Kyi who led her National League for Democracy party to a landslide win in November elections, ushering in Myanmar's first civilian government after 54 years of direct and indirect military rule.
Suu Kyi endured decades of house arrest and harassment by military rulers without ever giving up on her nonviolent campaign to unseat them. The constitutional clause that denied her the presidency excludes anyone from the position who has a foreign spouse or child. Suu Kyi's two sons are British, as was her late husband. The clause is widely seen as having been written by the military with Suu Kyi in mind.
She has repeatedly made it clear that she will run the government from behind the scenes, and in his speech on Wednesday, Htin Kyaw paid obeisance to Suu Kyi.
"The new parliament and new government are formed in accord with the policies of the National League for Democracy led by Aung San Suu Kyi," he said, and referred to the party's goal to amend the constitution.
"I have the obligation to work toward achieving a constitution that has democratic norms and is suitable for the nation," Htin Kyaw said. "I want to tell the new government, we must constantly try to fulfill the hope and will of the people of this country. I wish all citizens of this country a successful and peaceful life."
The constitution, drafted under the former junta, reserves 25 percent of the seats in parliament for military officers, guaranteeing that no government can amend the constitution without the army's approval. The military also heads the Home Ministry, the Border Affairs Ministry and the Defense Ministry, which gives it control over the corrections department, ensuring that the release of political prisoners is its decision to make.
The military also ensured that one of Htin Kyaw's two vice presidents is a former general, Myint Swe, a close ally of former junta leader Than Shwe. Myint Swe remains on a U.S. Treasury Department blacklist that bars American companies from doing business with several tycoons and senior military figures connected with the former junta.
As Htin Kyaw was sworn in, Suu Kyi sat in the front row watching. The same pledge was simultaneously read by First Vice President Myint Swe and Second Vice President Henry Van Tio. After a 20-minute tea break, the 18 members of Htin Kyaw's Cabinet, including Suu Kyi, took a joint oath of office read out by the speaker.
Suu Kyi's leadership of four ministries is unusual, and the lack of public criticism of her wide power is likely a sign of her continuing broad support.
Despite her inability to become president, Suu Kyi's entry into the government is a remarkable turn of fortune not only for her, but also for the country, which had been under iron-fisted military rule for decades beginning in 1962. The junta kept Myanmar in isolation and economic stagnation while refusing to listen to international counsel or homegrown demands for democracy.
Suu Kyi came to prominence in 1988, when popular protests were building up. The junta crushed the protests, which had turned into anti-government riots, killing thousands of people and placing Suu Kyi under house arrest in 1989.
The junta called elections in 1990, but refused to hand over power when Suu Kyi's party won overwhelmingly. She was awarded the Nobel Peace Prize a year later while under house arrest.
The junta finally started loosening its grip on power in 2010, allowing elections that were won by a military-allied party after Suu Kyi's party boycotted the polls as unfair. Thein Sein, a former general, was installed as president for a five-year term that started March 30, 2011, and ended Wednesday.
Thanks for reading CBS NEWS.
Create your free account or log in
for more features.