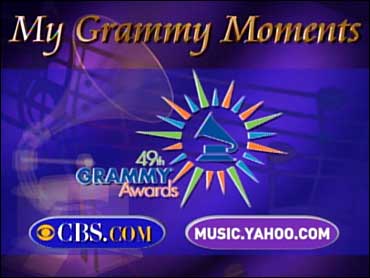 Next month's Grammy Awards will have a special twist: One unsigned, mostly unknown artist will perform onstage with Justin Timberlake during the show.
CBS, the National Academy of Recording Arts and Sciences and Yahoo Music have held nationwide auditions, and narrowed the field to a dozen finalists in the competition, "My Grammy Moment."
Co-anchor Julie Chen gave a quick preview of several of the acts on The Early Show Tuesday, Jan. 9.
To see videos of the twelve initial finalists, click here.
Online voters narrowed the field to five. Vanessa Minnillo, a special correspondent from "Entertainment Tonight," went backstage with Timberlake to meet the five remaining finalists in Los Angeles. The Early Show had her report on Wednesday, Jan. 17.
To see videos of the five competitors still in contention and vote for the one you like best, click here.
The 49th Grammy Awards will be shown Sunday, Feb. 11, on CBS.
THE ORIGINAL TWELVE FINALISTS:
Africa Miranda, 30, calls Montgomery, Ala., her hometown and currently is recording, writing and performing songs in New York City. To pay the bills, she's working at a temp agency and does promotional modeling and event staffing. She began singing as a child in her school choir and in plays, and eventually in pageants and school programs as she grew older. Africa says her sound is R&B/pop with rock and hip-hop thrown in the mix and aspires to be a part of music history.
Africa cites Prince, Outkast and Mariah Carey as three artists she could listen to forever, and admires Prince more than any other artist. "He is amazing; vocally, lyrically and on stage. He takes risks and creates timeless music." She says that "Breakaway" by Kelly Clarkson best describes her life. "I didn't grow up in a big city, but I always knew when I was little that I wanted to perform. It can be hard to walk to the beat of your own drum, but you have to take that step out to create the life for yourself that you want. My 'Breakaway' started by moving to New York, but no matter how far away this takes me, home will never be too far away."
Describing herself in three words as driven, passionate and charismatic, Africa loves to read, travel and write (songs, poetry and short stories) in her spare time. She also has been professionally trained in dance for nine years and plays the piano. In five to 10 years, Africa sees herself as an established singer/songwriter and entertainer traveling the world, collaborating with other artists and being blessed enough with good fortune to donate to, and work on behalf of, charitable causes.
On why she should be chosen for her own GRAMMY Moment, Africa says, "I have a true love and appreciation of music, not just as a hobby, but as a lifestyle. I understand and respect the hard work and talent it has taken for other artists that have graced the stage at the GRAMMY Awards for the last 48 years. It would mean the world to me to be one of them."
Amanda Dunn, 26, was born and raised in Charlotte, N.C., and currently is working full-time and making music with her local band Super Nova. Citing her musical style as hip-hop, pop and R&B, she has written several of her own songs. She has been singing since she can remember and hopes to be creating music for the rest of her life, whether or not she makes it big in the industry.
Describing herself as animated, giving and loyal, Amanda says she always is on the go. She loves traveling, taking photos and being with her family. Her dad serves as her inspiration because he's her best friend. Although she sees herself making music somewhere in five to 10 years, Amanda says that if she had to pick another profession, it would be writing songs for another artist.
Amanda feels that the music industry is like a circle; everything comes and goes, but always comes back again. Mariah Carey, Brian McKnight and Christina Aguilera are Amanda's top three artists, but Mariah Carey's is a musician's career she most admires. "Although Mariah has had her share of ups and downs, she still shines and has a great voice through it all."
When asked why she wants to duet with Justin Timberlake, Amanda says it would be a great opportunity and surmises that, "The winner will be the person who deserves it the most, but all of us are winners just for uploading a video!"
Brenda Radney, 22, was born and raised in Staten Island, N.Y., and currently resides there as a freelance singer/songwriter. She began singing at the age of four and has fond memories sitting in the window at her grandmother's porch singing "Tomorrow" from Annie and "Part of Your World" from The Little Mermaid. Brenda's musical style is a mash-up of pop, R&B, alternative, gospel, electro and indie rock, and her aspiration is to become as successful as Prince, Beyonce and U2 — artists that have touched the world and shown true longevity. In addition to singing, she writes her own songs and plays seven musical instruments: piano, organ, clarinet, tenor saxophone, guitar, bass and the drums.
Phil Collins, Lauryn Hill and Prince are her three favorite artists, but Brenda says that Gwen Stefani is her musical inspiration. "She started out in a groundbreaking band, then ventured off to do her own thing, and was just as successful in endeavors other than music. Now she's a mom — she's great!" Brenda adds that Stefani's "What You Waiting For" is a song that best describes her life now. When she realized that there was a deeper meaning behind the infectious dance beat, it provided the motivation she needed to keep doing what she believes in.
Citing herself as gifted, creative and rebellious, Brenda enjoys Web design, graphics, painting and bowling in her spare time. She also admits that she is an avid Teenage Mutant Ninja Turtle memorabilia collector.
On why she wants to duet with Justin Timberlake, Brenda says, "Justin emulates all of the qualities of my idols. He's a triple threat and he's talented. I think we would sound as smooth as butter if we harmonized together. I always harmonize with him when I hear him on the radio, but to do it in person would be a dream come true."
Brenda says, adamantly, about where the music industry should go: "People are getting sick and tired of these gimmicky, low- or no-talent artists emerging. Where are the real musicians? They always seem to stick around longer than the gimmicks." On why she should be chosen for her GRAMMY Moment, Brenda says simply, "The world needs a breath of fresh air. Please let me be that fresh air."
Candace Devine, 27, was born and raised in Burbank, Calif., until the age of 14 when her family moved to Laguna Hills, Calif. She currently resides back in her hometown of Burbank and works as the head coach of the University of Southern California Equestrian team and trains horses for private clients. Candace has been singing her entire life and has written a number of her own songs. She also dances and plays the piano and guitar. She aspires to be a successful recording/touring artist and describes her sound as "soulful rock, kinda retro…like Aretha Franklin meets The Rolling Stones in Memphis with some BBQ."
Describing herself as tenacious, funny and driven, Candace says her inspiration comes from not just one source or one person, but everything and everywhere: love, travel, good times with friends and family, heartache, random adventures, death, etc. In her spare time, she loves dance, musical theatre, drama, writing songs, snowboarding, volleyball, hiking, camping, scuba diving and cooking. If she could no longer pursue a singing career, Candace would continue coaching because it is rewarding and songwriting for other artists.
Although she cites Stevie Wonder, The Beatles and U2 as her favorite artists, she most admires Barbra Streisand's career because she has won a Tony, a GRAMMY Award and an Oscar. "Because she has maintained such longevity, she has earned the respect and admiration from so many of her counterparts in the industry and is a true 'Triple Threat.'"
On why she deserves her GRAMMY Moment, Candace says, "I think people will appreciate that I love to perform as much as I love to sing. Winning this competition would be one of the greatest dreams come true and would change my life forever. I would be the most thankful and grateful winner you will ever meet."
Candice Jackson, 25, was born and raised in Austin, Texas, and currently is an academic advisor at Austin Community College. A pop/R&B singer, Candice says she began singing in church because both of her grandfathers were Baptist Ministers. She plays the guitar and has written many original songs which she hopes to have published one day. She appreciates all aspects of music, and her dream is to obtain a record deal and tour the world singing.
"Don't Stop Believin'" by Journey is a song that Candice says best depicts her life now because despite the setbacks she has faced, she refuses to stop believing in herself. She also cannot imagine being in a field that does not positively affect people. "I love the way music can heal people. I work in education now, and I love it because everyday I make a difference in someone's future."
Describing herself as passionate, creative and dependable, Candice enjoys dancing, working out, watching movies, attending live shows and traveling. Citing Mariah Carey, Brian McKnight and Christina Aguilera as her favorite artists, Candice says it is Beyoncè's career she most admires. "She is famous because she has true talent. She worked hard over the years to get where she is and doesn't depend on gimmicks to get ahead."
On why she should be chosen for her own GRAMMY Moment with Justin Timberlake, Candice says, "This would be an amazing opportunity for me to perform with one of my favorite artists and to fulfill a lifelong dream of attending and singing at the GRAMMYs. Plus, there is no way I would buckle under pressure. I have been waiting and working my whole life for this chance and I will not blow it."
David Moore, 18, is a native Floridian, born in Kissimmee and raised in Orlando. He currently attends Valencia Community College and hopes to transfer his credits to the University of Southern California. With a mother who was once a professional opera singer, David began singing at the age of four, has written a few songs and describes his sound as pop with a little R&B in the mix.
Funny, talented and loving are three words others would use to describe David. If he could not pursue a singing career, David says he would be an actor or director since he's a big movie buff. He loves to direct films and develop concepts for motion picture projects. Citing Justin Timberlake, Michael Jackson and The Black Eyed Peas as his favorite artists, David says Justin's career is the one he most admires: "He started at a very young age, has continued success as a solo artist and remains humble and tends to stay out of trouble. He had a good upbringing which he chooses to show us through his personality and success."
David's other passion is dancing. He loves learning moves from the videos of superstars like Usher, Omarion and Michael Jackson. When asked to predict music's future, David sees pop music making a comeback. "I see it blending well with hip-hop, so I could easily see a new style of music being created. I can only hope that I can be a part of this 'Pop Renaissance.'"
On why he should be chosen for his own GRAMMY Moment, David says, "Justin is someone I have emulated since I was 11 years-old. It would be an honor to finally meet and perform with my inspiration."
Jayne Rio, 20, was born and raised in Vallejo, Calif., and began singing in front of an audience when she was six years-old. She used to perform for a cultural dance group, and says she "absolutely loved" singing in between dances so that the dancers would have time to change into their costumes. Describing her style as mainly pop-influenced, Jayne also likes to incorporate aspects of R&B and jazz because of the challenges those styles present both vocally and emotionally. "These songs are usually the ones with range and deep emotion, and I love interpreting those kinds of songs."
Mariah Carey, Stevie Wonder and Destiny's Child are three artists Jayne cites as favorites, but she looks to Beyoncé as a musical role model because of her ability to succeed in various realms of the industry while keeping her private life to herself. Jayne says that one song that best represents her is "Looking In" by Mariah Carey and the song that best describes her life would be "Music of My Heart" by *NYSNC. "I would dedicate it to my family, because my family is my life."
A self-proclaimed "technology freak," Jayne loves gaming and has owned almost every game console from the original Nintendo to the new Wii. If she couldn't sing, Jayne could see herself having a career in fashion as a designer or merchandiser. "I love designing things, from clothes to jewelry to bags. This is what I do in my spare time."
Jayne has always loved Justin Timberlake's musical style and feels that they would click on stage because she can relate to his songs and his performance style. "He is one of the greatest performers of all time and having performed all my life, I would be honored to share the stage with a man who always brings something new to the table."
When asked why she should be chosen for her GRAMMY Moment, Jayne says that decision is completely in the hands of the audience. "I can tell you this: I would not take this opportunity for granted. I will work hard to be the best choice you could ever make for this competition."
Jessica James, 18, calls herself a military brat since she has lived in various parts of the country, but calls Georgia home. A senior at Warner Robins High School, she began singing when she was just two years-old and performed publicly when she was nine. With a Southern soul sound, Jessica plays guitar and writes many of her own songs. Her goal is to nab a country record deal in Nashville and have the longevity needed for a successful music career. She says that one of the coolest contests she has ever won for her talents was the opportunity to sing at half-time for a San Antonio Spurs basketball game when she was 12.
Jessica describes herself as vivacious, outgoing and fearless, and hopes to headline her own tour in five to 10 years. The music careers she most admires are that of Bobbie Gentry and Christina Aguilera because they didn't take "no" for an answer. Her prediction for the future of the music industry: "I see R&B and pop really making a comeback again. I also think country is going to become more diverse for everyone to enjoy."
In her spare time, Jessica enjoys the thrill of rollercoasters, aerobics and belly dancing, in addition to performing on her high school hip-hop dance squad. She loves listening to country, soul and blues for their warm, rich sounds, so it comes as no surprise that her favorite three artists are Shelly Fairchild, Eva Cassidy and Billy Currington. A few musicians currently on her playlists are Janis Joplin, Patty Griffin, Bobbie Gentry and Christina Aguilera. She also loves '70s music including Marvin Gaye and Aretha Franklin.
When asked why she should get her own GRAMMY Moment, Jessica says, "I'm a happy girl with big dreams and a lot of ambition, and a great work ethic to make it all happen. I'm a great choice, a great gal and my performance won't let you down. You won't regret it."
Jillian Gaudious, 25, was raised in Long Branch, N.J., and currently works there full-time. She began singing when she was just four and has dreamed of becoming a star ever since. Describing her sound as soul with pop and R&B, Jillian plays the guitar, writes her own material and hopes to become a successful recording artist.
Humble, caring and unique are three adjectives Jillian uses to describe herself. When she is not playing with her cover band, The Philadelphia Funk Authority, Jillian enjoys snowboarding, surfing and traveling. If she had to choose a profession outside of recording music, she would be interested in writing music for others or discovering new talent.
Stevie Wonder's "Sir Duke" would be a song that best describes Jillian because music is her life and she loves having it around her. Citing Stevie Wonder, Alicia Keys and The Supremes as her favorite musicians, she most admires Alicia Keys. "She's not only vocally talented, but [she's talented] as a writer and composer. She's not just a phase. She'll be around for a long time."
On why she should be chosen for her GRAMMY Moment, Jillian says, "I've always admired Justin's talent and I enjoy his music. I have always seen myself doing a duet with him. I believe I have enough talent and experience to hang with the 'Big Dogs.' I am eager, determined and deserve it."
Amanda Ventrice, 21, was born and raised in Pittsburg, Calif., and currently resides in Old Bethpage, N.Y. where she works full-time. Citing her musical sound as soulful pop/rock, Amanda began singing professionally at the age of 13 and currently is pursuing a successful career as a singer/songwriter. She writes all of her songs and is now learning how to play the guitar and piano.
Describing herself as independent, persistent and confident, Amanda says "I'm Like a Bird" by Nelly Furtado is the song that best depicts her life. In five to 10 years, Amanda sees herself writing for major artists and sharing her music with the world, and she sees the music industry heading to a positive place where it's all about the music. If she had to choose only three artists to listen to in her iPod, it would be Third Eye Blind, Prince and No Doubt. She most admires Missy Elliott's career because she never compromised her originality.
Other than singing, Amanda's favorite hobbies include songwriting, photography, dancing (she has danced extensively for seven years and continues to dance in pop/jazz/hip-hop routines), traveling and spending time with her family. In fact, she is so passionate about photography that she would be a photographer if she had to choose a career outside of the music business.
In addition to feeling that their voices would complement each other well, Amanda says of winning a chance to sing with Justin Timberlake on the GRAMMY Awards, "I am professional, I am experienced and I have the talent and dedication to make this GRAMMY performance memorable."
Phillip Ray, 28, was born and raised in Oakland, Calif., and currently works as a graphic designer. A piano player who is now learning to play the guitar, Phillip has written more than 200 original songs and says that hundreds more are in his head, waiting to be written. Although he was always genuinely moved by music (he recreated his favorite songs on his 4-track recorder when he was younger), it wasn't until a 1998 Lauryn Hill concert that he was empowered by it. Something that night made him believe that he, too, could have a lucrative career in music.
Phillip's three favorite artists include Jane Monheit, Lauryn Hill and Stevie Wonder, but it is Wonder's career by which he is inspired and most admires. "His career is one of humble beginnings and a continued story of victory, success and pure talent." He hopes to be as genuine and humble as his musical inspirations, Donnie Hathaway and Stevie Wonder. "In five years, I see myself eating and living well, and doing whatever I can to help someone else do the same thing through my music and my efforts. In 10 years, I plan to be in a position to create musical opportunities for others by building a series of community music centers worldwide."
Describing himself in three words as creative, easy-going and open-minded, Phillip says that in his spare time he enjoys photography, eating good food and spending time at home watching movies with family and friends. If only one song could depict his life, Phillip says it would be "Bohemian Rhapsody" by Queen because the many dynamics of the song reflect his own life.
On why he wants to perform with Justin Timberlake on the GRAMMY Awards, Phillip says, "The opportunity to perform and share time and space with someone I respect, and aspire to be like, is a rare one. Justin is the kind of talent I hold in high esteem. I would be so incredibly happy to meet and congratulate him for his success, and thank him for not stopping when he ran into obstacles."
Robyn Troup, 18, was born and raised in Houston, Texas, and currently attends the University of Southern California. She has been singing ever since she could talk and has notebooks filled with songs she has written. Robyn is multitalented having studied ballet, jazz, tap and modern dance along with taking both piano and voice lessons. While she describes her musical style as a blend of R&B, pop and hip-hop, Robyn cites artists including Stevie Wonder, Aaliyah and Destiny's Child as her muses.
Robyn particularly looks to Beyoncé for guidance in her musical career because the two grew up in towns close to one another in Texas. "It makes me feel like I could have a shot at greatness, too." For more personal inspiration, Robyn looks to her own family. "My younger sister is my inspiration because I want her to know that dreams can come true."
Although she mostly draws from R&B music to create her own sound, Robyn lists Aerosmith's "Dream On" as the song that best describes her life right now. Robyn wants nothing more than to be a singer/songwriter; however, if she had to choose another profession, she would stay in the entertainment industry, focusing on film editing instead.
Describing herself as talented, determined, and "chill," Robyn sees herself performing the songs she writes on the GRAMMY Awards in the next five to 10 years. When she's not penning future hit songs, Robyn enjoys acting, drawing, reading and making her own films.
On why she should perform with Justin Timberlake at the GRAMMY Awards, Robyn says, "I want to be a performer so bad it hurts… I just want the opportunity to be heard by millions and [to] begin my career."

Thanks for reading CBS NEWS.
Create your free account or log in
for more features.