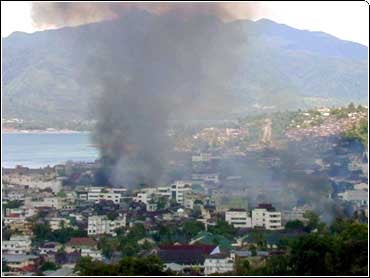 Muslims Slaughter Christians
A Protestant preacher said Tuesday he buried scores of fellow Christians killed on a remote island in eastern Indonesia, victims of religious violence that has been spiraling for nearly two years. There were reports that 161 people died.
Smith Dungir said he survived Monday's rampage in the mostly Christian village of Duma by hiding in his church from mobs of some 4,000 Muslim fighters. The church was set on fire, he said, as were houses all over Halmahera island.
"I helped bury 161 bodies before I left," Dungir said by telephone. "It is a miracle that I am alive."
The violence in Duma was the latest brutal round of religious killings in the Maluku islands, also known as the Moloccas, the once fabled Spice Islands. The islands are 1,600 miles northeast of Indonesia's capital, Jakarta.
More than 2,500 members of both faiths have been killed in the past 18 months. Last December hundreds of Muslims were slain by marauding Christian gangs.
Reports on Monday's death toll varied. Police said 116 were killed, almost all Christians. The military said 108 died, but refused to say what their religions were.
"Thousands of Muslims walked into the village and started shooting," said Pattiasina, a church worker who quoted other survivors of the attack who sought shelter in the nearby town of Tobelo. Like many Indonesians, he uses only one name.
"Most of the dead were adult men. Some died of gunshots, some by homemade bombs and other by swords," said Dungir, the pastor.
Other witnesses said some Muslims were armed with military-style weapons.
Dungir said about 30 soldiers posted in Duma could not do much to stop the attackers. The Muslim fighters were later dispersed by military reinforcements.
Local Muslim groups said they had few details about the killings.
The violence shows no sign of abating in the Maluku islands, despite repeated peace efforts by Indonesian President Abdurrahman Wahid, a Muslim cleric who espouses religious tolerance. The attack happened while he was on an overseas tour and he has not commented of them.
Earlier this month, Pope John Paul II urged Indonesia's leaders to do more to stop the carnage.
About 90 percent of Indonesia's 210 million people are Muslim, making it the world's most populous Islamic country.
Christians, however, are a majority in the Maluku islands, formerly renowned for its religious tolerance before communal violence broke out in January 1999.
Indonesia's fabled Spice Islands have been riven by waves of religious violence since early 1999 amid a breakdown of law and order since the downfall of former president Suharto two years ago.
Some blame the conflict on economic and social pressure from an increasing numbers of Muslim settlers from other parts of the sprawling Southeast Asian nation.
Several months ago an Islamic group, calling itself Laskar Jihad, or "Holy War orce," was accused of dispatching more than 2,000 Islamic paramilitary troops into Maluku to counter a round of Christian attacks.
Human rights groups say thousands have died in the Moluccas.
The renewed religious violence in the Moluccas has fanned fears that Indonesia's fragile unity could be shaken by sectarian tension.
Thanks for reading CBS NEWS.
Create your free account or log in
for more features.