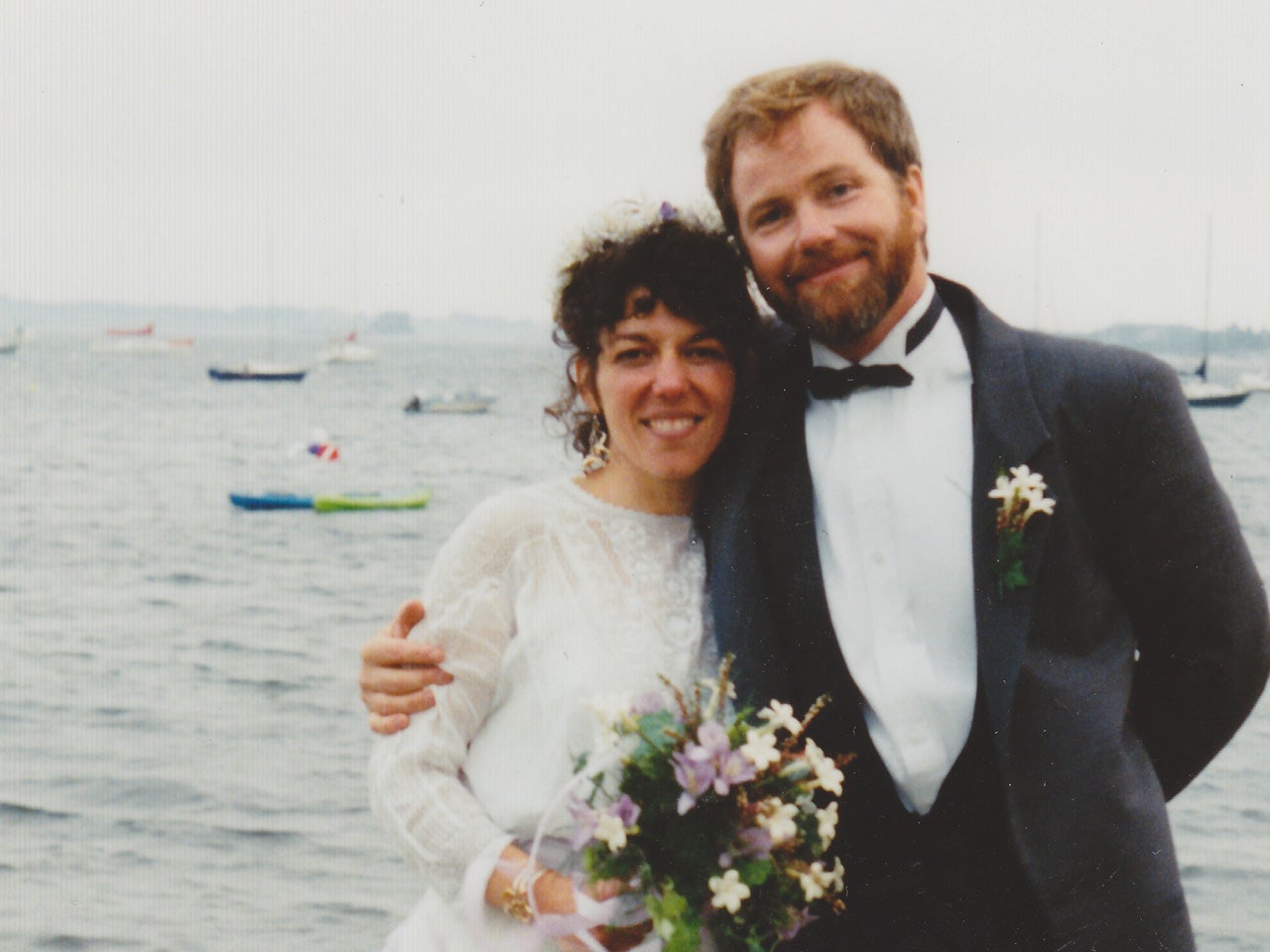 Murder or accident? Shelley Tyre's fatal dive
Produced by Jay Young, Patti Aronofsky and Sarah Prior
[This story previously aired on Jan. 21, 2012.]
It was the Caribbean vacation Shelley Tyre had been looking forward to - sunning, sailing and scuba diving with her husband and friends in Tortola. And in March 1999, it finally happened.
"They put together a really fun trip, got to do a lot of different things, where they were sailing all around the Caribbean, around the British Virgin Islands. And they were diving off the sailboat they were living on," said Jen Bloom.
But on that fateful last dive, at a site called Twin Tugs, something went horribly, mysteriously wrong. Shelley was dead and the Tortola police wanted to talk to her husband, David Swain.
He called his daughter, Jen.
"He said, 'I'm so sorry. I went with her. I don't know what happened. But Shelley died today.' And he was crying and he was very upset," Jen recalled. "He was doing his best to get her home. He said, 'the autopsy's gonna happen. And there's cops.'"
Tortola police began questioning David about every detail of the dive, and the local medical examiner performed the autopsy. But no one could figure out just how Shelley died.
After a few days, with no evidence of foul play, authorities ruled Shelley's death an accident and released her body to her husband.
"He had a really rough flight," Jen said. "He had to load the coffin onto the plane himself."
David's son, Jeremy Swain, recalls what happened when his father got off the plane. "He came over to me and Jen and he gave us a hug. And he said, 'It's all right. It's gonna be all right.' And he was genuinely hurt."
Shelley Tyre was small in stature, but her impact on David and his children was enormous. And 10 years after her death, David still remembers why he fell in love.
"She had a heart bigger than her. She had passions and drive," David said, pausing, "that had no equal."
A middle school principal at prestigious Thayer Academy outside Boston, Shelley was anything but straight laced.
Every New Year's Day, on a frigid Rhode Island beach, Shelley stripped down to her swimsuit for the Penguin Plunge.
"Five-hundred to 1,000 people all go racing in to the 37-degree water," Jeremy explained. "The water hits you - you get that 'ugh' sort shock right? Shelley turned this beet red color, goose bumps head-to-toe, shaking uncontrollably with this ear-to-ear grin."
With such a love of adventure, it was no wonder Shelley found David Swain attractive. When she met him in the early 1990s, the divorced father of two teens was running a dive shop in Jamestown, R.I. The ocean was his passion.
"My father is a teacher - he's a naturalist by nature," Jen said. "He taught me and my brother that the most important thing in the world is to teach and share what you know and be excited about the ocean."
On one of his kayaking tours, Shelley went along.
"Suddenly there's this lightning storm going on," Jen explained. "And my father just took charge of the whole thing and attached his boat to her boat and rowed them out of it."
Shelley was impressed by David's courage and leadership. He moved in, and in October 1993, they were married. Back then, Shelley was earning far more than David, who says he sank nearly every dime into the dive shop.
Shelley's parents were worried. So David signed a pre-nuptial agreement; he would get no money if he and Shelley divorced.
According to Jeremy, his dad "never cared about money.
"Shelley, herself, couldn't have cared less about money," Jen added. "She just decided this is it. This is the guy I want to be with. He loves adventures. He's not afraid and he'll always be there."
But on that dive in Tortola, even David admits he wasn't there when Shelley needed him. While their friends stayed on the boat, David and Shelley dove into the water.
"We swam our course that we had all agreed upon. Got to the wreck, and we went our separate ways, as we always did," David told "48 Hours Mystery" correspondent Troy Roberts.
David says he has no idea how Shelley died, because he wasn't with her. That's exactly what he told her parents, Richard and Lisa Tyre.
"We got a telephone call, and it was David," said Lisa Tyre.
Adds Richard Tyre, "He said, 'Shelley's no longer with us,' and he indicated he wasn't there and didn't know what happened."
"I knew they were unhappy with me when I made the phone call that night," David said of the Tyres. And he knew he'd have to see them in person to explain.
"He said, 'I don't think they're gonna take this well.' I said, 'Of course they're not. They lost their daughter,'" said Jen.
So one day after bringing his wife's body home from Tortola, David went to see the Tyres.
"We just assumed that divers always had buddies. The buddy system," said Richard. "I kept saying, 'Well, weren't you the buddy?' And he said, 'No, I left her.'"
"You said you split up during the dive, as you normally do. Doesn't that go against standard practice?" Roberts asked David.
"How many times have you broken the speed limit?" he replied. "…every diver at one time or another is diving alone."
Shelley had done solo dives before. David says he tried to help her parents understand what could have happened - explaining that even something small like a headache could have caused Shelley to lose control underwater and make a mistake.
When asked if he thinks it's possible that Shelley just panicked, David says, "Sure. Panic is the end result of something else… I don't know what factor got Shelley, but I think some factor got her started, who knows what it was."
In fact, Shelley had panicked on previous dives - she even wrote about it in her dive log, which David gave to her parents. But it didn't seem to help them.
"Because they're not divers," he explained. "Unless you're a diver, this is gonna be so foreign. It would be very foreign."
What was really foreign to her parents was how unemotional and matter of fact David seemed about Shelley's death.
"I'm just not an outwardly warm, fuzzy guy," he said.
"But your wife just died. Your behavior didn't seem appropriate for a man in mourning," Roberts pointed out.
"My daughter saw it, my son saw it. People who know me know that I'm a private person."
"Even when you're in pain?"
"Probably more so when I'm in pain."
But around Jamestown, and at Shelley's school, the talk was about how well David was doing without Shelley.
"This isn't right. You know, he's too elated almost about this. This guy's too happy," said Don Badger, who taught at Thayer Academy.
Badger says David didn't appear to be in mourning, even at the school's memorial service just weeks after Shelley's death. "It wasn't any solemnity to what he was saying and it bothered so many of this there. It really did."
Then, when David collected more than $600,000 from her estate, he started spending a lot of money very visibly - making pricey renovations to the dive shop, taking vacations and even dating.
David's friend and fellow scuba instructor, John Langella, says despite appearances, there's no doubt in his mind that David was grieving.
"People were looking for answers," Langella said. "I knew he was upset. He was not right. He didn't know if he could ever go back in the water."
Sandy Wheeler, David's ex-wife and Jen and Jeremy's mother, has known David for 40 years.
"He called me and said, 'I'm not doing well. When is this pain going go away?'" she explained. "He was in a lot of pain and he didn't know how to handle the pain."
But if he was in pain, the people who needed him to express it most of all were Shelley's parents. And for whatever reason, David just couldn't do it.
"In the year or two after Shelley's death, he was not able to say the things that the Tyres needed to hear," said Jeremy.
David's failure to do so didn't just make Shelley's parents suspicious… it made them angry.
"When I heard through the grapevine that they were starting to throw the word murderer around, I couldn't believe it. I couldn't believe it. I still can't believe it," Jen said. "Every cell in my body wanted to go over there and just like knock on the door and say, 'Are you insane?'"
David Swain's daughter, Jen Bloom, says, "Diving is a beautiful sport that is inherently dangerous. …and accidents happen."
Was Shelley Tyre's death a horrible accident? A mystery?
"I don't have the answers," David replied.
David says his inability to explain Shelley Tyre's death led her parents to assume the worst: that he murdered their daughter.
"How did that make you feel, knowing that your in-laws thought you had killed their daughter?" Roberts asked.
"Sad. I mean, it made me sad," David replied.
"Not angry?"
"They didn't know diving."
One year after Shelley's death, the Tyres hired an attorney and sent him and his team of experts to Tortola in search of the answers David didn't have.
Over the course of several months, the team uncovered evidence they believe proves David was lying. "48 Hours" asked a leading expert in underwater investigations to examine their findings.
Sergeant Jeff Morgan, with the San Bernardino County, Calif., Sheriff's Department, offered to sift through case documents provided by "48 Hours."
"After reviewing all the facts of this case, this was much, much more than just a simple scuba diving accident," said Sgt. Morgan.
Morgan also attempted to replicate, underwater, key parts of Shelley and David's fatal dive. What first troubled him about the case was the short amount of time David performed CPR on Shelley.
"Typically, you don't stop CPR until, as a rescuer, you can no longer perform it, til you're exhausted," Morgan explained.
When Roberts asks David Swain how long he performed CPR on Shelley, he replies, "That's the big, magic question. Minutes. Was it 5 minutes, was it 10 minutes? Was it 4 minutes? I don't know. It was minutes."
Morgan points out, "David was very emphatic that 'she's gone' or 'she's dead.' …I don't think that's the appropriate response. I don't think that you can declare a person dead in that short of a time span."
Next, David made a distress call. Dive boat captain Keith Royle was the first on the scene. But again, David, a trained EMT, insisted that no extraordinary measures be taken.
"When I offered my help he stated he was a paramedic. He'd seen dead bodies before. The woman was dead, there was no need to do further CPR," Royle told Roberts.
Royle says he was surprised by the response. "When I pulled up along side him, I would have certainly expected him to want somebody to help."
Jen Bloom says her father's priority was getting Shelley back to shore and protecting her dignity in death.
"It was over," she explained in tears, "and he didn't want to sit there and watch someone beat on her and try and get her heart started."
David told Roberts, "There was nothing left to do. Nothing. If you are performing CPR on somebody that is responsive, sure. I would've gone until hell froze over. But she was not responding to anything."
But it wasn't just David's behavior that afternoon that raised red flags. Tortolan police discovered Shelley's equipment was damaged. Police didn't make much of it, but the expert hired by her family's attorney did.
Engineer Bill Oliver designs scuba gear.
"What was unusual about Shelley's mask is the strap was broken from the side of the mask," Oliver demonstrated. "And where this pin [here] is intact on this mask, it was missing from hers."
Shelley's snorkel, attached to the same side of the mask as the broken pin, was also missing its mouthpiece.
"My belief is something pulled the mask off of her face and I can see a scenario where she resisted that," Oliver explained. "She held onto the mask. And in the tug of war, some things gave."
And then there was Shelley's fin. "The heel strap was pulled down over the sole plate of the fin," Oliver continues. "The strap was adjusted very tightly, so to pull it over the heel strap - it took some force to get it over."
It is force that Oliver says Shelley could not have applied herself. "The bottom line is somebody intervened besides Shelley Tyre with this equipment to get it in that condition."
Sergeant Jeff Morgan agrees. "Shelley didn't die in an accident," he said. "She was murdered."
What's more, Morgan says only one person could have been responsible.
"In all reality, there was nobody else in the water at the time of Shelley's death but David Swain," he said.
Morgan, who replicated, underwater, key parts of Shelley and David's last dive, shares his findings:
"I think that David swam up behind her and shut off the air supply … held onto her until she was struggling, reached up and grabbed the mask. Ripped the mask from her face, and held onto her until she stopped struggling…
"Shelley, if she did panic in this situation, panicked after her air supply was shut off. And, again, the only person that could have possibly shut it off was David," he said.
Roberts asks David, "Did you kill Shelley Tyre?"
"Did not, would not, could not," he replies. "This thought, this craziness that I would do something like that to Shelley is just so revolting.
But the Tyres insist David had a motive. Right before the trip to Tortola, Shelley decided to change jobs and take a substantial cut in pay.
"The dive shop that David had was very much supported by Shelley's income," Morgan noted. "If Shelley was going to take a pay cut, his business may not survive."
According to Sgt. Morgan, that, along with the couple's prenuptial agreement, meant Shelley was worth more to David dead than alive.
"That provides for a motive to commit murder," he said.
"Everybody keeps thinking that I'm doing all this for money," David explained. "I'm just as happy being flat broke as I am when I'm fat and rich. Probably happier flat broke. Less hassle."
The Tyres weren't buying it. They were now convinced David murdered their daughter. But authorities in Tortola still refused to rule Shelley's death a homicide. So in 2006, they sued David in a Rhode Island civil court for wrongful death.
In a videotaped deposition, David testifies he and Shelley swam together for 10 to 15 minutes before they separated.
"I have a vague recollection of circumnavigating the wrecks, poking around the wrecks, and seeing Shelley still interested in looking at something there and that's the last time I saw her as I swam off toward the reef," David told investigators.
Watch excerpts of David Swain's 2003 deposition
But the Tyres' attorney tried to prove David was with Shelley when she drowned. Based on the air left in Shelley's tank, he calculates she stopped breathing just 8 minutes into her dive.
"She battled for her life at the point and place and time exactly when he was with her. She was burning her air right up to the point where he shut it off," the Tyres' attorney told the court.
He then shows the jury a videotaped demonstration that he and his team prepared illustrating their theory of how David Swain swam up behind Shelley, turned off her air and killed her.
Watch the reenactment prepared by the Tyres' attorney.
In less than three hours, the jury finds David Swain responsible for Shelley's death and awards Lisa and Richard Tyre $3.5 million. The Tyres say this has never been about the money.
"Money has nothing to do with it. Nothing. It's we just want Shelley," Richard Tyre told reporters outside court following the verdict.
Armed with a civil court attorney, the Tyres' attorney convinced Tortolan authorities to reopen their investigation. A year-and-a-half later, island prosecutors charged David Swain with the murder of his wife. David did not fight extradition and wound up in a Tortolan jail.
With his trial now looming, his children, Jen and Jeremy, will travel to the island to help prove their father is innocent. But before they can do that, their father will first have to explain another woman.
Ten years after his fatal vacation with his wife, Shelley, David Swain again has a Caribbean view. But this time it's from inside a cell in Her Majesty's Prison on Tortola. He has been here, awaiting trial, for nearly two years.
"It's a journey that I didn't wanna take, but if I'm forced to take it, I'm going to do the best I can with it," David told Troy Roberts.
His children, Jen Bloom and Jeremy Swain, have come to Tortola to help him prepare his defense.
"He's very hopeful. He believes - he has to believe. All of us have to put 100 percent of our belief into that this will be OK," Jen said. "This is a man's life we're talking about."
Even as Jen and Jeremy are fighting for their father, their stepmother, Shelley Tyre, is still very much on their minds.
"I wanted to go to a place that would be special to me, where I could pay my respects in peace doing something that Shelley and I shared. Because Shelley and I used to dive together, too," Jeremy explained. "We went down the line and I had her wreath on my arm… there was a pipe and I put the wreath down on top of that, made sure it would sit nice… said a few things in my head, and that was it. I said goodbye."
Jeremy said goodbye, but could not let go of a troublesome detail.
"I went back a couple more times because what was coming out really bothered me," he said.
He says he was most bothered by claims that his father was with Shelley when she stopped breathing. Prosecution experts claim that the amount of air left in Shelley's tank showed that she was alive for only 8 minutes.
"I went down to that site… I used that amount of air that she consumed. And it took me 15 minutes," said Jeremy. He says the prosecution's 8-minute calculation doesn't add up. He says Shelley just wouldn't breathe air that quickly.
"Not if she was running a marathon under the water would she have ever used up air that fast," he explained.
The only explanation, according to Jeremy, is that Shelley was alive a lot longer than prosecution experts believe. Meaning David would have been long gone and nearly back to the boat at the time of her death.
"The only thing that everybody can agree on is that some external force was applied to her equipment," said defense attorney Neil Tassel.
For his criminal trial, David has the help of two experienced Boston defense attorneys, Neil Tassel and Tim Bradl. They argue that Shelley could have ripped off her own mask in a panic.
"It's right there in the PADI (Professional Association of Diving Instructors) beginner's manual - panicked divers reject their gear. In other words, they rip their masks off," said Bradl.
When asked if they believe Shelley panicked underwater, Tassel replied, "Absolutely. That's what all the evidence appears to be."
Now, with these lawyers helping to prepare for the criminal trial, David's children are feeling hopeful about their chances.
"We know the truth is on our side. So we actually have the upper hand," Jen said. "If you just stay with the truth, it's all gonna be good."
But staying with the truth will mean talking about another possible motive for murder.
About a year before Shelley's death, David got very friendly with Mary Basler, a chiropractor who visited his dive shop.
"Mary Basler came along, a bright, happy woman willing to talk," said David.
Mary Basler might have been willing to talk, but when David kissed her one summer night, she told him she was not willing to get involved with a married man.
"I'm as guilty of being curious beyond what I should have as anybody," said David.
Perhaps still curious, David wrote Mary that fall, inviting her to spend the weekend with him in Killington, Vt. The letter said:"I promise to return you in a rejuvenated state… or in need of rest… whichever strikes our fancy."
"You invited her to Killington for the weekend. Wasn't that going to be the beginning of something?" Roberts asked.
"No," replied David.
"It was just going to be a friendly weekend in Killington?"
"You make it sound like a guy can't have a girl friend," David replied.
"Did your wife know you invited her?"
"No."
Mary Basler didn't go to Killington, but soon David wrote Mary again, telling her, "I'm wanting to be with you" but "I can't change this mess I've got anytime soon."
Read more of David's letters to Mary Basler
"You made a reference, a mess that you need to get out of," Robert points out.
"Well, I think I made a mess by letting my curiosity get the best of me," David replied.
"You weren't describing your marriage to Shelley as a mess?"
"No."
David addressed that letter to "Soulmate Mary."
"You thought Mary was your soulmate?" Roberts continued.
"It's a nice word, isn't it? said David.
"Did you envision a future with Mary Basler?"
"At that time, no."
But according to both David and Mary Basler, after that kiss, nothing happened between them.
"It was a stupid, inconsiderate mistake," said David.
That is, until Shelley Tyre died. Two months after the fatal trip to Tortola, David Swain and Mary Basler started a relationship.
"When my father started dating Mary, soon after Shelley's death, I remember thinking, 'He's running. He's never dealt with emotion in a strong way. It's starting to come up,'" Jen recalled. "And so he's running to this woman."
David and Basler dated for about a year.
"I don't think it's about whether he was having an affair or not. It's about whether he killed his wife or not," said David's ex-wife, Sandy Wheeler. "I asked him straight out, 'Did you do this?' And he said, ' No, I did not do this.' And I believe him."
When asked what prompted Wheeler to ask her ex-husband if he killed Shelley Tyre, she replies," I think I just needed to hear it from him. I never thought he did it, but I think I just needed to hear it from him."
Wheeler and David Swain were married for 12 years. And in the time they were together, she says she "never" saw a violent side to David.
But it turns out, David's early life was far from peaceful.
Says Wheeler, "David was a person who kind of wanted to leave things… the past is the past."
And now, with his life on the line, David's defense will delve into secrets he has protected for decades.
"His mother died the first year we were together," Wheeler tells Roberts. "She was killed."
While the mystery may never be solved, Jen Bloom and Jeremy Swain are hoping at the very least that evidence presented in a Tortola court can convince the Tyres that their father, David Swain, is an innocent man.
"They went from respecting him as the man that their daughter chose to spend the rest of her life with to calling him a murderer. They basically made him a scapegoat for a mystery that can't be solved," Jen told Troy Roberts. "He's never given us reason to doubt him."
Jeremy describes his father as "a quiet guy. He's a reserved guy. He doesn't express himself particularly well. I really feel in a big way that those things put him in jail."
It was, after all, David's unemotional, strangely detached response to Shelley's death that first raised the suspicions of her parents. But Jen says that's the way her dad has always been.
"My father was uncomfortable around emotion and emotional experiences… and I never ever saw him upset," Jen said, getting upset herself. "He wasn't like this sort of warm, 'It'll be OK, honey' kind of dad. He was like, 'You'll figure it out. You'll do it. You'll be fine.' He put up a front of, 'we're just gonna get through this.' This is how I know how to do difficult things."
That dispassionate demeanor, says Jen, is the product of an unspeakably horrific past.
"He grew up in a very complicated and abusive household," Jen explained. "There was sexual and verbal abuse going on."
When David was 9 years old, his father, Donald Swain, was convicted of sexually abusing another family member and sentenced to two years in prison.
"He grew up learning to not speak about things," Jen explained, "because it just made it worse when he did."
David says he, too, was preyed upon by his father.
"Your father was abusive to you. Is that right?" asked Roberts.
"As best I can dredge up," replied David.
"What happened to you at the hands of your father?
"Horrible things."
"Can you share some of them?"
"No, I'm not going to share those."
Sandy Wheeler, who began dating David when he was 15, says his abusive childhood was only the tip of the iceberg.
"He said, 'My father is going through a process to become a woman,'" she said.
In the early '70s, Donald Swain began living as a woman and changed his name to Diane. It seemed to leave another scar on David.
Wheeler says David was pretty upset about it, "But, didn't talk about it much after that."
But it was in 1976, in Minneapolis, Minn., that David's already fragile world completely shattered.
Betty Swain, 47, was bludgeoned to death by her own son; David's 18-year-old brother, Richard.
When asked how that affected him, David said, "Horribly. That was just another incredible loss."
David was 20 years old when his mother's body was found in the family station wagon five miles away from her home.
Of the circumstances surrounding that event, David explained, "As best as it could be reconstructed, they had an argument. And it went bad."
Richard Swain had a history of run-ins with the law.
Former Minneapolis assistant District Attorney Jim Erickson remembers Betty Swain's murder for its brutality.
"Dad's kill mothers. We know that. Ex-boyfriends kill mothers. Sons don't kill mothers," Erickson said. "I think a bag was - a garbage bag - was put on her head, and she was then hit again and again. There was plastic embedded deep in her head, in her skull."
After a nine-day trial, a jury found Richard Swain guilty.
Erickson said, "This kid killed his mom… He just snapped."
Thirty-three years later, David Swain - just like his brother - stands accused of murder.
"No shortage of tragedy in our lives," David told Roberts. "I don't know if you've had the occasion to suffer a loss where you didn't get to say goodbye, but I've had two now and that's just wrong."
As David's trial approaches, his attorneys, Neil Tassel and Tim Bradl, hope to use the traumas of David's past to explain how his bizarre response to Shelley's drowning turned an accident into an accusation of murder.
"He is a peculiar personality who, because of his traumatic upbringing, deals with emotional events in a stunted way," Bradl explained. "And it was misperceived by Shelley's parents, who essentially started a boulder rolling down off a mountain that wasn't going to stop."
But the defense's biggest worry: what will happen when this emotionally crippled man takes the stand to defend himself in court?
According to Tassel, "There's no way to keep a man like David, who is fighting for his life, in that seat without defending himself."
"I can't control what's going to happen," Jen says. "I just have to let it happen."
Ten years after Shelley Tyre's death, David Swain's murder trial in Tortola is finally under way. Shelley's elderly parents have flown in - determined to see justice done.
"They lost their daughter and we'll never know how," Jen said. "They know they'll never know how."
For Jen and Jeremy, seeing the two people who they once considered their grandparents, is particularly painful.
"The times that I tried to connect with them over the grief of losing Shelley was rebuffed. They don't want anything to do with me," said Jeremy.
But they were forced to sit uncomfortably close to each other in the tiny courtroom.
Cameras were not allowed, but microphones recorded the moment when Prosecutor Terrance Williams laid out David's motive for murder: Money and another woman.
"This man here, his wife is killed. And all his dreams came true. All his dreams came true," Williams told the court.
Most damning, says the prosecutor, within months of burying his dead wife, David rekindles his relationship with Mary Basler.
"The wife dies in March and by May they are having intimacy," Williams continued.
David's defense team is working with local counsel Hayden St. Clair Douglas.
"It painted David Swain in a very bad light," Douglas said. "It was a jury of nine people, seven of whom were women."
Women jurors, who, he believes, won't like the idea of David dating Mary Basler so soon after Shelley's death. But that's not the defense team's only worry.
But that's not the defense team's only worry. Prosecutors show the jury Shelley's damaged diving gear, tell them how David stopped giving her CPR, and present their theory that David held her down and turned off her air.
"They had to come up with some kind of scary story that would make the jurors, who are not divers, all say, 'Oh, that's what happened,'" said David.
David's only chance is to take the stand to defend himself. His defense attorney questions him first.
Hayden St. Clair Douglas: Did you kill Shelley Tyre?
David: I did not, could not, would not dream of taking the rock of my life out of the world. No... I did not.
Douglas: Did you in anyway deprive Shelley Tyre of air?
David: The last thing in the world I would deprive Shelley of anything. So I certainly don't want to deprive her of air
Then the prosecutor tries to rattle David.
Prosecutor Williams: You held her down!
David: I did not.
Prosecutor: And made her become unconscious.
David: I did not.
David begins to lose his patience when Prosecutor Williams pushes him about those letters he wrote to Mary Basler calling her his "soulmate" and inviting her to spend the weekend.
Prosecutor: You desired her?
David: I certainly desired her friendship.
Prosecutor: You desired her in a sexual nature.
David: Not the way you're suggesting. No.
Prosecutor: Do you often write love letters to ladies?
David: No. These are not a love letter.
Prosecutor: These are not love letters?
David: This is not a love letter.
"You came off as arrogant, a little hostile, smug," Roberts pointed out. "What were you thinking when you were up there? I mean this is a moment for you to win sympathy from the jurors, to make a connection with them."
"How well do you know me?" David asked in return.
"Not well at all," Roberts replied. "But I know you're supposed to comport yourself if your life is on the line."
"So you would want me to be something I'm not. I am what I am. I think people want the truth."
In what seems like a fatal blow to the defense, the judge refuses to allow certain testimony about how long Shelley was alive under water.
"We had data on her air consumption that was derived from her own dive logs," said Boston defense attorney Tim Bradl.
A defense expert was prepared to testify that Shelley's last breath occurred more than 20 minutes into the dive, long after David says he left her side.
"Unfortunately," Bradl continued, "the judge viewed our data with suspicion. And I don't know why."
The prosecution does present its evidence that Shelley died 8 minutes into the dive, when, they say, David was still with her.
"I started to get really scared... That was the first day I thought we could lose," said Jen.
Now it's all up to the jury. It takes them only 4 hours... to reach a verdict.
"Up until I saw the jury walking in, I was pretty hopeful," said David, who was found guilty of murdering his wife, Shelley.
David Swain is sentenced to life behind bars. As authorities take their father away, his children are stunned, and angry.
"I have never doubted my father's innocence. He's completely innocent, "Jen told reporters."The jury made a mistake today. They made a mistake."
"Our father is innocent Jeremy," Jeremy told reporters. "The prosecution did not allow our witnesses to say their full share. ...our father is an innocent man."
But Richard and Lisa Tyre say that they know the truth and they thought their long journey to get justice for Shelley had ended.
"We feel extremely good that people like David Swain won't be able to hurt any more women," said Richard Tyre.
From his Tortola jail cell, David Swain could still see the ocean he loved so much. He could even taste the salt in the air. But he wondered if it would ever wash over him again.
"Do you think you'll ever walk?" Roberts asked Swain.
"Will I ever walk outta here as a free person? To not think that would be to give up. I'm not going to give up," he replied.
Swain did not give up. In September 2011, two years after his conviction, a three-judge panel overturned his guilty verdict because the trial judge had refused to let the jury consider accidental death as a defense.
The judges also decided there would be no new trial, because too many memories have faded since Shelley's death more than a decade ago.
David Swain walked out of court a free man.
"No judicial body has declared him innocent," said attorney Renn Olenn, on behalf of the Tyre family. "Two distinctly different juries have found him guilty beyond a reasonable doubt of the murder of Shelley Tyre."
Swain quickly returned to the United States and issued a written statement still insisting Shelley's death was an accident.
But for the Tyre family, David Swain is still a guilty man.
"For a parent whose daughter has been murdered it will never go away," said Olenn.
David Swain has never paid the Tyre family the $3.5 million in damages from the 2006 wrongful death judgment. With interest, it's now more than than $8 million.
Shelley Tyre's family has established a scholarship in her name at Brandeis University.
Photo courtesy of Ed Gajdel
Thanks for reading CBS NEWS.
Create your free account or log in
for more features.