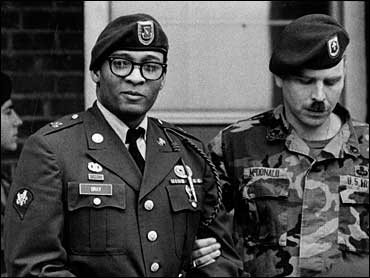 Multiple killer, rapist, former Army cook Ronald Gray again facing death penalty
FAYETTEVILLE, N.C. -- A former Fort Bragg soldier who killed four women and raped others more than 25 years ago is again headed for execution.
The Fayetteville Observer reports Ronald Gray last week lost a battle to keep in place a federal court's order issued eight years ago blocking his execution.
The former Army cook's execution would be the first by the U.S. military since 1961.
Gray was convicted and condemned in military court in 1988 for two murders and three rapes while stationed at Fort Bragg. He pleaded guilty in civilian courts to two more murders and five separate rapes.
Gray is being held at the military prison at Fort Leavenworth, Kansas.
Gray was scheduled to die in 2008 after President George W. Bush signed an execution order following a Pentagon probe, but the case had been tied up in court appeals ever since.
Only the president can give final approval to a military death sentence, the Oberver says. Gray is the only killer on the military's death row whose execution has received that approval.
Gray's appeals were based on his claims that military courts lacked jurisdiction to prosecute him.
Thanks for reading CBS NEWS.
Create your free account or log in
for more features.