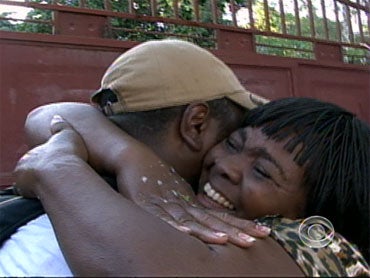 Mother and Son Reunited in Haiti
After 36 hours of desperate and unanswered calls to Port au Prince, 31-year-old David Pierre-Louis left the safety of Seattle for quake ravaged Haiti in hopes of finding his family.
"I'm just walking, trying to find my mom," he said.
He walked through the skeletal remains of the neighborhoods he once knew, to the block where his mother's house once stood - not knowing what he'd find.
CBS Evening News Anchor Katie Couric reports there was an emotional reunion for mother and son. His mom screamed and cried, "David!"
A lucky survivor, Augusta Pierre-Louis had been sitting outside in her garden that afternoon when the devastating quake demolished her home.
"Thank God I'm here," she said. "I not die."
"It was very surprising to see her there, the way the house was," he said. "She shouldn't have survived.
Complete Coverage: Devastation in Haiti
But the joy quickly faded as Pierre-Louis realized the magnitude of tragedy all around him. Facing a sea of injured, he quickly grabbed a bag of medical supplies he had brought in for his family. Doling out bandages, first aid creams and antibiotics, with the help of a neighborhood nurse, Pierre-Louis' mission changed in an instant.
"For whatever reason, medical supplies are not getting to the country like they should," David said.
Haiti Earthquake: Stories of Survivors
As word spread, the injured streamed in to the makeshift street clinic seeking treatment from the one man helping to fill the void left by governments and relief agencies.
Quickly, supplies began to run out. So David started making lists of everything he needed to bring back in to save more people.
David's haunted by some of the things he's seen, that he can't get out of his head. "I can't just forget that."
Four days after his joyful reunion, David returned back to Seattle to raise more money for Haiti. With the help of friends, he organized an earthquake relief fund raiser at the jazz clubhe's been running for the past two years.
"I want to thank everyone for coming out," David told the audience. "This past week has been an eye-opener - a reality check."
His club, along with six other venues in the Washington University area, raised over $4,000 that night- which will translate into much needed medical supplies for Haiti.
"I'm going back," he said. "This is just the beginning."
He hopes to return there next week supplies in hand, with the mission of saving one soul at a time.

Thanks for reading CBS NEWS.
Create your free account or log in
for more features.