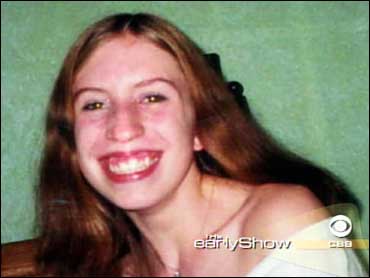 Mother Agonizes Over Missing Teen
Joanna Rogers was 16-years-old and had everything to live for. Instead, the active and ambitious high school student is a missing person. And while her parents hold out hope for her safe return, police have reason to fear the worst.

In May 2004, Joanna disappeared from the bedroom of her home in Lubbock, Texas. Her parents were the last to see her and her mother still remembers their final conversation the night before her daughter vanished without a trace.

In an

The Early Show co-anchor Rene Syler, Kathy Rogers recalled Joanna speaking of the advanced placement test she had taken that morning and about plans for her upcoming dance recital.

"We just very briefly went over what our schedule was," Kathy Rogers recalled. "And she said, 'I love you,' and we said 'We love you and good night.' "

At 7 the next morning, Joanna was gone. Her belongings — debit card, car keys, shoes, cash, clothes and cell phone — were still in her room and her car was parked in front of the house.

Investigators were stumped until last September, when a different case led them to a man named Rosendo Rodriguez. Rodriguez, 25, was charged with the murder of another woman from Lubbock, Summer Baldwin.

Police later found Joanna's name on Rodriguez' computer and his name on hers. Now investigators consider him a key suspect in Joanna's disappearance.

"With the circumstances surrounding Mr. Rodriguez at this point in time, we believe he's a relatively good suspect for the Joanna Rogers disappearance," said Paul Scarborough of the Lubbock County Sheriff's Department.

Kathy Rogers had never heard the suspect's name before but told The Early Show that does not surprise her.

"She was in a lot of school activities. A lot of extracurricular activities," Rogers said. "So there's a lot of folks out there that I would not have recognized if the name had come up or the face had come up."

One thing Rogers is sure of is that her daughter had everything to live for when she disappeared.

"She was very much looking forward to going to college," she said. "We talked about where she wanted to go, and what college she wanted to attend and so forth. And she was very excited about moving on with her life."

A year and a half after the disappearance, Rogers walks by her daughter's room every day and sees reminders of the girl who once lived there.

"In some ways, it's a comfort because we see her happy in the pictures that we have," Rogers said. "I haven't changed anything in her room or in the house because we're still waiting for her to come home.

If you have information that could help investigators find Joanna Rogers, please call the Lubbock County Sheriff's Office at 806-775-1480 or 806-775-1601.

Thanks for reading CBS NEWS.
Create your free account or log in
for more features.