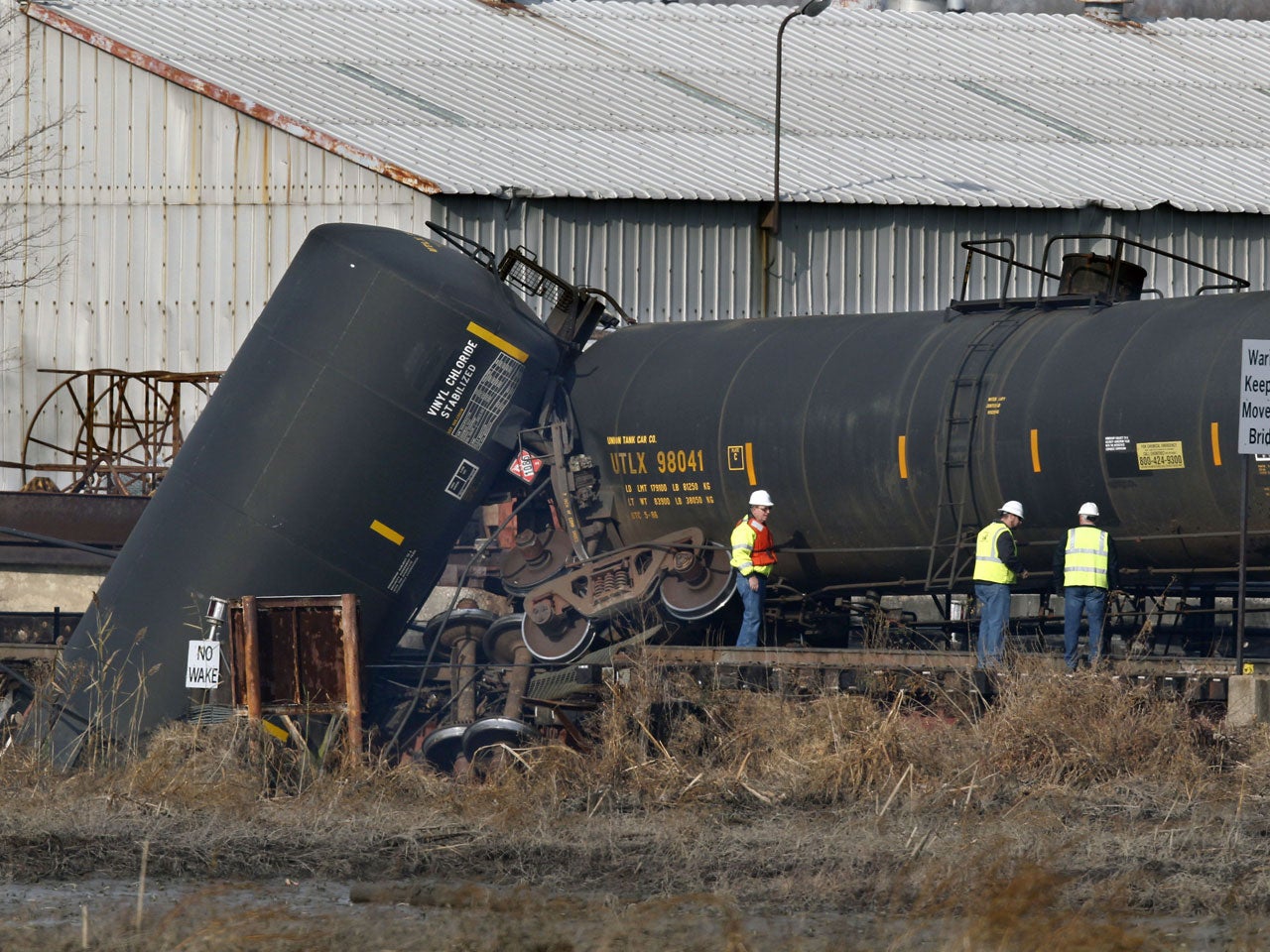 More than 70 sickened from poisonous fumes from N.J. train derailment
PAULSBORO, N.J. A southern New Jersey hospital said that 71 patients were hospitalized complaining of breathing problems, burning eyes or scratchy throats on Friday after a poisonous gas was released in the area during a train derailment.
The Conrail train incident occurred around 7 a.m. on Friday in Paulsboro, derailing four cars and sending at least two cars into Mantua Creek. One of the cars leaked a hazardous gas known as vinyl chloride, used to make plastics, into the environment.
New Jersey authorities have blamed the incident an old-style swing rail bridge that had previously buckled and been rebuilt. The National Transportation Safety Board's investigation is ongoing.
The train with two locomotives, 82 freight cars and a caboose was making its way from Camden to the industrial town of Paulsboro, just across the Delaware River from Philadelphia International Airport. Cars went off the rails when passing over a swing-style bridge. One tanker containing 25,000 gallons of vinyl chloride was sliced open in the accident and some of the gas spewed into the air, while the rest turned into a solid and settled into the bottom of the tanker.
People who live nearby said the air was smoky and had a sweet chemical smell for part of the morning. More than 70 people were hospitalized, most complaining of breathing problems after the accident. Eleven people were transported to Underwood-Memorial Hospital, and many more arrived on their own accord, according to spokeswoman Karen Urbaniak. Sixty-three patients have been discharged, and the eight that remain are in stable condition. Paulsboro, East Greenwich, and West Deptford residents were told to stay in their homes after the accident.
Inhaling vinyl chloride can cause eye and respiratory tract irritation, according to the Environmental Protection Agency. At high levels, it can cause loss of consciousness, lung and kidney irritation, prevention of blood clotting in humans, cardiac arrhythmias in animals and other effects on the central nervous system, including dizziness, sleepiness and giddiness. Vinyl chloride has also been shown to increase the risk of a rare form of liver cancer and, in a few studies, to affect male sexual performance.
By late morning, state Department of Environmental Protection spokesman Larry Hajna said that sensors were not measuring any amounts of the chemical at the site.
Tom Butts, the director of emergency management for Gloucester County, said it would take at least a day to get the large crane to the site to pick up the damaged cars. The recovery work was expected to take place only during daylight hours and it was not clear how long it would take.
The bridge usually supports at least three major trains each day serving refineries and other customers in an industrial area along the Delaware River. It was rebuilt in 2010 after it buckled in 2009.
State Senate President Stephen Sweeney, whose district includes Paulsboro, said he had been told that complaints had been made in recent weeks about noise coming from the bridge and that Conrail was looking into it. But he said he didn't have any details.
At a news conference, Conrail spokesman John Enright said that the company is concerned with safety and cooperating with authorities, but he would not take any questions.
Early in the day, State Assemblyman John Burzichelli, a former mayor of Paulsboro who was serving as spokesman for the town, said he believed that it was a problem with the bridge that caused the accident. But he later backed off that, saying he did not know the cause.
The Federal Railroad Administration last inspected the bridge in January 2010 and found no defects. Railroads are required by law to conduct their own inspections. The FRA does not know when Conrail last did one.
Nine cars on a coal train derailed at the moveable bridge on Aug. 23, 2009, in an accident that was attributed to a bridge misalignment.
Thanks for reading CBS NEWS.
Create your free account or log in
for more features.