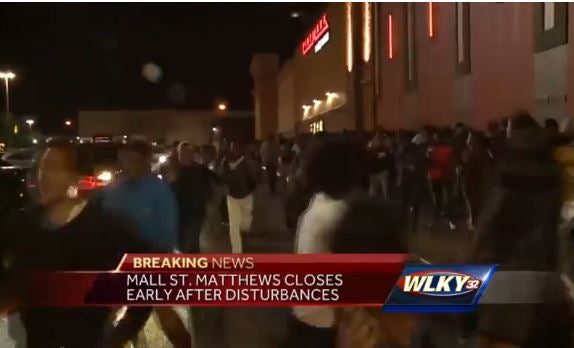 More than 1,000 "unruly" teens shut down Kentucky mall
LOUISVILLE, Ky. -- A suburban Louisville mall reopened Sunday with extra security, a day after closing early when throngs of unruly teens caused disturbances.
The night before, up to 2,000 teens created mayhem at Mall St. Matthews as the shopping center was filled with post-Christmas shoppers, police said.
CBS affiliate WLKY in Louisville reports there has been no confirmation of shots fired inside the mall and no injuries or arrests have been reported.
There were between 40 to 50 officers from various local law enforcement agencies on scene, surrounding the entire mall and trying to break up the large group of young people.
Officers from four police agencies responded to numerous reports of fights, harassment of customers and store employees and other disturbances at the shopping center, said Officer Dennis McDonald, a spokesman for suburban St. Matthews police.
Police first responded to the mall around 7 p.m. in response to numerous unruly youths. According to the SMPD there were several fights inside the mall and they may have spread outside. When the disturbances began some store owners attempted to close, but some patrons refused to leave. Finally, management decided to close the entire mall early.
Several law enforcement agencies converged on the mall along with K-9s and a helicopter.
Things began to settle down around 9:30 p.m.
McDonald said it was tough to make any arrests, because officers were too busy breaking up the large group of disorderly young people.
At the height of the problems Saturday night, about 50 police officers responded to disturbances, McDonald said.
As the mall closed early at about 8 p.m. EST Saturday, teens tried to prevent some businesses from shutting their doors, he said.
"I don't believe this was organized, I believe this was random. I believe this was a by-product of juveniles congregating and there being some disturbances growing out of that. Fights if you will. Those kind of things and escalating out of control. As quick as we would get there, they would disperse move to another location and what we've tried to do is just to keep them moving," McDonald said.
The popular mall reopened Sunday with added police presence, he said. There were no reports of problems by early afternoon, he said.
St. Matthews police and mall security were assisted by Jeffersontown and Louisville Metro police and the Jefferson County Sheriff's Department.
The disturbances were caused mostly by unsupervised young people ranging from their early to late teens, McDonald said. Many of them apparently were dropped off or took public transportation to get to the mall, he said.
"We started heading toward the exit and we saw larger numbers of teenagers and they started kind of running and congregating in one area, and then all the police, all the security started running in that direction and then we decided it's time to head the other direction," one eyewitness, Chuck Hibbs, told WLKY-TV.
The mayhem spilled into the mall parking lot and prompted some other nearby businesses and restaurants to close early, McDonald said.
It appeared teens used social media as the disturbances continued, he said.
"We think they were communicating using social media," he said. "They would disperse and then all of a sudden there would be another group congregating at another location."
There were no immediate signs the entire incident was coordinated, but it was something police were looking into as part of the investigation, he said.
This is the second recent incident involving youth and police at the mall recently. In late November on Thanksgiving evening, two young men were filmed engaged in a violent brawl in the food court. The video later went viral.
Thanks for reading CBS NEWS.
Create your free account or log in
for more features.